Jimmy Carter Reportedly Doing Fine after Brain Surgery but Will Probably Miss His Sunday School Class
As he remains in hospital after undergoing surgery on his skull, an update has been given on the condition of former United States President, Jimmy Carter.
Former President Jimmy Carter remains hospitalized after undergoing surgery to treat bleeding on his skull, which was a result of several falls he had experienced in the past, a close friend gives an update on his health saying:
"He is doing fine and is probably only uncomfortable with the idea that he had to cancel his Sunday school appearance."
Carter is an avid churchgoer and rarely misses teaching Sunday services at the Maranatha Baptist Church in his hometown, in Plains, Georgia.
At 95-years-old he has had hip surgery and survived cancer, but always managed to recover within weeks to get back to his Sunday service commitments.
It is reported, Reverend Tony Lowden, who visited Carter in hospital on Wednesday confirms that he is in stable condition and remains in good spirits, Lowern adds:
"[Carter is] up and walking."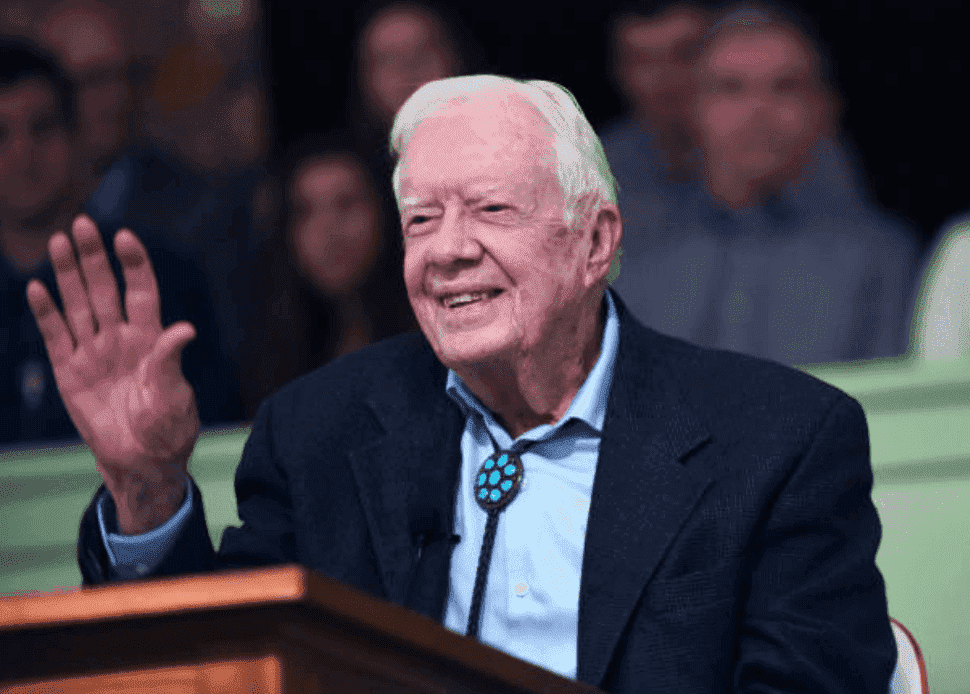 On Monday Carter's humanitarian organization with wife Rosalynn Carter, "The Carter Center" announced the news of his hospitalization, the statement said:
"Atlanta- Former U.S. President Jimmy Carter was admitted to Emory University Hospital this evening for a procedure to relieve pressure on his brain, caused by bleeding due to his recent falls." 
Statement about Jimmy Carter's health pic.twitter.com/AUsaDTdRRB

— The Carter Center (@CarterCenter) November 12, 2019
"The procedure is scheduled for [Tuesday] morning. President Carter is resting comfortably, and his wife, Rosalynn, is with him," the statement reveals.
Carter underwent a procedure treat a subdural hematoma, which is the result of bleeding in the skull that causes pressure on the brain. 
According to PEOPLE, the bleeding between his skull was not too severe. The surgery Carter underwent involved draining blood from a hole in his skull. The Carter Center says:
"President Carter will remain in the hospital as long as advisable for observation. We do not anticipate any further statements until he is released from the hospital."
The bleeding on Carter's brain has been the result of three falls he experienced this year. In May he fell and required hip surgery. 
On October 6, after falling and hitting his head on a sharp object in home he required 14 stitches. A few weeks later he fractured his hip after falling at home again. While recovering in hospital he remains under observation.