Steve Harvey Shares Video of Highlights from Sand & Soul Festival and His Wife & Kids Partying
American comedian and actor Steve Harvey is living it up at the Sand and Soul festival along with his wife and kids. The sixty-two-year-old shared a video from the festival, which showed moments from the fun festival.
The Harveys enjoyed a good time at the 3rd Annual Steve Harry Sand and Soul festival hosted at the Moon Palace Resort in Cancun, Mexico.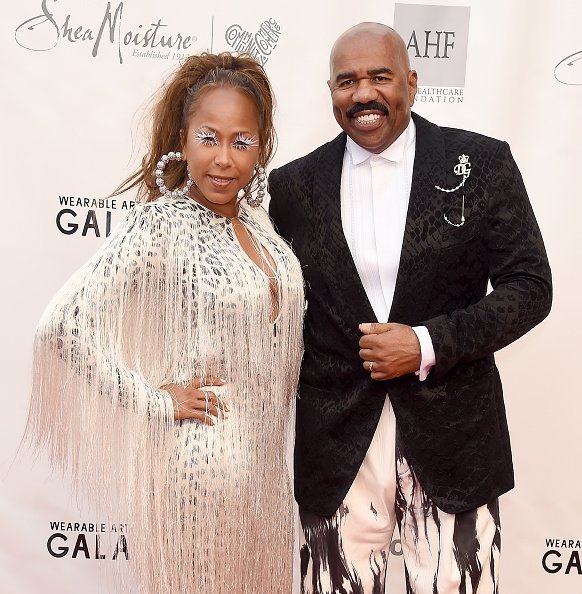 The festival, which was patronized by tourists from all over the country, proved to be a hit, and the 62-year-old comedian gave fans a glimpse into the fun moments via an Instagram video.
KEEP THE FUN ROLLING
The five days and four nights extravaganza, graced by Steve Harvey's wife, Marjorie Bridges Harvey and his kids featured night-club grooves, pool parties, stand-up comedy sessions, concerts and lots more. 
The comedian shared the video clip on Instagram and captioned it with words that further detailed how much fun it was while urging interested parties not to miss next year's fun fest. He wrote:
"When I tell you we PARTIED @sandandsoulfestival!!! It was the best time I've had in a minute!!! And it's time to get yourselves together to do it all over again! Meet me Labor Day Weekend 2020 at the Hard Rock Punta Cana!"
THE SAND AND SOUL FESTIVAL GOT CRITICS TALKING
Unarguably, the annual festival was a blast, and an avenue to let loose and make the most of the fun vacation.
However, some of the "Family Feud" star's fans disapproved of his idea of a fun vacation, taking to the comment section to point out their misgivings. 
One criticized the father of seven saying:
"Drunkenness, wild parties, and other sins like these. Let me tell you again as I have before, that anyone living that sort of life will not inherit the kingdom of God."
Another fan condemned the actor for seemingly being aloof to the plight of the less fortunate around him.
"Many children are dying, and you play the big spender… Party oke, but this is over the top — shame on you," the comment read.
LIFE OF THE PARTY
Despite the countless criticisms thrown at the Harveys in the past for their extravagant party lifestyles, the big blended family seem to have a thing for big bashes, and would not let anything get in the way of their fun time, not even age.
Last month, the family matriarch, Marjorie, celebrated her 55th birthday in a lavish bash at the Moon Palace Cancun, and she wowed her guests with some insane dance moves. 
The 55-year-old stepped onto the dancefloor, dressed in a shimmering mini dress, and did wonders with her backside as she twerked to the beats. 
Her daughter Lori captured the incredible performance and shared the video on social media. The Harveys sure know how to keep the party alive.