Kim K Turns Heads in Fitting Red Dress as She Attends American Influencer Awards to Celebrate Her Makeup Artist Mario Dedivanovic
Kim Kardashian steals the show the show in a vintage and Asian inspired Christian Dior dress to honor her friend, Mario Dedivanovic at the 'American Influencer Awards.'
On Monday, Kim Kardashian made an appearance at the "American Influencer Awards," to present an award to her friend and makeup artist, Mario Dedivanovic.
No one deserves this award more than @MakeupByMario I'm so proud of him! pic.twitter.com/L6BdfnFqr9

— Kim Kardashian West (@KimKardashian) November 19, 2019
The star of "Keeping Up With the Kardashians"sent pulses racing as she stepped out wearing a red vintage Christian Dior dress. The piece is inspired by the Chinese dress, cheongsam. 
Giving a modern spin to traditional attire she paired it with red and clear Yeezy scandals, which stood out beneath the asymmetrical high slit.
Last night in Christian Dior 📷 Pierre pic.twitter.com/YnrMgVX2oB

— Kim Kardashian West (@KimKardashian) November 19, 2019
Kim showed off her curves in the long sleeved, red ensemble. Designed with a high collar and gold detailing on the front, it is reported:
"Tailored to tightly hug a woman's figure, the cheongsam is often characterized by a high, starched mandarin collar and asymmetrically fastened at the chest by a series of pankou (knotted buttons)."
American Influencer Awards 📷 Getty Images pic.twitter.com/D7l6Nw0Dz4

— Kim Kardashian West (@KimKardashian) November 19, 2019
According to Harper's Bazaar, vintage designs are some of Kim's favourite looks for appearances at red carpet events. 
This particular dress by John Galliano for Christian Dior debuted in the autumn/winter collection, in March of 1997. Making it older than Kim's sister, Kylie Jenner, who was born in August of that year.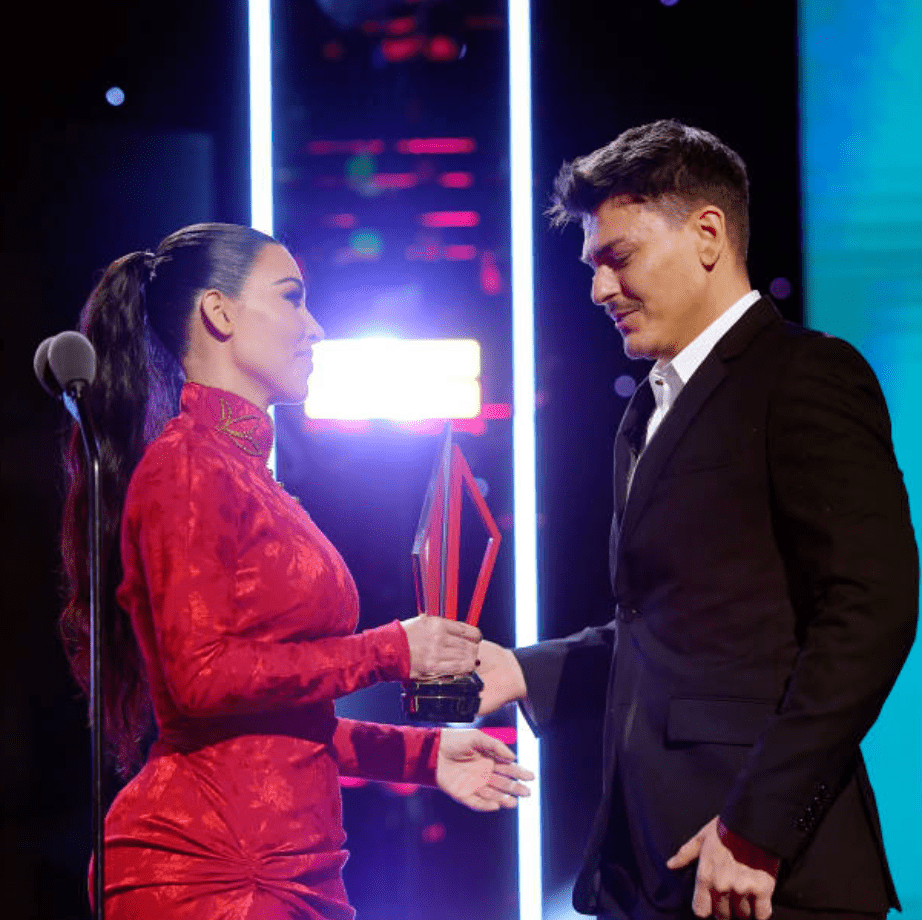 Taking notice the dress' historical significance, a fan account shares a side by side photo of the original runway look, saying:
"Kim Kardashian's love affair with vintage clothes continues in John Galliano for Christian Dior Fall 1997."
Since launching SKIMS, it is safe to say that Kim probably pulled off her look with the help her shapewear range.
The products have been in such high demand that she recently apologised for taking too long to restock some of their original items. 
The original concept she came with would have named the shapewear KIMONO, but after a lot of public backlash she was forced to change the name to SKIMS.
With many people criticizing her for cultural appropriation let's hope the Asian inspired Christian Dior gown doesn't incite the same reception on social media.