Selena Gomez Reportedly Had Panic Attack Right before Her 2019 AMAs Performance
A source reveals that Selena Gomez suffered from a panic attack right before she took to the stage to perform two of her hit songs at the AMA awards.
In her first live performance in two years, Selena Gomez hit the AMA stage and blew audiences away when she showcased two of her new singles.
Wearing a long black gown for her ballad performance, she opened the show with "Lose You to Love Me." As part of her outfit change, she tore off her gown to reveal a sparkly leotard for an upbeat dance to "Look at Her Now."
LOOK 👏 AT 👏 HER 👏 NOW 👏.@selenagomez with the perfect opening to the 2019 #AMAs. pic.twitter.com/A7JZB7xqBe

— American Music Awards (@AMAs) November 25, 2019
Following media reports that she delivered a shaky performance, a source close to Gomez says she suffered an unexpected panic attack backstage. It is revealed:
"She had a panic attack. She was nervous. She hasn't been on stage in two years, and it's an important song in her career. She wanted to deliver."
The source says, her performance was much better during rehearsal, but when her nerves hit, and the panic attack occurred at the very last minute, "it threw her off."
Despite having a rocky start, Gomez continued the awards show in good spirits. It is reported she danced and sang the night away to another act that night.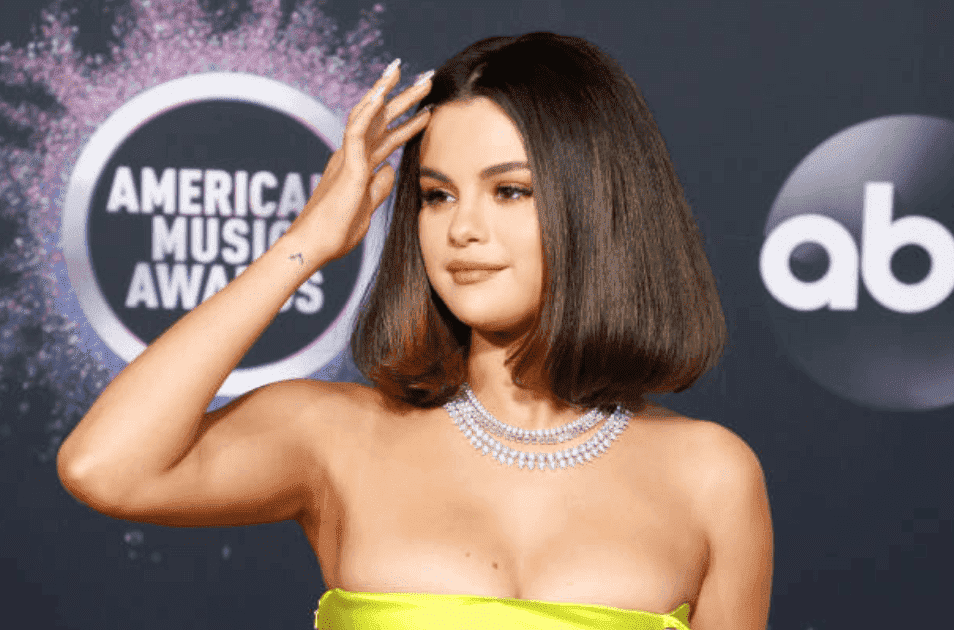 According to Hollywood Life, her return to the stage after two years was particularly emotional for Gomez because it brought her back to doing what she loves, a source says:
"She loved being on stage and performing after her extended time away, and she really felt good about it all and loved being back performing for all her peers and fans."
Standing in the front row, Gomez was cheered on by friends Taylor Swift and Hasley, who were both standing throughout her performance.
Gomez returned the favor by cheering Swift on when she performed a medley of her hit songs, before accepting the "AMA's Artist of the Decade Award."
While preparing to take the stage, Gomez also made her own behind the scenes reveal and showed off a new tattoo.
Sitting on her upper thing, her tattoo is a pair of prayer hands loosely holding onto a rosary that dangles slightly down her outer thigh.