Hannah Brown's DWTS Win Causes Fans to Flood Social Media with Comments
Social media is buzzing with their reactions to Hannah Brown being crowned champion for season 28 of 'Dancing With The Stars.'
Eleven weeks leading up to the finale of "Dancing With The Stars," the final four contestants were given an emotional sendoff as they watched congratulatory messages from family and friends.
The light-hearted sentiments soon turned to a tense moment as Ally Brooke, Kel Mitchell, Hannah Brown, and Lauren Alaina waited to hear the final results.
Crowning "The Bachelorette" star, Hannah Brown, as the new champion, many fans are elated by the news, while some expressed their desire to have another contestant awarded the mirror ball. Fellow reality star, Carly Waddell exclaims:
"Yayyyyyyyyyyyyyy for @hannahbrown on #DWTS GIRL U SLAYYYYYYED this season and are SO DESERVING of that win!!!! Loved watching ya!!!"
Brown's win was not without a night of fierce competition. Mitchell gave an impressive performance and nearly earned a perfect score, but Len Goodman gave him a 9, leaving his total school at 29.
Hopeful of their season favorite, some fans were not happy with Brown snagging the win.
Me after Kel and Whitney didn't win #DWTS tonight. pic.twitter.com/Ymt7lSxugO

— Lance F. Laster (@sirlancelaster) November 26, 2019
During their performances with their partners, both Brooke and Alaina scored perfect scores, with 30 points each.
Brooke earned her sixth consecutive score of 30, and Alaina earned her first perfect score of the season, Pop Culture reports.
However, Brown stole the night with her freestyle performance to Gwen Stefani's "Hollerback Girl" and "Girl on Fire" by Alicia Keys. Gushing over her performance, a fan says:
"Yay!!! Hannah Brown deserved this. The judges were so biased. No way was Ally Brooke as good as the judges gushed over her and gave her perfect scores again and again. Hannah was PERFECT!"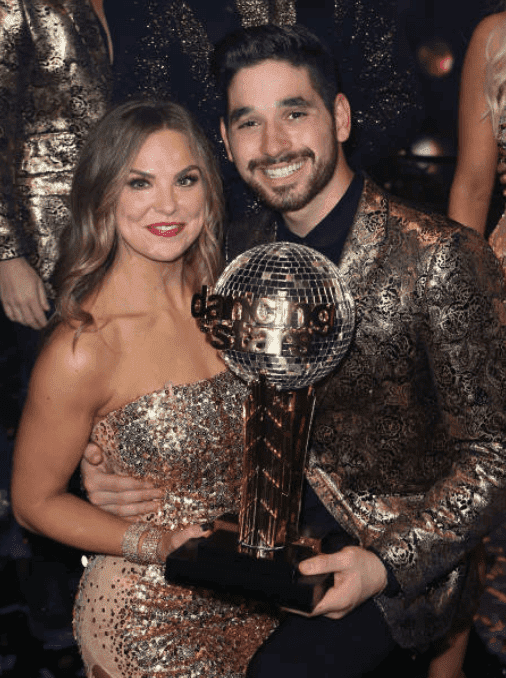 Tom Bergeron and Erin Andrews were on hand to announce the winners; Mitchell came in as the runner-up, Brooke secured the third position, and Alaina took fourth place.
It was also announced that the upcoming "Dancing with the Stars – Live Tour 2020" will feature the four finalists, along with previous contestants, Kate Flannery and Sailor Brinkley-Cook. Tickets are available on the "Dancing With The Stars Tour" website.