Tori Roloff from 'Little People, Big World' Shares Photo of Newborn Daughter Lilah's 1st Stroll & Gives Update on Their Lives
Tori Roloff is relishing in the arrival of her second child named Lilah Ray Roloff. Giving her fans regular updates, she is sharing all of her daughter's first moments.
Just days after "Little People, Big World" star, Tori and her husband, Zach Roloff, announced the birth of their daughter, Lilah Ray Roloff, on November 19, she has been giving regular updates on her new-born. The first special moment she shared was on Lilah's first bath, she gushed:
"Lilah girl got her first bath today! She liked it so much she blew out her pants to earn herself a second! ?Also. Murphy would stay next to this kid all day if he could. ? #lilahrayroloff."
Having successfully scrubbed Lilah clean, Tori and her son Jackson Roloff decided to venture into new territory and take Lilah for her first stroll outside.
Wearing a black sweater and matching tights and sneakers, Tori beams as she expresses how good she feels being outside.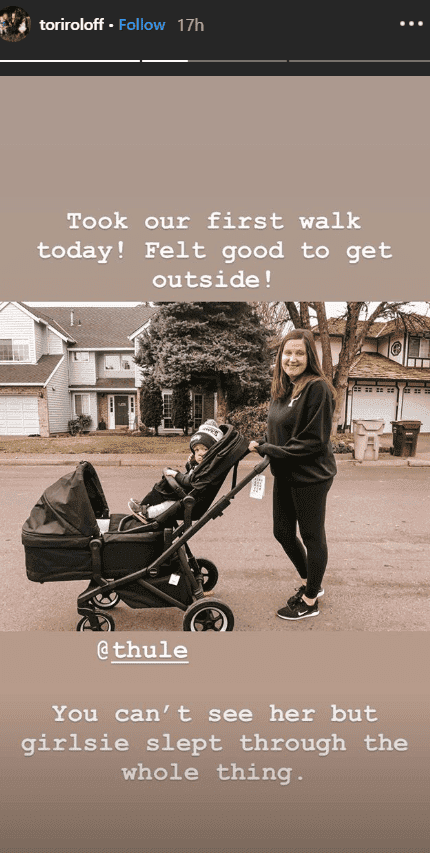 In the picture, Tori holds on a dual stroller by Thule; Jackson sits up top and peeps his head to the side for the camera. 
Sleeping in the bassinet attached to the stroller, Tori says Lilah slept throughout their stroll.
In another update on her Instagram story, she reveals the close bond, their family dog Murphy has developed with her new-born, saying:
"Dogs just know…Murph followed me around for 9 months. Now he could care less about me and won't leave Lilah's side."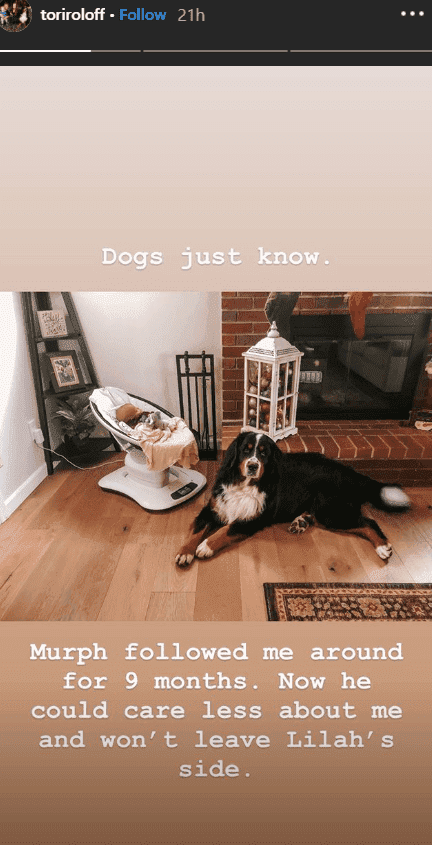 Already part of the family, Murphy is a regular feature in her social media posts, having raised him as a puppy from the time Jackson was born. He has always had a close bond with her son.
The two are often pictured roaming around Roloff farm together, sharing sweet cuddles, and enjoying outdoor adventures. With Lilah's arrival, it seems Murphy has another companion he has found an instant bond with.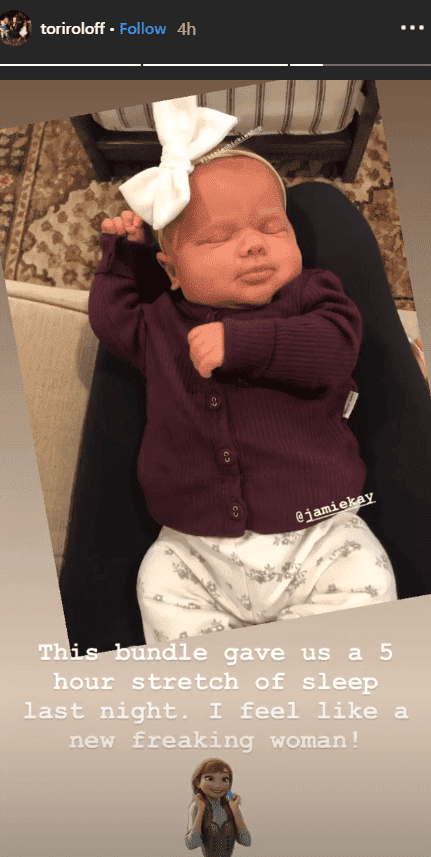 In another update, Tori says she is feeling like a new woman after her daughter slept uninterrupted for five hours, giving her some much-needed rest.
The mother of two certainly deserves a refresher, after enduring a less than pleasant pregnancy. During her pregnancy, she admitted to not feeling like herself and dealt with various insecurities about her body.