'WKRP in Cincinnati's 'Turkeys Away' Episode Is Still One of TV's Funniest Thanksgiving Classics
With festivities kicking into gear this Thanksgiving, it brings with it the traditional indulgences of the season. From that extra helping of turkey stuffing to catching up on holiday favorites on television. One such favorite later became a classic, and it was the day WKPR made turkey's fly.
The sitcom "WKRP in Cincinnati" aired from the late 1970s, and it featured the misadventures of the rock radio station's staff as they struggled to get the Ohio based station to succeed.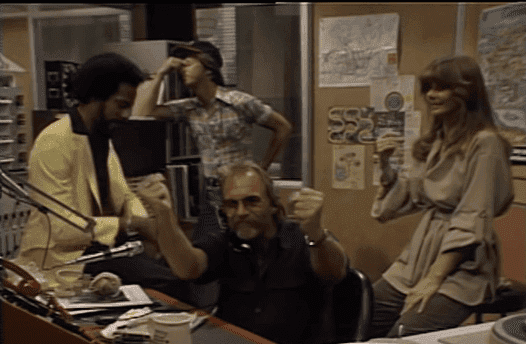 The popularity of the show reflected in the ten times it got nominated for an Emmy. Among the show's numerous funny moments, arguably the best and most relevant to the season, would be the episode titled "Turkeys Away."
The episode premiered on October 30, 1978, and it featured the station's manager, Arthur Carson's ("The Big Guy") idea of "the greatest promotional idea of all time." Arthur had arranged, along with the sales manager and some station staff, that one of their reporters just so happens to be on site when a story literally falls out of the air.
The greatest Thanksgiving episode of all time? "Turkeys Away!" Starting now! #AVeryMerryMeTV https://t.co/5IS7Pjla22

— MeTV (@MeTV) November 25, 2019
Les Nessman, played by Frank Bonner, would be on-site at the Pinedale shopping mall to "cover" the story as it unfolds. Les tried to act unknowingly as he noted on an approaching helicopter with a banner trailing behind.
Painfully slow, he spelled out the words written across the banner, "Happy Thanksgiving, for WKRP," before something caught his eye. A dark object came out of the back of the helicopter, and then another followed by a third. 
"As God is my witness, I thought turkeys could fly." - Arthur Carlson, WKRP in Cincinnati #HappyThanksgiving #OhTheHumanity pic.twitter.com/wlPys7CUFS

— Eric Alper 🎧 (@ThatEricAlper) November 28, 2019
With no parachutes in sight, they finally get close enough for Les to identify the dark objects. "Oh, my God! They're turkeys!" Les exclaimed. "They're crashing to the earth right in front of our eyes! The turkeys are hitting the ground like sacks of wet cement! The crowd is running for their lives!"
When a disheveled-looking Arthur returns to the station, he is confounded by the fact that his idea completely flopped. "I thought it would work. I planned it right down to the last detail," he said. "It was perfect! As God is my witness, I thought turkeys could fly!"
In retrospect, the idea's first-time flop should have given them a good idea. The show's director, Hugh Wilson, used to work as an advertising executive for a radio station, and he explained how a Thanksgiving promotion in the form of a turkey drop in Dallas, Texas, in the 1950s didn't end well.
In an interview with the Archive of American Television, Hugh explained, "Jerry Blum, who was the general manager of WQXI [in Atlanta], told me that he had been fired from a Texas station for throwing turkeys out of a helicopter. I said to Jerry, 'You just won me an Emmy. That's really funny.'"
Another sitcom Thanksgiving that turned memorable came from the family at "Everybody Loves Raymond." Raymond's (Ray Romano) overbearing mother, Marie (Doris Roberts), decided that she and her husband, Frank (Peter Boyle), need to start eating more healthy. 
It's going to be a LONG day. Catch a #Thanksgiving marathon tonight at 8/7c on #TVLand. @PatriciaHeaton @RealBradGarrett pic.twitter.com/9ci5xThEc5

— TV Land (@tvland) November 28, 2019
Marie's decision proved detrimental to her usual grand Thanksgiving meals, and instead, the shocked Romano's had to face a tofu-only meal.
"
Everybody Loves Raymond
" came to television screens almost two decades after "WKRP in Cincinnati" first aired, but the comedy also became hugely popular during its 210 episode run.
The sitcom went off the air in May 2005, and with an all-star cast that also included Patricia Heaton, Madylin Sweeten, and Monica Horan, they continued building their acting careers.