Donnie Wahlberg from 'Blue Bloods' and Wife Jenny McCarthy Rocked Thanksgiving Novelty Hats for the Holiday
Donnie Wahlberg and his wife, Jenny McCarthy, were in a full-on festive spirit as they donned turkey hats to mark Thanksgiving day. They looked absolutely hilarious but adorable!
The internet was full of celebrity snaps this Thanksgiving, and Donnie Wahlberg's picture certainly stood out. The actor shared amusing photos of himself with his other half, Jenny McCarthy, wearing thanksgiving hats and fans could not be happier. 
While Donnie did pose with two different turkey hats for the snapshots, he mentioned in the caption that he wasn't sure how much he liked them. Meanwhile, his wife Jenny was "feeling the turkey hats" this year. 
An amused Jenny took to the comment section to let her husband know that she couldn't wait to "gobble him" up. Fans were no less delighted to see the lovebirds being themselves. 
Jenny and Donnie never fail to show their fans that their relationship is lively to this day. What's more, the couple even renews their wedding vows every year!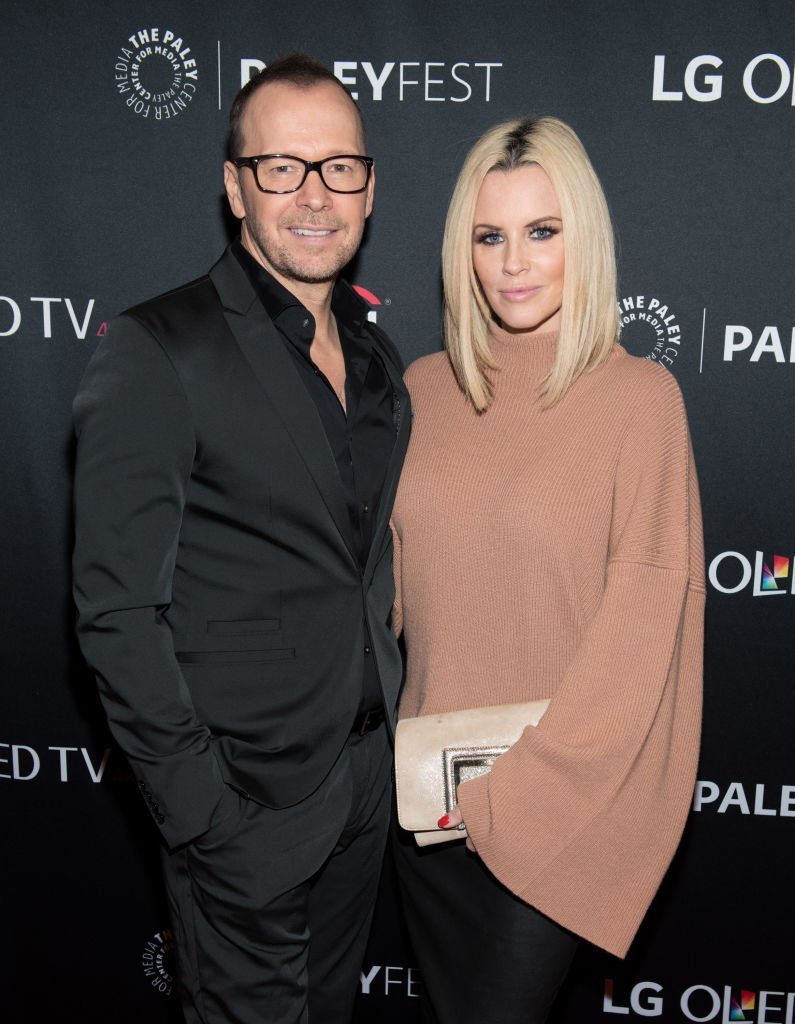 PAST MARRIAGES AND KIDS
In an interview with "E! News," Jenny shared that she was pretty much convinced that a great love might not be in the cards for her. 
"Especially being a single mom, in the past it was one of my biggest fears, "not finding the right person, " and I didn't know if it was going to be out there for me."
Before Donnie came into the former Playboy model's life, she was married to actor John Asher. The duo shares a son, Evan Joseph Asher. Evan was diagnosed with autism when he was two years old. 
Meanwhile, Donnie was married to Kimberly Fey from 1999 to 2010. Their sons, Elijah Hendrix and Xavier Alexander, were born out of their union. 
THEIR ENDEARING LOVE STORY
It is pretty evident that Jenny and Donnie are so in love with each other. Their commitment is so strong that they even have matching tattoos. 
The couple met for the first time in 2013 during a VH1 talk show that Jenny had at the time. Their chemistry was instantaneous, but Donnie didn't ask Jenny out until two weeks later. 
Donnie finally popped the question in April 2014, a little over a year after they first met. He did it with the help of Jenny's son, Evan. The lovebirds got married on August 31, 2014. 
During the ceremony, Evan shared that he loved his stepdad and was glad for his mom. The newlyweds had their honeymoon at the Glenmere Mansion in Hudson Valley, New York. 
MAKING IT WORK
Talking about how their children were getting along after the marriage, Jenny shared with "E! News" that they were doing fine but taking "baby steps" in some areas. 
According to her, each child proved to be a blessing to each other. Luckily, their children got along just fine. As for whether their relationship was affected because of their public life, Donnie shared that rumors could not affect the love he and Jenny share. 
When "E! News" asked whether their high level of infatuation had any chance of withering down, Walberg assured that they are both grownups who have been through a lot before they found each other.
The couple put an effort to keep things fresh in their relationship. When they aren't together, they catch up with one another through FaceTime. The lovebirds show no sign of slowing down any time soon, but they have made it known that having children together is not something they want.