John Legend's Wife Chrissy Teigen Shares Cute Photos of Kids Luna and Miles in Chic Faux Fur Coats
Chrissy Teigen shared two adorable photos of her kids looking lavish in faux fur coats. Little Luna was serving looks in her getup with that boss attitude she gave off. 
On Thursday, Chrissy Teigen took to Instagram to share snaps of her kids Luna Simone and Miles Theodore dressed up in fur pieces that exuded fanciness. 
Of course, the appearance of Teigen's mother's feet kind of threw people off, but she addressed it in the comments. The posts are found below.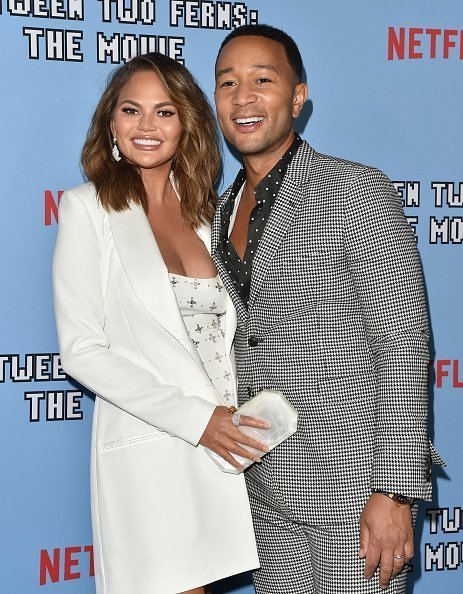 Miles' faux fur getup
Miles was first up. A large brown fur coat entirely covered the one-year-old as he stood near a wooden table on an off-white rug. The decor perfectly matched his ensemble. 
The little one was not focused on the camera at all, but he still managed to look like the man-in-charge as he looked off somewhere. John Legend's mini-me wore his curls out for the photo. 
Teigen's hilarious feet comment
In the caption, Teigen reassured her followers that the coat was faux. She also wrote a hilarious comment. "Those are my mom's feet. May she learn her lesson," it read. 
Soon after, the cookbook author shared a photo of little Luna looking care-free and confident as she rocked a pink faux jacket. Hers actually fit her. 
Luna's top model pose
The three-year-old wore a patterned dress underneath the coat and had no shoes on. She crossed her legs and looked off to the side while wearing a serious expression on her face. 
Fans of the beloved family couldn't get over how much Luna exuded model-like behavior in the shot. The little girl also has tricks up her sleeve in other areas. 
Luna's clever hooky day
On Wednesday, Luna pulled a fast one on her mother by saying she was too sick to go to school. It turned out, the tot was fine and was even able to do some freestyling that day. 
As usual, Teigen caught it all on camera. She shared the bizarre made-up song to Instagram. Fans heard morbid phrases like "red or dead" in her lyrics but brushed it off due to her innocence. 
Miles and his cowboy boots
Meanwhile, Miles was also a bit of a bad boy when he donned a pair of cowboy boots and went through his mom's closet late last month. Teigen shared the photo of her adorable son. 
In the shot, Miles stood in front of a round glass table with a gold base. Underneath a messy head, he wore a serious expression. He also wore some white pampers. 
Child-size gold cowboy boots completed his outfit. Miles had his arms raised in front of him as he touched a red box on the table. In the background, we see Teigen, presumably, in black taking the shot — ever-present for these heartwarming moments.