John Legend's Wife Chrissy Teigen Shares Adorable Photo of Son Miles in Diapers and Wearing Gold Cowboy Boots
Chrissy Teigen and John Legend's baby boy Miles looked like the hardest cowboy of them all wearing nothing but his boots and pampers in a new photo shared by his mom. 
On Thursday, little Miles Theodore Stephens appeared to be in his mom's closet searching for treasure in the form of a red box. We wonder what he found inside. 
Mom Chrissy didn't seem worried as she took pictures of her one-year-old son doing his digging. She was more focused on his adorable cowboy boots. The post is found below.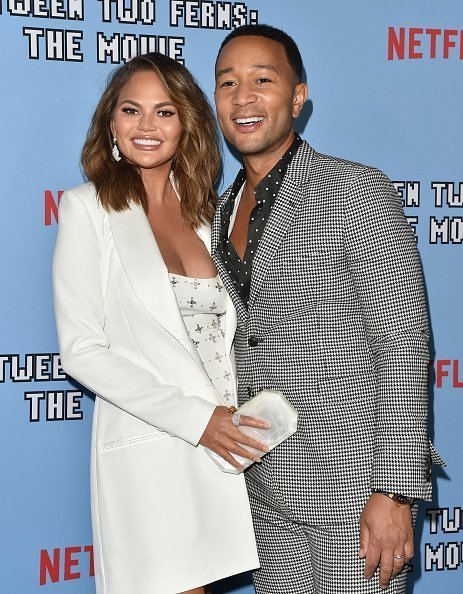 In the shot, Miles stood in front of a round glass table with a gold base. Underneath a messy head, he wore a serious expression. He also wore some white pampers. 
Child-size gold cowboy boots completed his outfit — if it can be termed that. Miles had his arms raised in front of him as he touched a red box on the table. 
Behind him was someone dressed in all-black attire. Presumably, it was his mom who likely took the picture. The clothes hung next to her indicated it was her closet. 
In the caption, the cookbook author wrote, "yeehaw!" The mom-of-two was probably as thrilled by her son's extreme cuteness as many in the comments were. 
In comparison, earlier this week, she pretended to be scared of little Miles because of an expression he made. Teigen turned the whole thing into a meme much to the delight of followers. 
She posted a side by side photo and compared Miles's face to the meme "Disaster Girl," — both suggesting that her son would be "Disaster Boy" and also making Miles into a whole new meme. 
Oh no pic.twitter.com/n4Llew0fqE

— chrissy teigen (@chrissyteigen) November 25, 2019
In the picture, Miles looks back over his shoulder with mischief on his face while standing at an airport. "Oh no," Teigen captioned the tweet. Netizens took the meme and ran with it. 
Teigen and Legend also share three-year-old daughter Luna. Last month, fans got double the cuteness when Teigen featured both of them in one heartwarming photo.
https://www.instagram.com/p/B3aRdlth-5O/?utm_source=ig_embed
Over two shots, the siblings appear to be having fun together as they smile together while sitting on the floor. In the caption, Teigen said the two are "sometimes" best buddies. 
We can only imagine what trouble these two usually get up to with power couple parents like theirs. We just hope they keep the peace for Thanksgiving.