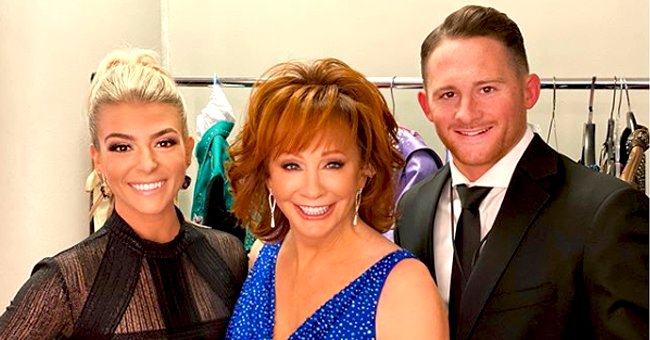 instagram.com/rissabranch
Reba McEntire Take Photos with Son Shelby Blackstock & His Girlfriend Marissa Branch during Trip to GLOW Nashville
Fans praise Reba McEntire for making time in her busy schedule to enjoy some bonding time with her son and his girlfriend during a visit to Glow in Nashville.
Reba McEnitre, who is fresh off of hosting the all-female line up at the CMA's with Dolly Parton and Carrie Underwood made time for her family this weekend. In caption her son's girlfriend, Marissa Branch said:
"GLOW Nashville was an awesome experience to get into the Holiday Spirit! Even got to meet Santa!! (... but I made the rookie mistake of forgetting to ask if we were on the Nice List ?) @glowholiday #latepost."
In the first picture, Reba poses front and center with her son, Shelby McEntire Blackstock, on one side and his girlfriend, Marissa, on the other side.
In a series of other pictures, the couple appears to on a date of their own as they pose for pictures together with a hot beverage in almost every shot. They also took a picture with Santa Claus.
The family trip had many fans envying the time they spent together. The bright lights and festive scenes made for the perfect holiday feel. One fan said:
"Okay this is the cutest ever."
Being around a country music legend like Reba comes with its own level of stardom, so it is no surprise that Reba stole the attention in the comment section for the picture.
One fan couldn't get enough of the moment and sent praises to both Marissa and Reba, making a special acknowledgment to Reba's country legend status.

A fan comments on a picture of Marissa Branch with Shelby McEntire Blackstock and Reba McEntire at Glow in Nashville | Source: Instagram.com/rissabranch
It is reported, Shelby is Reba's only child from her 26-year marriage to her manager Narvel Blackstock. The couple announced in 2015 that they were separating.
However, she still remains close to Narvel's children and grandchildren, who she considers her own. Kelly Clarkson married her stepson Brandon Narvel, and she is still referred to as her mother-in-law.
Reba hasn't had much luck in love lately. Earlier this year, after confirming her break-up with her boyfriend, Anthony "Skeeter" Lasuzzo, she walked the red carpet alone at the CMA's
According to US Weekly, she said the couple's busy schedules kept them apart a lot, and they were not making enough time for each other. She also adds that they remain amicable following their split.
Please fill in your e-mail so we can share with you our top stories!