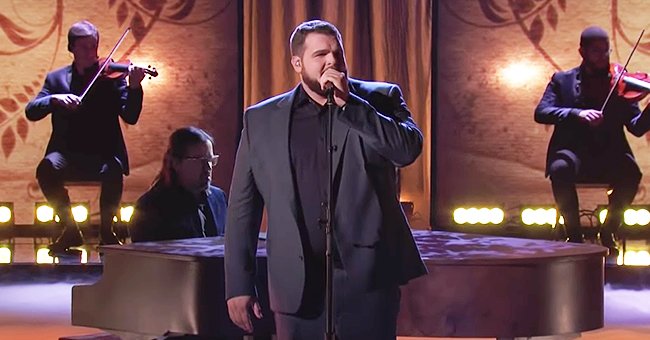 youtube.com/The Voice
Jake Hoot Sings Rendition of The Eagles' 'Desperado' in Honor of His Mom during 'The Voice' Semifinals

Jake Hoot wowed "The Voice" audience with a heartwarming performance of "Desperado" by The Eagles to honor his mother.
In preparing for the semi-finals of "The Voice," Jake Hoot put a lot of thought into his song choice as it was a crucial determinant of whether he would be among the top 4 contestants or not.
He eventually made his decision and told his coach, Kelly Clarkson, that he would perform one of the most well-known songs in music history to honor his mom, who has always enjoyed it.
At the semi-finals, Jake put tears in the eyes of many as he performed one of Rolling Stone's 500 greatest songs of all time, "Desperado."
Fans of the television series responded to his performance in the comments section of "The Voice's" YouTube channel. A fan said:
"Hoot doesn't have to shake, shimmy, dance... all he has to do is open his mouth and sing... and sing he does... Jake Hoot is perfection!!!"
Another said:
"Can't stop pushing the replay button. His voice is magical!"
A third added:
"I don't listen to country too often, but if Jake released a record right now, I would be all over it. Week after week, this man has showcased his incredible vocals. I would love to see him in the finale."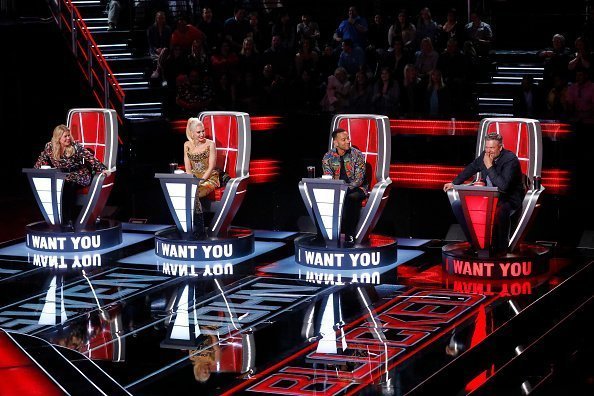 Kelly Clarkson, Gwen Stefani, John Legend, Blake Shelton on set of the voice | Photo: Getty Images
Another tweeted:
"Jake Hoot deserves to win the Voice! Desperado brought tears to my eyes."
The 31-year-old single father who at the blind auditions, was only able to make one of the judges turn his chair is making impressive waves in the competition as he appears to have a magnitude of fans behind him.
Week after week, he has impressed viewers to vote for him and managed to work his way up to be among the top 8 competitors in the season.
On Tuesday's episode of "The Voice," the top 8 contestants were reduced to 4 as four were eliminated from the show. As many of his fans predicted, John Hoot made it as one of the top 4 contestants eligible to move on to the finals.
Please fill in your e-mail so we can share with you our top stories!