Tori Roloff from LPBW Shares Video of Newborn Daughter Lilah in Knitted Sweater and a Bow Headwrap
"Little People, Big World" star, Tori Roloff, showed off her adorable baby daughter, Lilah Ray, via Instagram stories, and she is the cutest baby ever!
Reality television stars, Tori Roloff and her husband, Zach Roloff became second-time parents about three weeks ago, and since then, the proud parents couldn't get enough of their little daughter, Lilah.
The twenty-eight-year-old mom took to Instagram to share yet another photo of her baby girl, looking cute and cuddly in Knitted wool jumper and headband.
A LITTLE BUNDLE OF JOY
The last few weeks have seen the Roloffs' social media pages flooded with photos and videos of their newest addition, leaving fans thirsty for more loads of cuteness. In one of her recent posts, the mother of two showed off her new baby taking her beauty sleep in a warm outfit. The 28-year-old included the caption:
"Trying to figure out this little body."
The photo featured little Lilah adorned in a white-colored knitted sweater, black woolly pants, and green polka-dotted headband tied into a bow.
GETTING THE HANG OF PARENTING 
Zach and Tori made the first revelation of their expectant parent status, as well as the baby's gender in May, six months before the baby's birth. Their child, Lilah, arrived on November 19 to the excited parents making their son, Jackson, a new big brother. 
The new parents have since been unable to hide their excitement over the new addition. "She has been the perfect addition to the family," Tori revealed in an interview with People.
However, with the revelation of the baby's birth came speculations that the new daughter, like her father and brother, may have inherited the dwarfism gene.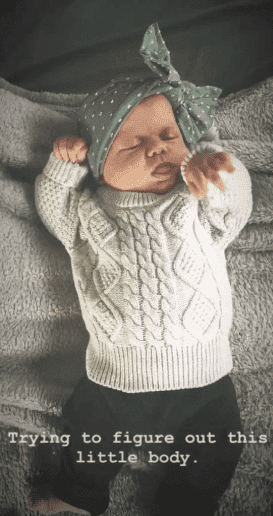 TORI ONCE SPOKE ABOUT HER BABY'S EXPECTED DIAGNOSIS
The two-time parents have been open about their son's achondroplasia diagnosis right after his birth, but with their new baby, the couple opted out of an in-vivo diagnosis, explaining it was unnecessary because they loved her unconditionally. The 28-year-old recounted:
"You can find out through an amniotic draw if you're having a dwarf or not, but Zach and I opted out of that just because we don't care either way."
True to their words, the new parents have shown nothing but love to their 18.5" newborn daughter.
THE COUPLE COULDN'T ASK FOR ANYTHING BETTER
Last month, following Lilah's birth, the couple began their cute photo spree with a collection of Roloff family pictures, centered on the newborn.
One of the photos featured the family of four cuddled up on a couch, all smiles for the camera as the Zach captured the moment. 
The mother of two shared the cute pics via her Instagram story, with a caption expressing her gratitude for her blessed family, while stating that she could not have asked for anything better.
With little baby Lilah now in the family, their joys are complete, and fans can't wait to have more loads of the new baby's cuteness come to the budding 2020 "LPBW" spin-off.