Granger Smith's Wife Amber Shares Throwback Family Photo and Talks about Their Late Son River
Granger Smith's Wife Amber relived a moment from 2017 in a throwback picture she shared with their fans.
On December 6, 2019, Amber shared a photo of their family, including their late son River.
In the caption, she wrote that it was their most loved picture of 2017 and that she agreed it was because of the joy seen in their faces.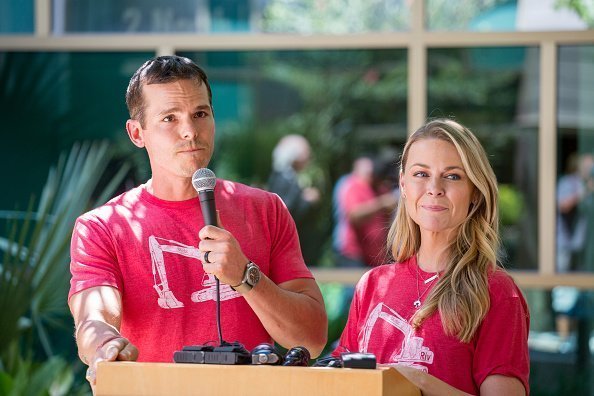 EMOTIONAL MESSAGE TO FANS
Amber also stated that their late son, River, still has that much joy in heaven, but that she misses him in her arms. She continued:
"I know a lot of you are missing someone today, and every day. You are not alone. Give yourself grace today if you are hurting. Allow yourself to miss them. Allow the emotions. Everything you feel is ok. I always tell my kiddos, it's ok to cry. It's just love coming out of your eyes. With great love comes great grief. And dang, it's a great love. I'm so thankful to feel this love."
The post received more than 37,000 likes in less than two weeks, with fans sharing encouraging words and also sharing their struggles with their own loss.
RESUMING HIS MUSIC
Granger Smith has resumed his music tour after the tragic loss of his 3-year-old son, River. The boy drowned earlier this summer, as reported by Pop Culture.
He thanked his fans for helping give comfort to the family as they grieve.
The tattoo consists of the name "River" written in large black script across the country musician's right forearm.
MOVING TO A NEW HOUSE
The family has decided to relocate to a new home, which the couple believed would be better for their daughter London and son Lincoln.
While they loved their old house, the drowning accident changed the way the family felt living there.
Although he felt that he was not totally himself at the old house, the country music star said they would go back and forth because River loved the woods and the fields around their old house.
The singer had debuted a new tattoo in honor of his late son while making his emotional return to the stage at the Country LakeShake music festival in Chicago, following his son's death, as reported by PEOPLE.
The tattoo consists of the name "River" written in large black script across the country musician's right forearm.
He also penned a thank you note to his fans for standing by him after the loss of his son.
"I've played at the greatest times of my life, and I've played shows after terrible losses," he wrote on Instagram. "But that's my job. But through it all, it's the people that keep me coming back. If you've seen me lately, let me say, thank you for all the support… seriously you're the fuel to my flame."