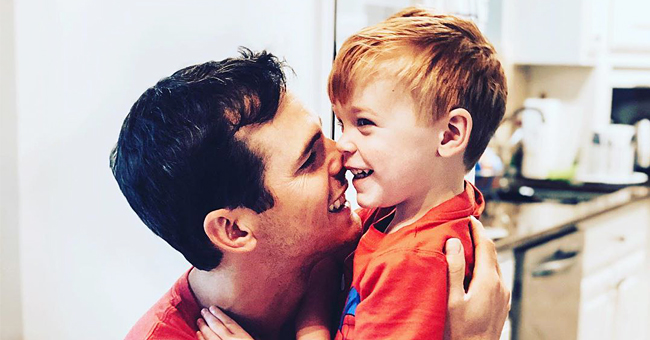 instagram.com/grangersmith
Granger Smith Thanks Fans for Their Support after Loss of 3-Year-Old Son River

American country singer, Granger Smith is still recovering from the loss of his son. He took to Instagram to thank his fans for their support, writing, "You're the fuel to my flame."
Granger Smith took to Instagram to pen a heartfelt message about performing in the face of triumphs and tragedies. He also sent a thank you note to his fans for standing by him after the loss of his son, River.
"I'VE PLAYED SHOWS AFTER TERRIBLE LOSSES"
In the Instagram post, Smith dressed in a black outfit, with the name tattoo of his deceased son displayed on his right arm. He detailed the highs and lows of his career, writing:
"... I've played shows where I broke ribs and punctured lungs. Played for important suits in Washington, and heroes in Iraq. I've played for country kids in the mud in Iowa, and cowboys in Australia."
The country star continued that he's performed for a large crowd and a small group of people, adding,
"I've played at the greatest times of my life, and I've played shows after terrible losses."
The singer acknowledged,
"But that's my job," before continuing, "But through it all, it's the people that keep me coming back. If you've seen me lately, let me say, thank you for all the support… seriously you're the fuel to my flame."
"WE WILL ALWAYS BE HERE TO SUPPORT YOU"
Smith's words touched his followers, and one of them commented,
"We love you. Thank you for helping us so many times. We will always be there to support you. Can't wait to see you soon."
Others echoed the sentiment, writing how much they love him, and commenting, "This is my favorite."
The country star shared River with his wife, Amber Smith, and they have two other children, daughter, London, and son, Lincoln. The late 3-year-old boy died from accidental drowning, after falling into their home pool.
HONORING RIVER
The couple recently moved out of the home where the accident happened, and Smith explained that they decided to move to help them heal, and for the well-being of their children.
In June, just before River passed on, the singer and Amber chose to donate his organs after the doctors told them he wouldn't regain brain activity. The donated organs saved the lives of a 49-year-old woman and a 52-year-old man.
Amber, in an Instagram post, described it as the hardest and yet, the easiest decision they've ever made, but noted it was the best way to honor River. Smith and his wife will forever remember their son and continue to keep his memory alive.
Please fill in your e-mail so we can share with you our top stories!