Meghan McCain Slammed by 'View' Fans after She and Whoopi Goldberg Address Confrontation That Went Viral
Fans have continued to slam Meghan McCain even after she and Whoopi Goldberg confirmed on the show that all was well in their neck of the woods.
Even though the women of "The View" appeared to have smoothed things over during Tuesday's show, fans are yet to get over the showdown between co-hosts Whoopi Goldberg and Meghan McCain.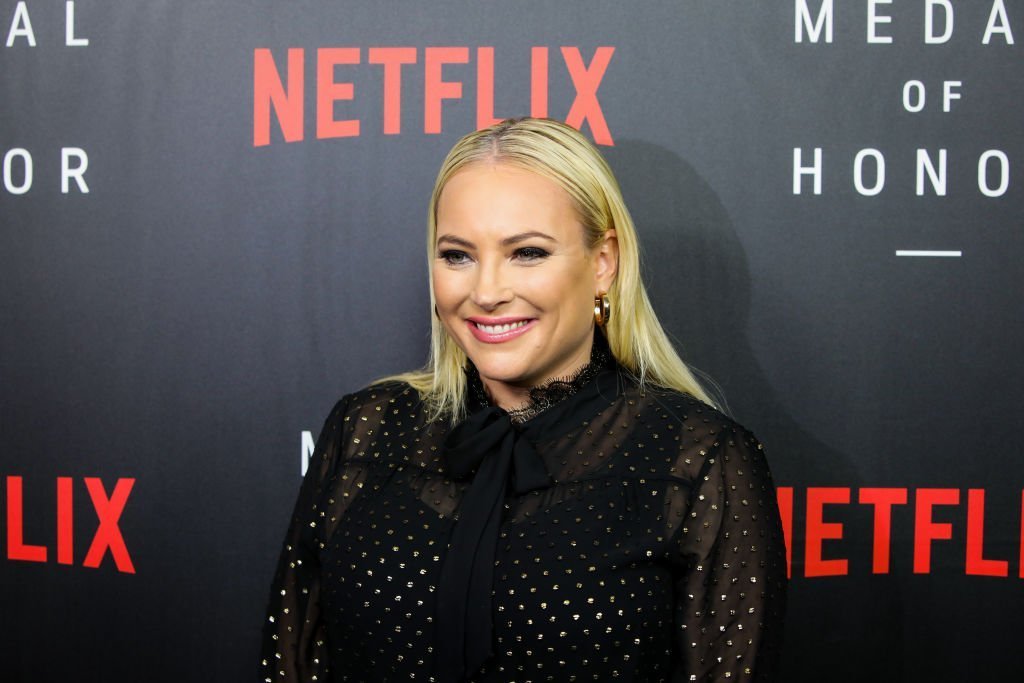 Vulture reported that fans took to the show's official Instagram to vent after the account shared a clip addressing their hated discussion.
In the clip, Whoopi was heard stating:
"This is real time. Stuff happens on our show in real time and everybody, wherever you sit with this, don't assume that we're over here with butcher knives under the table."
Meanwhile, Meghan politely stated:
"Can I say something? I've loved you for a long time. You were good friends with my dad. We fight like we're family. It's all good."
Despite the show of goodwill, one viewer took to the comments to write that Meghan's continuous rudeness was not entertaining.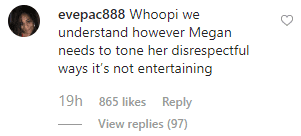 While another person asked that ABC not only fire Meghan but also replace her with somebody who could argue without being condescending and disrespectful.
A third viewer mentioned that she knew Whoopi would attempt to "clean up" Meghan's mess.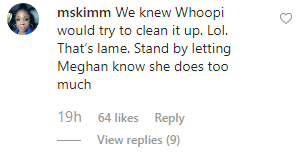 A fourth fan who wasn't buying into the reconciliation wrote"
"Thanks for smoothing that over NOT TRUE but you tried. Meghan is rude and disrespectful. I have watched her since day one and she is my all-time worst host. Why didn't she snap at Robert DeNiro? She knew better."
A fifth fan chimed in that Meghan acted like a "spoiled brat whenever she didn't get her way."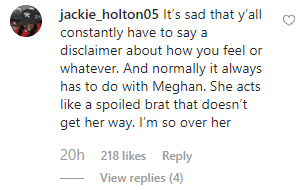 Daily Mail recalled that the confrontation between the women began during a segment on Monday's show when the hosts had begun a discussion that revolved around President Donald Trump.
While Sunny Hostin was trying to make a point, Meghan had interjected and didn't back down when other co-hosts tried to intervene.
Whoopi eventually got fed up and asked Meghan to "please stop talking," which caused the latter to state that she would maintain her silence throughout the show.
Whoopi abruptly cut to commercial when it appeared that talking to Meghan was no help. True to her word, the 35-year-old kept quiet throughout the next segment.
However, after the show, Fox News reported that Meghan had taken to Twitter to state that she won't allow herself to be silenced.
The TV personality added that she had the "responsibility to speak for the 50% that feels media doesn't represent them."
Dems and Rs alike need to confront the ugly truth: both parties are failing to be impartial jurors. I won't be quiet, even if the reality reflects poorly on the entire political establishment. I have a responsibility to speak for the 50% that feels media doesn't represent them.

— Meghan McCain (@MeghanMcCain) December 16, 2019
Meghan also shared some images that backed up her claims, but fans have refused to buy into her act and have told her as much.