Eric Trump's Wife Lara Shares Adorable New Photos with Her Husband & Kids, Showing Their Resemblance
Lara Trump, the wife of President Donald Trump's second son, Eric, showed she is already in her holiday spirit after posting a cute family photo a week ahead of Christmas.
Lara Trump took to Instagram a couple of days ago to upload a gorgeous family photo along with her husband, Eric, and her two children. Lara and Eric dressed smartly for the photograph with Eric flaunting a dashing suit and Lara showing off a skirt-suit matched with high-heeled shoes.
In the photo, Eric is seen carrying their 2-year-old son, Eric Luke, while Lara carries their 4-month-old daughter, Carolina Dorothy Trump. Of the two adorable children, Carolina looks more in a festive mood with her red outfit.
BUNDLE OF CUTENESS
In another snapshot uploaded on Instagram, the daughter-in-law of the US President is seen carrying her son in her arms as she watches a few musicians perform. From the looks of it, it seems like young Eric Luke has dozed off adorably in his mother's arms.
Lara explained in the caption to the photo how her role as a mother often had to be prioritized even at the White House. She wrote, "Sometimes you just want mom, even at the White House."
The photo was enough to melt the hearts of the Instagram users, who quickly took on the comments section to shower Lara with their love and support. A few fans commended her for her "elegance" and "beauty" while terming the sweet moment as something "precious."

Lara posted yet another cute photo a day ago, however, this one involved only her and her daughter, Carolina. The selfie that Lara posted sees her holding Carolina in her arm as the little one looks at the camera with curious eyes.
The proud mother bore a beautiful smile as she flaunted just how lovable her little daughter looked. In the photo, Carolina also seemed to be carrying a lot of resemblance with her mother.
AN UNEXPECTED BLESSING
Eric and Lara gave birth to their first child, Eric Luke, in September 2017. Lara previously told "People" that she could not believe that she was going to be a mother when she discovered about her pregnancy for the first time.
"It surprised me, because I'm a very active person, and until the fatigue hit, I didn't believe it would actually happen to me. It really affected me. But I'm feeling really good now."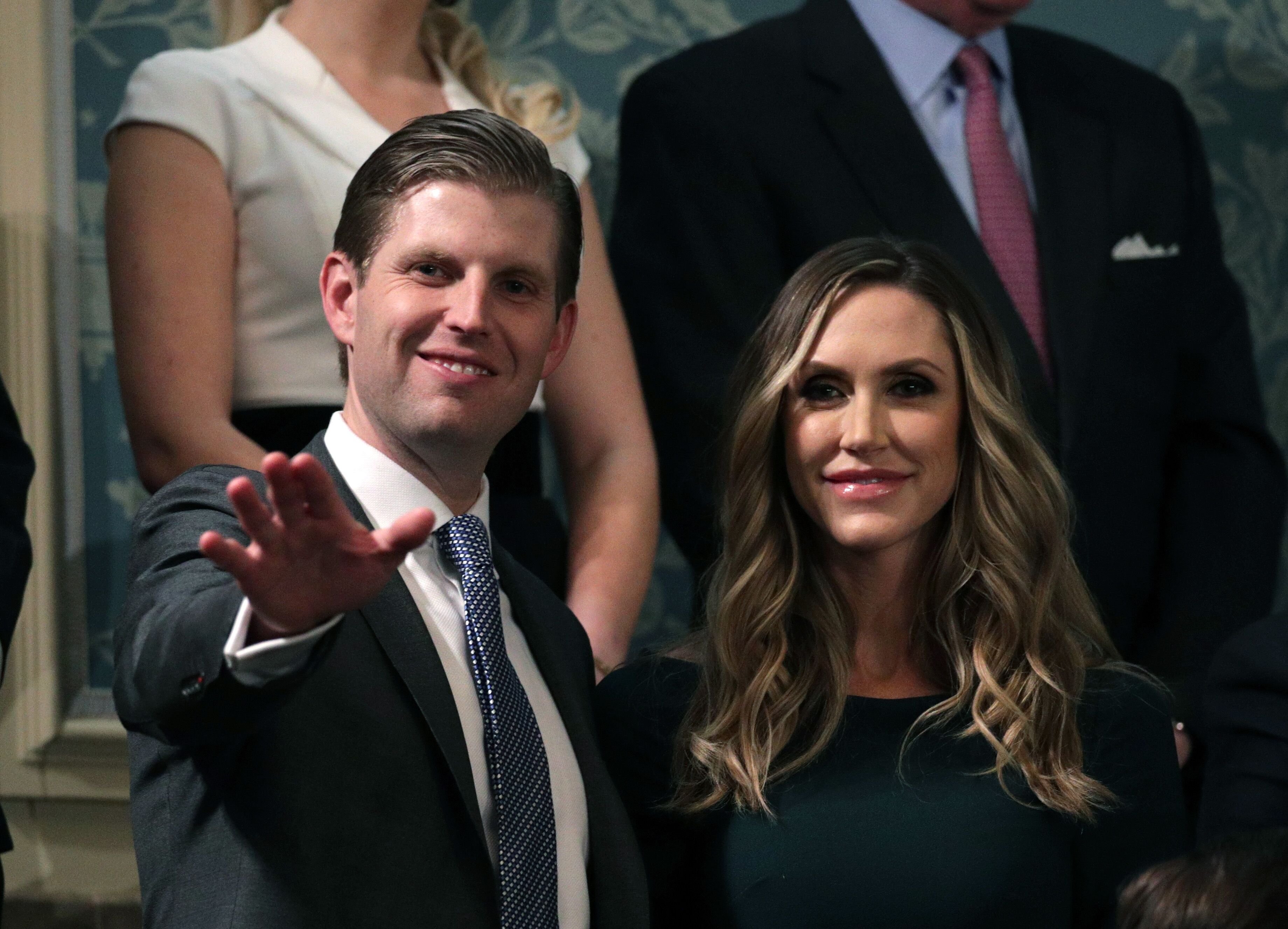 IGNORING THE NEGATIVITY
Lara, who has been involved in some of President Trump's political tours, previously stated that she is excited about getting to share the news of her "adventure overseas" with her children when they eventually grow up.
Meanwhile, Lara and Eric have also become a focus of negative criticism due to their ties with the President. During her first pregnancy, the couple got themselves in a controversy with comedian Chelsea Handler.
In a later interview, however, Lara stated that she wanted to ignore the negativity because there were many other people who actually supported her.