Don Diamont of Y&R Fame Says Wife Cindy Ambuehl Is Very Patient as He Shares Hilarious Video of the Couple
"Young & Restless Star Don Diamont gave his fans some holiday cheer with a video he posted on Instagram, which showed how patient his wife could be. 
Watching a funny video posted by Don Diamont, which features his wife Cindy Ambuehl, is a great way to get laughing this Christmas season. 
The video shows Cindy busy packaging presents into gift bags while in her living room. She then calls out to her husband to help her get the "best wrapper in the house."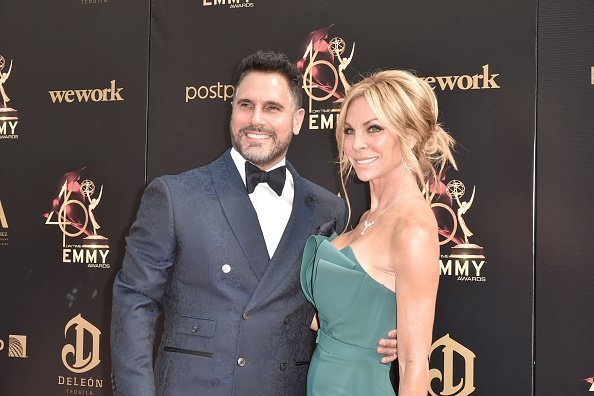 An excited Diamont quickly changes into a white Adidas tracksuit and walks majestically to meet his wife. On getting to where she is, Diamont jumps and opens his arms, presenting himself before Cindy. 
A bewildered Cindy asks him what he is wearing, to which he replied, saying:
"This is rapper Donny D. You said you needed the best rapper in the house (twists and turns, and then opens his arms), well."
Surprised with what she was witnessing, Cindy explained that she said, "Wrapper, with a "W," making the "W" sign with her hands. 
Diamont, still not getting the point, continues to act like a rapper and smiles, making the "W" sign with his hands, depicting himself as a rapper with "W."
Seeing that his wife is not excited about his act and now getting what she meant, Diamont walks away from the scene, downcast, and probably to get Cindy a wrapper. 
Cindy, on the other hand, places her hand on her head and exclaims: "Oh my gosh." In his caption to the post, Diamont praised his wife's patience, writing:
"Here is a little holiday cheer for you! @cindyambuehl is a very patient wife!!![emoji]."
Don Diamont is renowned for having roles in many famous soap operas such as "Days of Our Lives," "Young and the Restless," and "Bold and the Beautiful."
With the hilarious video he posted, the actor, a former model, who, in 1990, was named as one of People Magazine's 50 Most Beautiful People, would be staking a claim for one of the funniest holiday season videos of the year. 
Don Diamont is not only a special husband but also a special father. He has a total of seven children from his two marriages and shares a lovely bond with all of them. 
Diamont was married to Rachel Braun from 1996 to 2002. The ex-couple shares four sons, Lauren, Sasha, Alexander, and Luca. With his second and present wife, Cindy, he has three children, including twin sons, Anton and Davis, and a third son, Drew. 
However, not all of Diamont's seven sons are biologically his. Diamont took Lauren and Sasha as his own children, even though he didn't father them, while Drew is the biological son of his late sister, Bette. 
The actor loves being a father to his sons and enjoys being a great husband to Cindy, even though that may sometimes mean testing her patience.