Tamron Hall Sends Seasonal Greetings as She Poses with Her Son Moses on His First Christmas
The talk show host took to social media during the holidays to gush about her baby son's milestone, and looked every bit as the loving and proud mother she is since welcoming him.
49-year-old broadcaster Tamron Hall had a Christmas unlike any other one in her life, since this is the first one that she gets to spend with her little bundle of joy Moses, who turned 8 months old on Christmas Eve.
Hall was all smiles, wearing a colorful ensemble that included a miniskirt, as she held the giggly baby that sat on her lap wearing a cozy and warm cream-colored baby suit, in a celebratory Instagram post.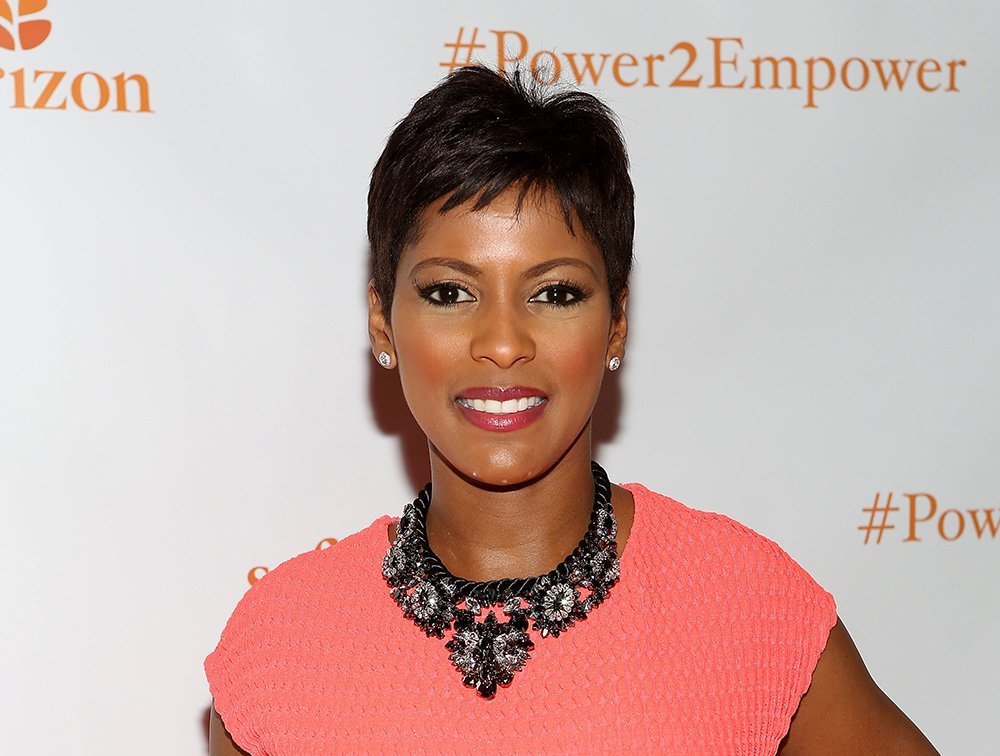 THE GIFT OF 2019
The former "Today" host welcomed her firstborn in April 2019, at the age of 48, shortly after marring music executive Steven Greener with much discretion. It has been a year of new beginnings for the middle-aged celebrity.
"Merry Christmas eve y'all. So excited to celebrate Baby Moses 1st Christmas. Counting down the few hours left."
-Tamron Hall, Instagram, December 24, 2019.
Ever since she shared the happy news of the newest addition to her family, Hall has been posting snapshots of her beloved son on Instagram, but she hadn't been as open during her pregnancy.
SOCIAL MEDIA DEBUT
Moses made his social media debut late in April, as a newborn, when Hall posted a picture of herself holding the little baby on her arms while wearing a hat with his name written on it.
In that post, Hall shared that her husband couldn't "stop crying tears of joy," and thanks her fans for the love and support she needed to go through a late pregnancy.
After that introduction, Moses became a regular fixture in his mother's social media, and he has stolen every heart with his adorable appearances.
MOSES' BIG MOMENTS
Being a mother for the first time being so close to the age of 50 is not a small deal, and we can understand why Hall cannot stop making Baby Moses the center of attention. Not for nothing she called him her "miracle baby."
On May 31, we could all get a better look at Moses, after his mother photographed him in a stylish baby suit in his cradle, surrounded by toys, to mark his first 5 weeks of existence.
Then, for Halloween, Hall had her baby dressed up as the Biblical Moses, putting a long white wig on her son and pulling him in a cart into the stage for a special episode of her talk show, while she dressed up as Moses' adoptive mother Bathia.
SECRECY
The world only learned about Hall's pregnancy in March, when she was already 32 weeks pregnant and about to give birth. In fact, her recent wedding with Greener was mostly kept under wraps until then as well."I was [a] high-risk [pregnancy], not just because of my age, but there were other medical factors too," Hall shared with People in May.
"I was terrified I would lose this baby and I would have to go back and tell everyone that now it was bad news, and after this pregnancy had gone so far. I just wasn't mentally prepared to deal with that," the TV host explained.
Hall also opened up about her failed fertility treatments she underwent in her 30s, and how she nearly lost all hope of being a mother after reaching the age of 40. Fortunately, she didn't give up and now she is enjoying motherhood at last.