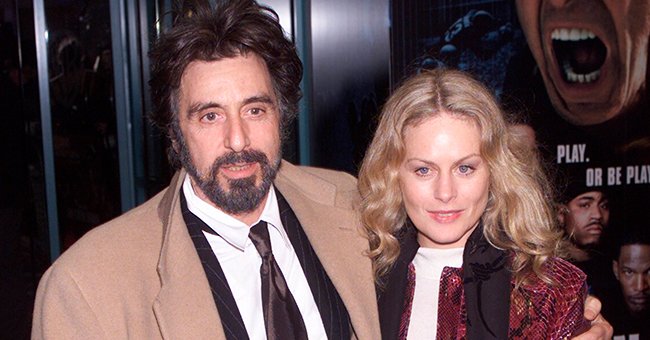 Getty Images
Inside Al Pacino's Love Story with Beverly D'Angelo: They Have Twins

Al Pacino and Beverley D'Angelo were only three months into their relationship when they realized they wanted children together, despite being unmarried. Shortly after their twins' birth, the two stars separated and butted heads in a nasty custody battle.
Al Pacino is a name that needs no introduction, having starred in all three "The Godfather" films, among several other notable movies. Like him, his former lover, Beverley D'Angelo, was also an actress who landed a string of minor roles throughout the '70s.
D'Angelo reached fame when she starred as Ellen Griswold in the 1983 film "National Lampoon's Vacation." Other roles came in the next few years, but one that she holds close to her heart is the one she prepared for most – motherhood.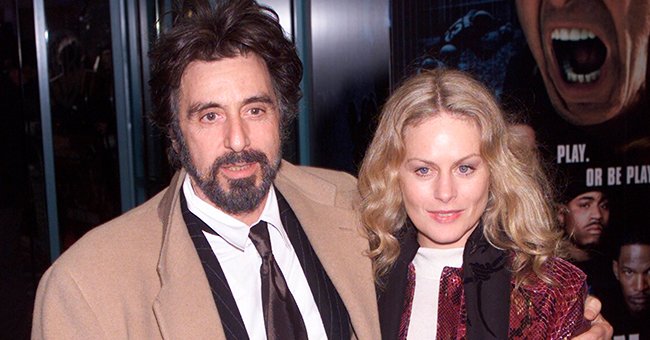 Al Pacino and Beverley D'Angelo during the UK premiere of the film "Any Given Sunday" on March 29, 2000. | Source: Getty Images
PACINO AND D'ANGELO FALL IN LOVE
Pacino and D'Angelo began their romantic relationship in 1997, at a time when they were both past their 40s. Although in love, the pair had no plans of tying the knot yet. However, they did want to have children. The "Vegas Vacation" star said:
"After we'd known each other for three months, [Al] looked me in the eyes and said, 'I want you to be the mother of my children.' That's all I had to hear."
D'Angelo always thought that having kids meant raising them in a family setup, so she delivered fraternal twins at the age of 49.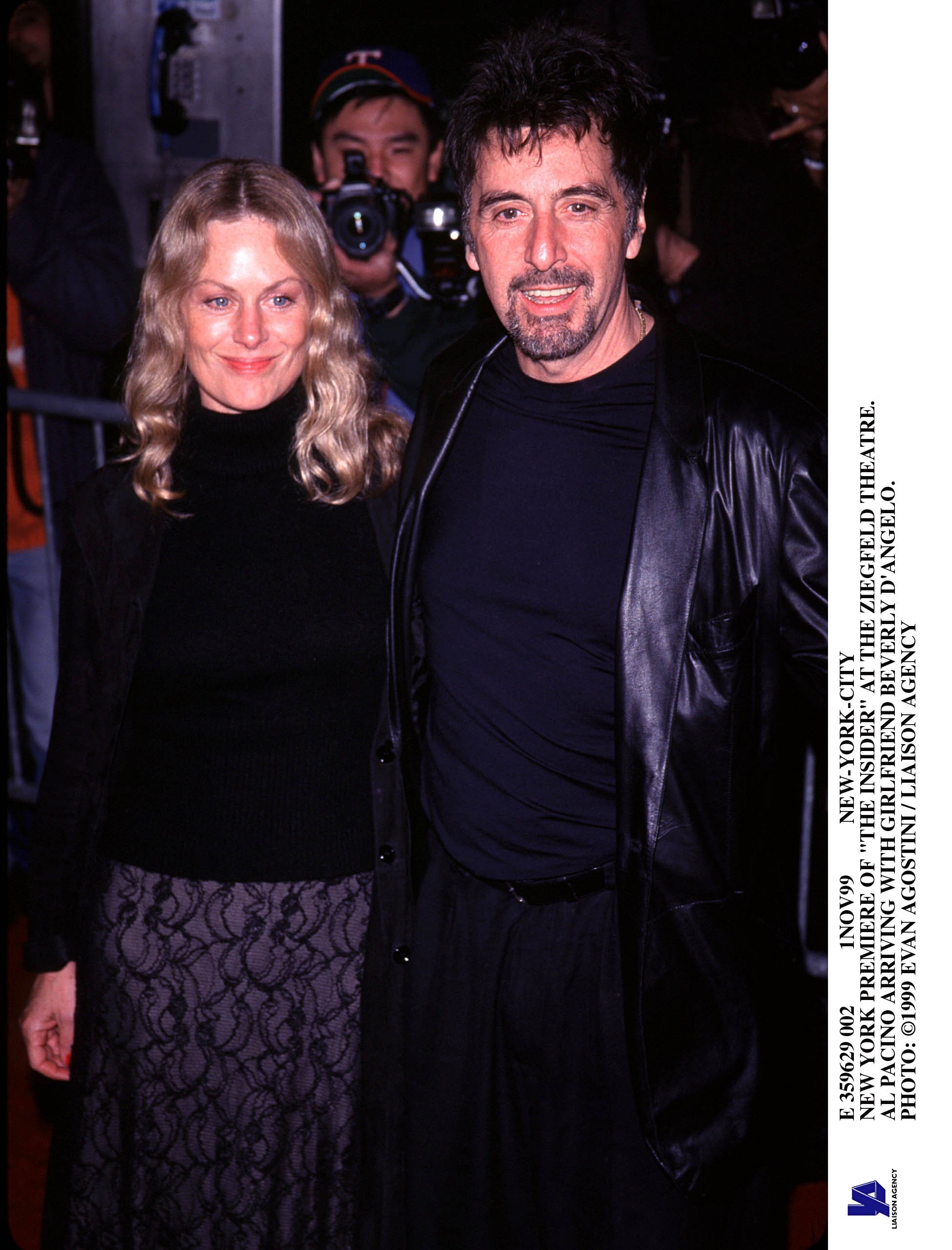 Al Pacino and Beverly D'Angelo at the New York Premiere Of "The Insider" on November 1, 1999 | Source: Getty Images
BECOMING PARENTS
The actress conceived her kids at 48 via IVF and gave birth six weeks after turning 49, naming them Anton and Olivia. However, it seemed that becoming parents together brought more harm than good to the couple's relationship.
Although their parents were Hollywood icons, Olivia and Anton stayed out of the spotlight for most of their lives.
When their kids were two, the couple separated and endured a bitter custody battle in 2003. During one of the hearings at Manhattan Family Court, both sides revealed each other's dirty laundry.
THE CUSTODY BATTLE
D'Angelo's spokesperson said that "The Devil's Advocate" star was "a controlling, harassing man who has never changed a single diaper."
Pacino's camp rebutted that D'Angelo used their kids as hostages for more money. At that time, D'Angelo wanted to move back to Los Angeles but was instead living in Manhattan with her kids, in an apartment Pacino paid $18,000 a month for.
According to the actor's lawyer, Martin Wasser, he also paid $35,000 for four nannies and other expenses related to their children's needs and welfare.
"Beverley continues to use the kids in a way that almost makes them hostages. We sometimes joke that we are dealing with a baby rental company. For every extra hour Al wants to spend with the children, she wants to be paid more money," Wasser said, as reported by Entertainment Weekly.
Meanwhile, D'Angelo's associate noted that the actress is more than happy to have Pacino visit their kids. However, he often fails to follow the visitation schedule. D'Angelo's publicist, Dan Klores, told the New York Daily News, as reported by Entertainment Weekly:
"The conduct of Al Pacino's attorney has been reprehensible, and there should not be a mother in America who isn't appalled by his language, deceptions, and untruths. He's [...] attacking the mother of two children."
PACINO AND D'ANGELO RECONCILE
However, sixteen years later, the exes have moved on and become friends once again. The actress is making new memories and moving on from the bitter relationship. D'Angelo learned to accept the things she couldn't change and control what she could to make the situation better.
Together, the former lovers co-parent their twins. "Out of my support system and people I know and love, I've created the ideal partner," she said.
Meanwhile, Pacino previously admitted that he had made mistakes as a father. Through it all, he learned to be better, not only to Olivia and Anton but also to his eldest child, Julie Marie, whom he had with Jen Tarrant in 1989.
The movie star wanted to be a better father than his own and tried to share a special bond with his children. Following his split from D'Angelo, he moved closer to help raise their twins, who admittedly changed his perception of life.
The doting father claimed that his world revolved around acting before Olivia and Anton came, but his career became a fraction of his life since their birth. His top priority remains to be a great dad.
OLIVIA AND ANTON PACINO
Born on January 25, 2001, Olivia and Anton came as twins. Although their parents were Hollywood icons, Olivia and Anton stayed out of the spotlight for most of their lives. Recently, Olivia has been more active on social media, posting gorgeous photos of herself.
She also streams live on the platform Twitch, playing the video game Call of Duty: Modern Warfare. On the other hand, her brother hasn't been active on any social media platform. He also doesn't appear on red carpet events as much as his sister.
D'ANGELO, IN RECENT YEARS
After the split, D'Angelo has been a hands-on mother, focusing on her children's well-being. However, she did grace the screens several times to film different productions, including the "Vacation" film series, where she starred alongside Chevy Chase.
Over the years, D'Angelo has kept in contact with Chase, bringing her a long-lasting friendship with the comedian. She said her relationship with Chevy Chase is "tried and true" because they've gone through many things together, including an attempt to do a TV show that she described as a nightmare.
While they filmed the pilot, Beverly was constantly fed up with Chase, and when it was over, she was relieved and thought, "now I can go back to loving him." The pair reunited for a cameo on the 2015 film "Vacation," a reboot from the original films starring Ed Helms as the couple's grown son, Rusty Griswold.
Please fill in your e-mail so we can share with you our top stories!