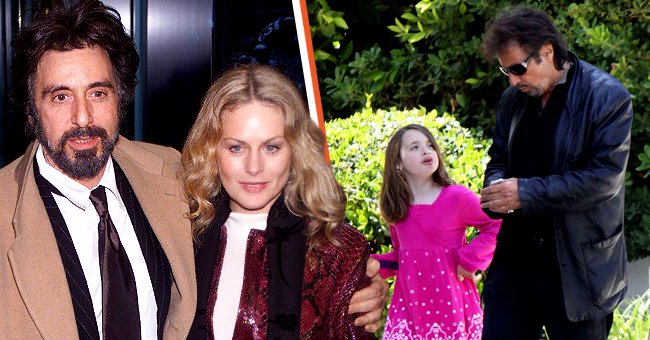 Getty Images
Al Pacino Wanted Beverly D'Angelo to Be Mom of His Kids – She Gave Birth at 49 & Became Single Parent at 51
Al Pacino's path to fame was not filled with roses and splendor; rather, it was a rough life scarred by a horrible childhood, but despite his bad experience as a child, he begged to be a dad.
81-year-old Alfredo James Pacino is one of Hollywood's living legends and talented actors who has wowed audiences throughout the world for more than five decades. Pacino has done a lot of work in theater, cinema, and television, and his performances have gotten him a lot of praise and awards.
His childhood, however, was far from the success he enjoyed as a star; it was filled with sadness as he grew up alone. Pacino is the only child of an Italian immigrant couple who divorced when he was just a baby. His father relocated to the West Coast, leaving his mother to raise him in New York.
Pacino would later grow up influenced by the movies he had watched as a child and pursue a career in Hollywood. Having found success, he longed to become a father and begged his longtime flame, Beverly D'Angelo, for kids.
Since the '70s, Pacino has kept movie lovers spellbound by his magic on the screen. Some of his greatest works include roles in movies like "The Godfather," "Dog Day Afternoon," "Dick Tracy" and "Scent of a Woman."
He's a versatile performer who has appeared in various projects during his illustrious career, including several stage productions and directing several films.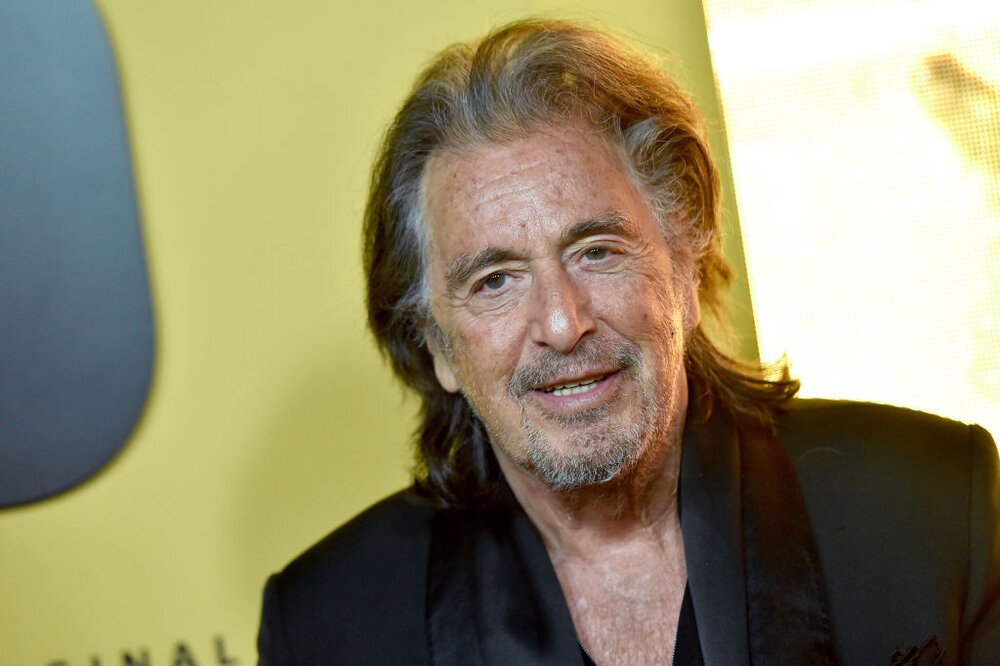 Al Pacino attending the premiere of Amazon Prime Video's "Hunters" at DGA Theater in Los Angeles, California, in February 2020 | Photo: Getty Images
He won an Academy Award for Best Actor for his portrayal of a blind man in the 1992 classic, "Scent of a Woman," and later on, the American Film Institute honored him with a Lifetime Achievement Award in 2007.
Although he came from a broken home, Pacino was positively influenced by his mother and paternal grandfather. His mother helped expose him to his passion by taking him to the cinema to see his heroes perform. Later, he would return home to practice all he had seen in the theater.
His grandfather, James Gerardi, taught him about the importance and value of work, which rubbed off on the young Pacino. From then, work was no longer about money but pursuing a passion.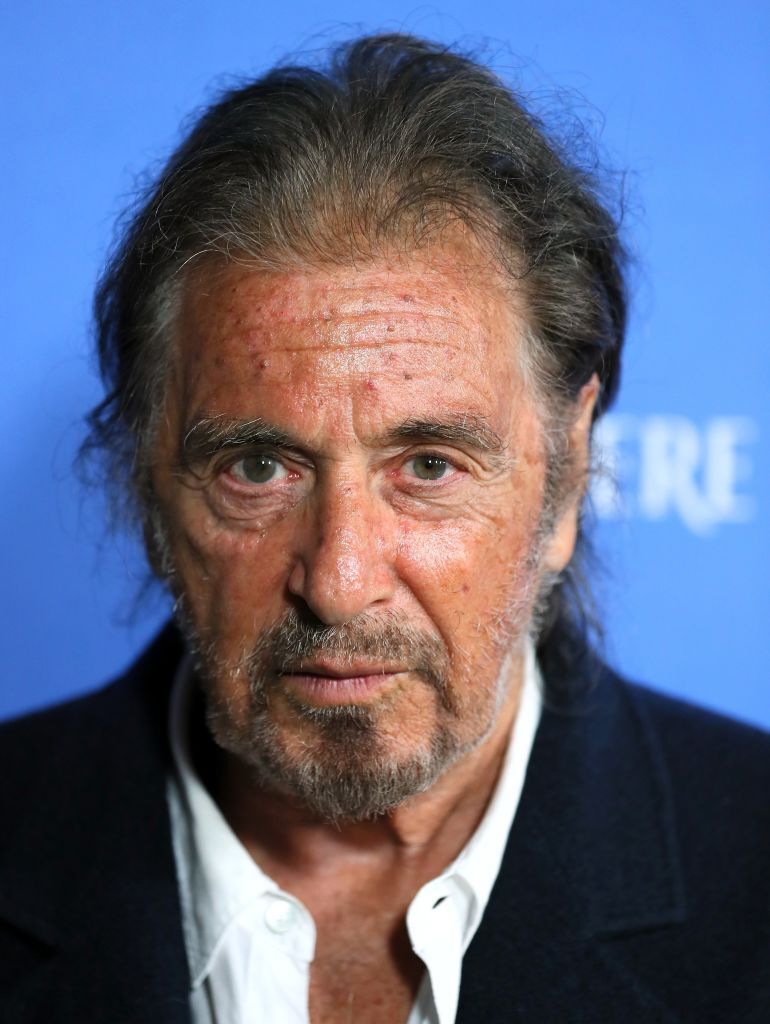 Al Pacino attends the 14th Annual Santa Barbara International Film Festival | Photo: Getty Images
As a young child, Pacino did not seem to show much promise in his academics and was often saddened by his consistent poor results. Not able to bear it any longer, he walked away from school at age 17.
After dropping out of school, Pacino pursued a variety of jobs before relocating to Greenwich Village in 1959 to follow his dream of becoming an entertainer.
He began his theater studies at the Herbert Berghof Studio and quickly obtained roles in off-Broadway productions, including a role in William Saroyan's "Hello, Out There" in 1963.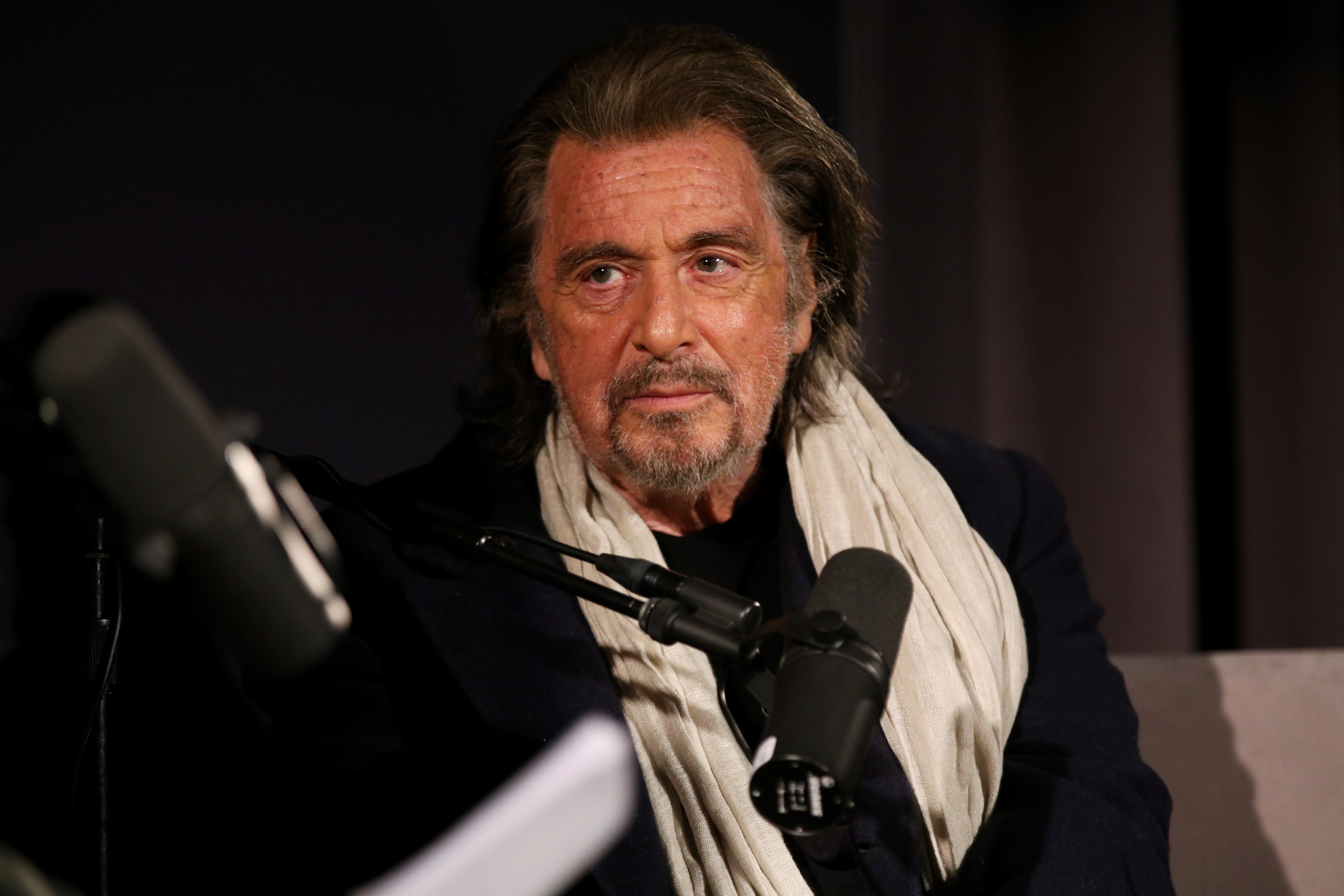 Al Pacino speaks onstage during The Hollywood Reporter Awards Chatter Live with Al Pacino at DGA Theater on December 05, 2019, in Los Angeles, California | Photo: Getty Images.
Pacino then advanced his career when he was accepted into the Actors Studio in 1966, where he studied under famed instructor Lee Strasberg. Pacino's work there led to roles in notable productions such as the Tony Award-winning Broadway production of "Does a Tiger Wear a Necktie?" in 1969.
However, Pacino's performance in a little-known 1971 film called "The Panic in Needle Park" would catapult his career to new heights.
Francis Ford Coppola, who was in the middle of casting for his upcoming film "The Godfather," based on Mario Puzo's novel, noticed Pacino's portrayal of a heroin addict in the movie and was impressed.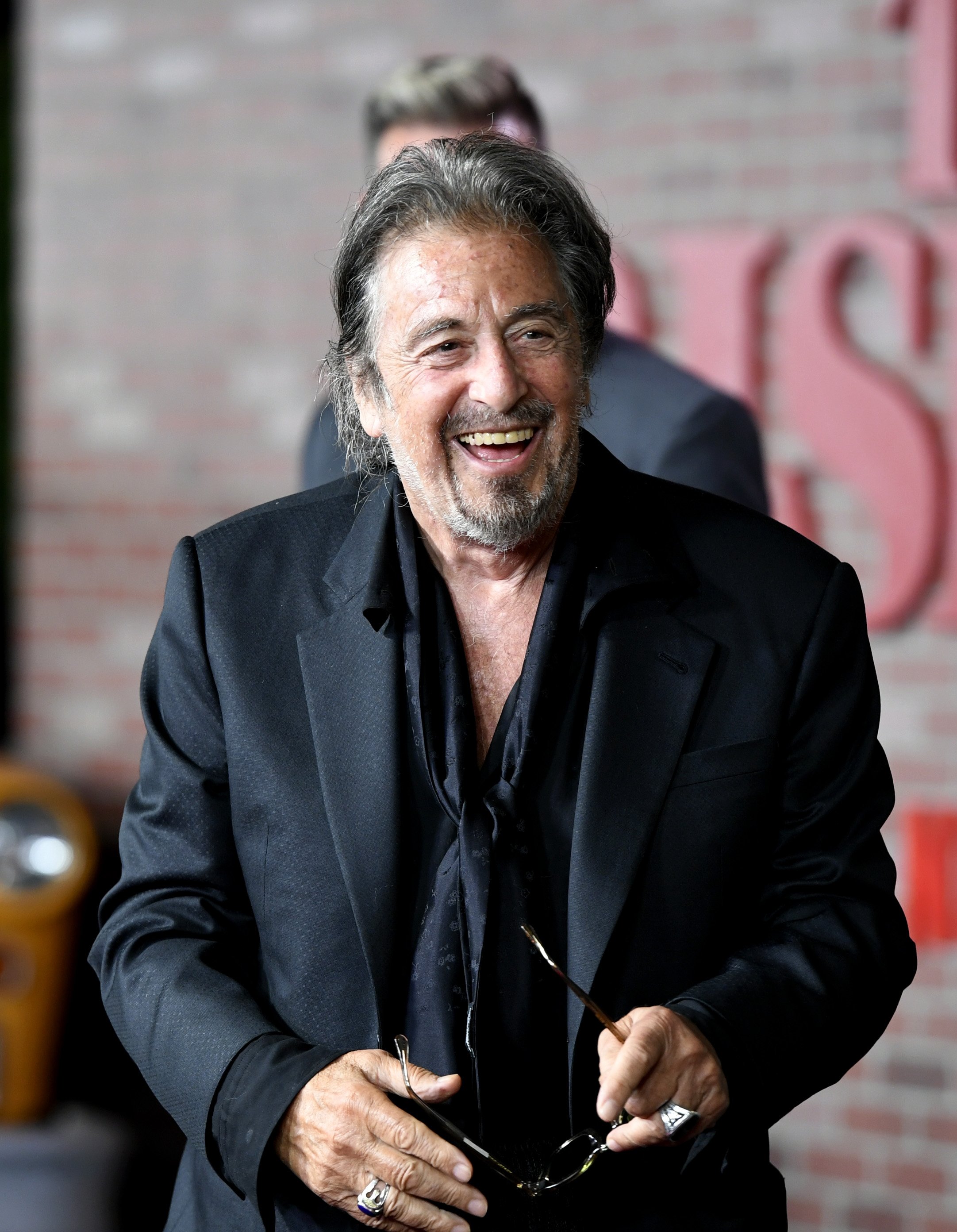 Al Pacino attends the Premiere Of Netflix's "The Irishman" at TCL Chinese Theatre on October 24, 2019, in Hollywood, California | Photo: Getty Images.
Despite considering such heavyweights as Robert Redford and Jack Nicholson for the role, Coppola finally chose Pacino, who was fairly unknown to the public. "The Godfather," which was released in 1972, was a huge hit and is largely regarded as one of the greatest movies of all time and took Pacino's career to another level.
Following the success of "The Godfather," Pacino became a highly sought-after leading actor. He featured in three consecutive popular films after co-starring with Gene Hackman in "Scarecrow," each of which earned him an Academy Award nomination for Best Actor.
Pacino has won one Oscar, two Emmys, two Tony Awards, and four Golden Globe Awards and is highly spoken of in Hollywood as an all-time great.
Al Pacino at DGA Theater on February 19, 2020 in Los Angeles, California | Photo: Getty Images
Pacino is one of Hollywood's most prolific bachelors, and he loves the tag; however, fatherhood has always been a dream of his even if he did not have the best of fathers.
Pacino and actress Beverly D'Angelo enjoyed a longtime romance, and their relationship made them parents of twins Anton and Olivia. However, their parenting journey has a story to it. The couple started dating in 1997 and had no plans to walk down the aisle but decided to start a family after Pacino had begged for it.
Unfortunately, their romance failed to last. Beverly welcomed their kids at 49, and at 51, she was already a single mom, and their relationship had failed. What followed next was an intense custody battle.
The duo fought for their then two-year-old twins, and Beverly accused Pacino of being an irresponsible and controlling man who had never changed a diaper. The actor's camp argued that Beverly used the kids as her hostage.
Pacino and his former flame had to reach an agreement to co-parent as best as they could. The actress remarked that she learned the importance of acceptance and was focused on giving her kids a good childhood.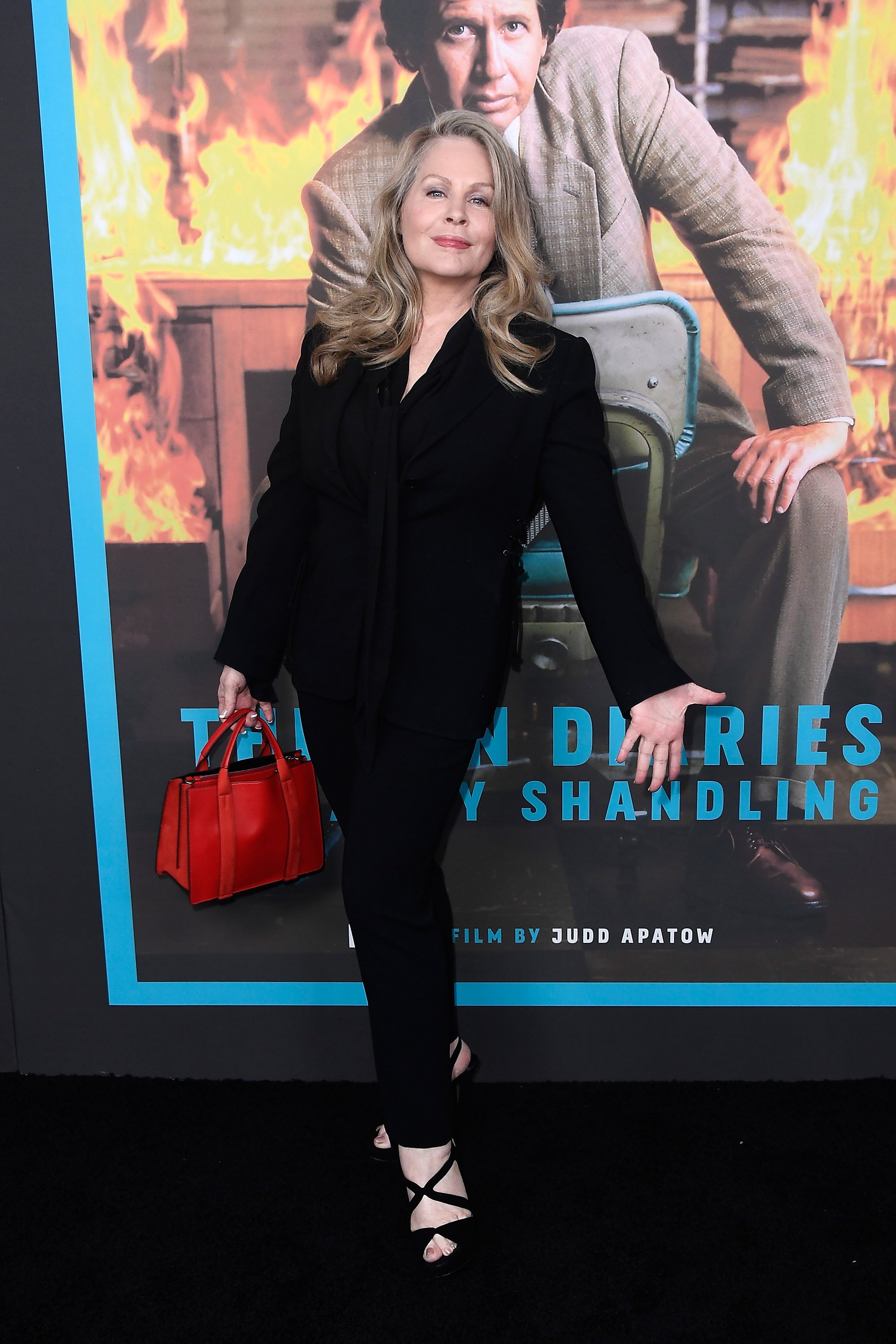 Beverly D'Angelo at the screening of "The Zen Diaries Of Garry Shandling" on March 14, 2018 in California | Photo: Getty Images
In addition to Anton and Olivia, Pacino is the father of Julie Marie, a film producer whom he welcomed with old girlfriend Jan Tarrant in 1989. While the actor isn't very open about his family or personal life, he confesses that he has embraced his faults as a father and has learned from them.
Pacino said he decided to be a better father than his, and since welcoming his kids, he has been a huge part of their lives and shares a close bond with them.
Following the split with Beverly, Pacino moved closer to his kids to help raise them and later confessed that his children changed his perception of life.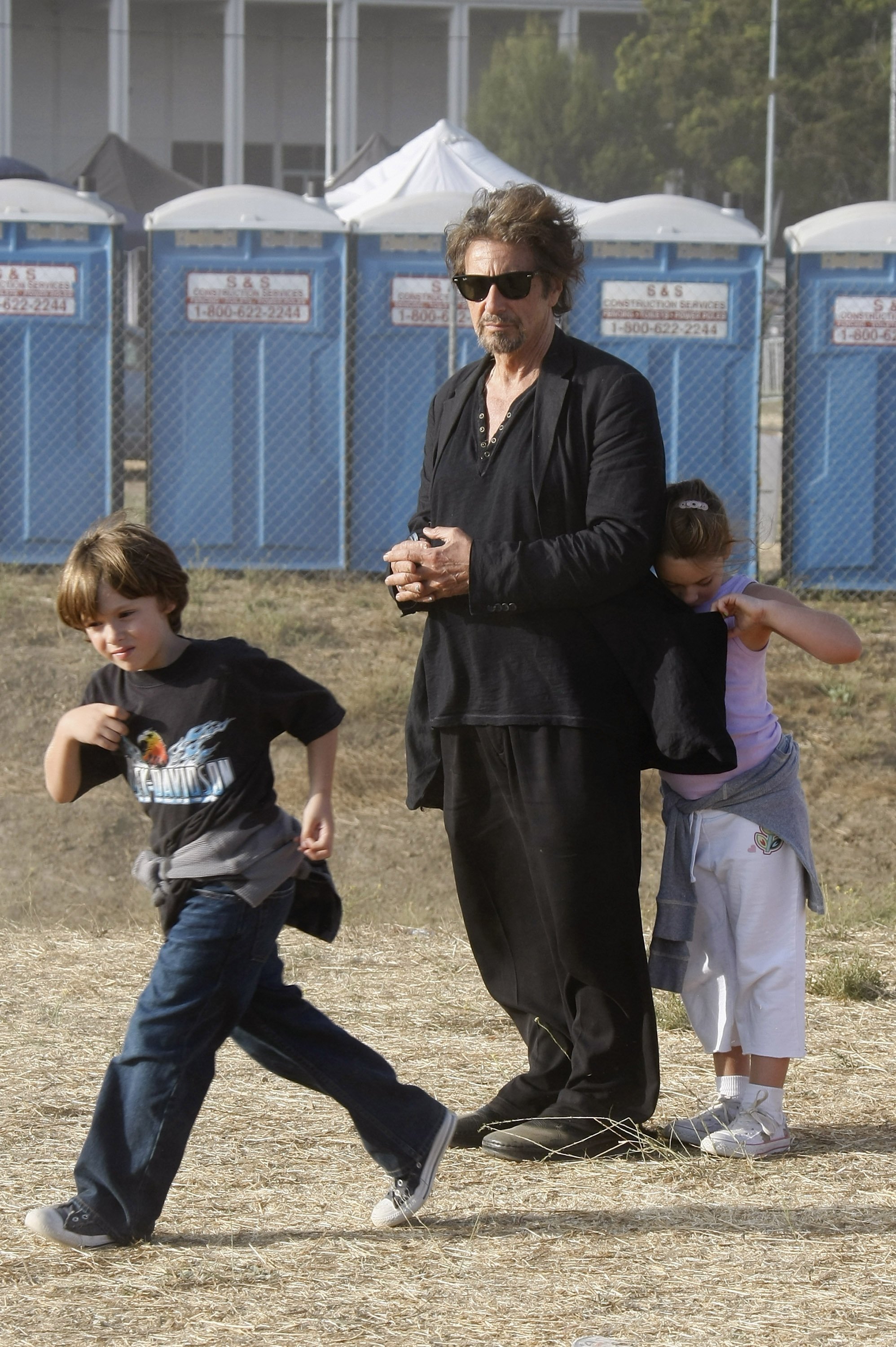 Al Pacino and his twins, son Anton James and daughter Olivia Rose in Malibu, California on August 31, 2008 | Photo: Getty Images
Before welcoming them, the 81-year-old confessed that his entire life revolved around acting, but it has become only a part of his life and not the main focus since embracing fatherhood.
Although he enjoys the thrill of being a family man, Pacino admitted that his fame has sometimes been an obstacle for his family as he finds it difficult to move around with his kids without being recognized.
Pacino's daughter, Olivia, now grown up, shares a lovely relationship with both parents. She shared posts on her Instagram celebrating their birthdays, and fans could see that the little family remains somewhat united.
Please fill in your e-mail so we can share with you our top stories!