Janet Jackson Dons Denim Jacket & Layered Semi-sheer Gown for Glamorous Photoshoot
Janet Jackson looked daring as she took several poses in a colorful denim jackets. The pop legend also sports a new hairstyle for the photoshoot.
Janet Jackson showed off her wild side during her latest photoshoot. The pop icon donned a colorful denim jacket for several sultry photos for and an undisclosed photoshoot.
In the picture, she looked daring wearing a spray-painted denim jacket. Mixing glamour and sophistication with the look, she added a layered tulle dress and neon head-piece, on top of a pair of denim jeans.
In the pictures, Jackson showed off a new hairstyle. She opted for a lighter hair color with prominent bangs, and a neon net slighting covered her eyes. However, the head-piece did show off her prominent glossy lip.
Looking super glam, she accessorized with half-cut leather gloves, which were detailed with silver stones. Her make-up was very natural with neutral browns, but with an added a bright red lip.
Her latest photoshoot comes amid mixed reviews about her about tour. According to Daily Mail, fans in Australia,had previously walked out after only two songs in frustration that she appeared to be lip singing.
She eventually redeemed herself after a memorable performance wearing a black glittery jumpsuit at the Blaisdell Arena in Hawaii.
It is reported that while being on tour and, since becoming a mother, Jackson said that she has worked on a schedule with her son, Eissa Al Mana, which ensures that she makes time for his daily routine.
The star, who said in previous interviews that she prefers looking after her son without the help of nannies, makes sure that she enjoys as much time as she can with her son starting with something as simple as eating breakfast together in the morning.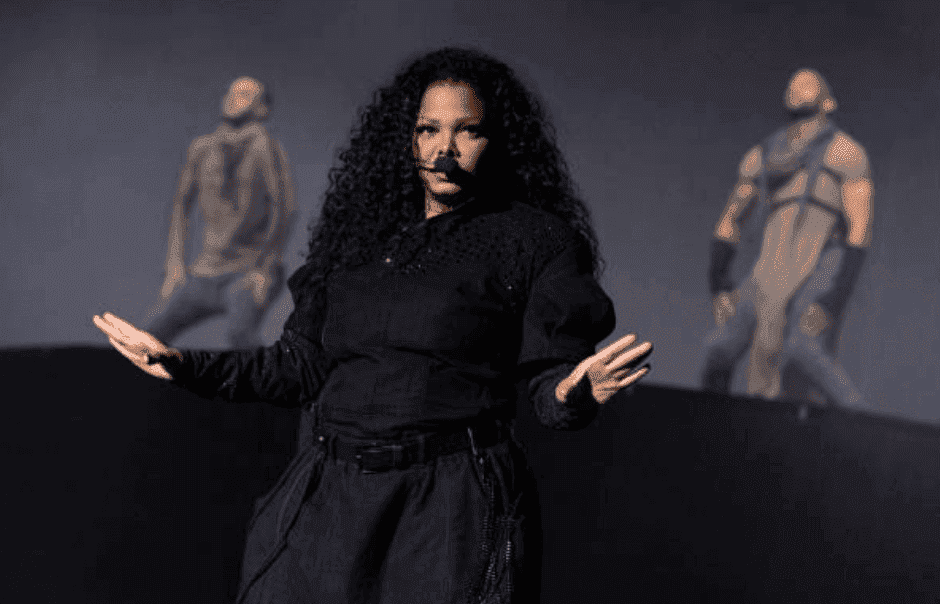 Since becoming a mother and growing up in the industry, Jackson said she has tried to overcome a lot of her insecurities, particularly with her body, which she has grown to love them despite the flaws she sees.
She says working in the industry so long had a lot to do with why she viewed her body so negatively, but luckily, things are changing and Hollywood is starting to become more accepting of the body types that were previously viewed so negatively.