Dylan Dreyer of 'Today' Warms Hearts with Photo of Newborn Son Oliver George Fichera
Dylan Dreyer from "Today" shared an adorable picture of her new-born son in his hospital bed looking relaxed and ready to go home.
"Today" co-host and meteorologist Dylan Dreyer shared her excitement in being able to bring home her new-born son, Oliver George Fichera, in her caption she gushed:
"Relaxed and ready for home! Thank you everyone for your outpouring of love and kindness as we welcomed little Oliver into the world! We are absolutely overjoyed with love. This must be what Heaven is like! #goolliego."
Oliver is pictured wearing the hospital's traditional pink and blur striped beanie. As he lay sleeping in his hospital bed, he is perfectly swaddled in a white blanket. 
The new-born looks adorable as he strikes a relaxed pose lying on his side, with his head resting on his arm. Fellow co-host Savanah Guthrie welcomes him with a new nickname.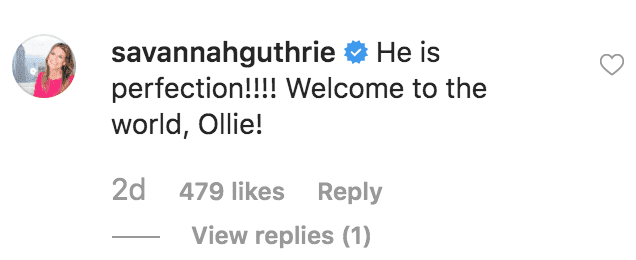 It is reported, Oliver was born on Thursday. This is the second child for Dylan and her husband, Brian Fichera. The couple has a three-year-old son named Calvin Bradley Fichera. Describing the first moment Calvin met his new brother, Dylan revealed:
"He had his shoes on and his jacket on. He was so ready to come! And then he walks in with this huge smile on his face. He sits on my lap and he looks at Oliver and he asks to hold him right away. It was perfect."
Despite her initial concerns over how she was going to be able to love both of her children equally after loving her first children so much, she told PEOPLE on a phone that "everything just clicked." 
She admits that there was no need for any sort of adjustment period since welcoming Oliver, and she feels complete because everything about her family of four seems right. 
The arrival of their second child came as a surprise to Dylan and Brian because they had struggled with infertility for a long time and were in the process of undergoing IVF treatments to conceive. 
Dylan revealed that just before they were about to through with the procedure, her doctor called to tell her that she was already pregnant. 
She admits that it has been an emotional journey, but she feels so happy and blessed to welcome another child into their family.