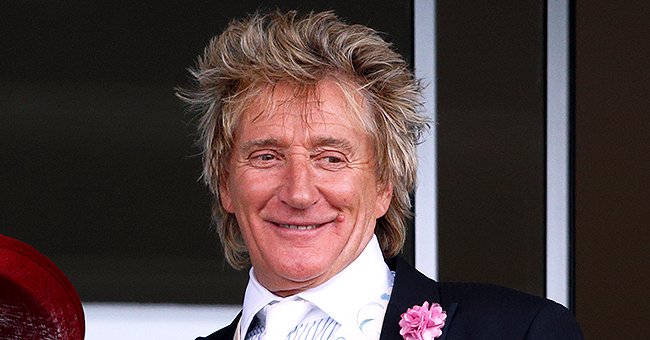 Getty Images
Rod Stewart Has 8 Children with Five Different Women - Meet All of Them
The 74-year-old rocker, a survivor of thyroid and prostate cancer, and Queen's Knight has turned his relationship with fatherhood, from being an absent and distant father to being a dedicated and harmonious father and frequently with all his children.
Sir Rod Stewart was born in Highgate, North London, on January 10, 1945. The singer began his career in the '60s, after growing up during World War II. His family was a big football fan and for a while, Rod wanted to be a professional player encouraged by his father.
In the late sixties and after going through five bands, Rod achieved success alone leaving his mark with the image of his short and spiky hair. Known for his taste for blonde models, during all that time Rod had his eight children with five different women. And here they are:
SARAH STREETER
The singer was dating art student Susannah Boffey in 1963 at only 17 years old. When Sarah was born, she was put up for adoption and discovered that Rod Steward was her father when she turned 18. She is Rod's eldest daughter.
They meet each other at the beginning of the 80s but lost contact until a few years ago when they returned to interact. Today, Sarah, 57, is married and lives in East Sussex.
Since Sarah's adoptive parents died, things have improved between her and her father. She has come to think that Rod didn't get very involved in her life before out of respect for her adoptive parents.
ALANA KIMBERLY STEWART
Rod's first daughter from his marriage to model and actress Alana was born on August 21, 1979, and is named Kimberly. The couple divorced when she was five years old, so she didn't see her father much while growing up.
Kimberly became a Los Angeles socialite during her teens, frequenting Paris Hilton and launching her clothing brand.
She and Benicio del Toro started dating in 2011, and they had a daughter, Delilah Geonoveba Stewart. Kimberley, now 40, has recently partnered with Jesse Shapira, the film producer.
SEAN RODERICK STEWART
A year after Kimberly was born, Alana and Rod welcomed their first son, on September 1, 1980. Sean, meanwhile, was four years old when his parents divorced.
With a reputation as a rebel, Sean dropped out of school at age 16, after spending time drinking and walking in nightclubs. When he was 22, he was sent to jail for 90 days for assaulting a stranger in the street while he was drunk.
At age 30, he corrected his behavior and launched a clothing line: Dirty Weekend. Now, Rod and Sean meet frequently to enjoy soccer and go shopping. By the way, Sean is dating a blonde model, Daisy Lea.
RUBY STEWART
When Rod was dating Texan Kelly Emberg, they had Ruby on June 17, 1987. When her parents separated, Ruby moved to Manhattan Beach, California, with her mother. Until her teens, she stayed away from her father's family because of loyalty to her mother.
Before following in her father's footsteps in music, with her band The Sisterhood, Ruby began her career as a lingerie model. At 32, Ruby, now closer to Rod, is happy with the support her father has given to her band, attending her first show and crying with pride at her daughter's success.
RENÉE CECILI STEWART
Renée is the first of two children Rod had with his third wife Rachel Hunter and therefore the oldest. She was born on June 1, 1992, and after being together from 1990 to 2006, the marriage separated when Renée was seven years old.
Renée grew up in Culver City and Redondo Beach, California, with her mother and brother. She then went on to do a bachelor's degree at the London Contemporary Dance School. Now the girl is 27 years old and has done several jobs as a model for different brands, such as the Pantene shampoo company and the Bendon lingerie company.
LIAM MCALISTER STEWART
Liam is Rod's sixth son and second son with Rachel, and was born on September 5, 1994. The boy has put aside the lifestyle of the entertainment world to devote himself to sports. Liam is a professional ice hockey player, winning gold with the Great Britain team in 2017.
Recently, at 24, he signed for the Queenscity Skycity Stampede in New Zealand. Surely his mother Rachel will be especially proud, and his father must also be very happy for him.
AIDEN PATRICK STEWART
After receiving three rounds of IVF treatment, Aiden was born just before Penny turned 40. The 8-year-old boy is known in the family as "the savage, the little artist." According to comments by Sir Rod, the boy likes to dress like Mary Poppins.
He has said that he will no longer have children, and that the last does not know what he is going to do with his life, and that he will support him in whatever he decides, no matter what it is, because he only wishes that his children will be happy.
For many years, Rod was not the better father, too much dedicated to his career as a musician and to pursue blonde models. However, the time has passed and the rocker has already understood that commitment has its rewards.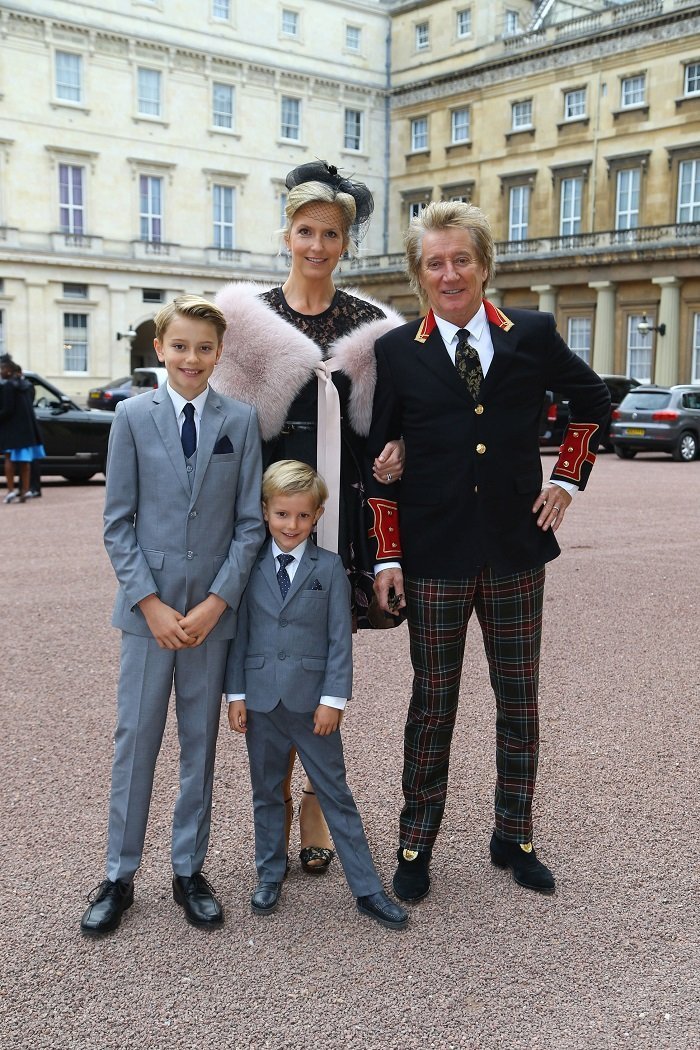 Sir Rod with wife Penny and his two younger sons Liam and Aiden I Image: Getty Images
He and Penny have a strong marriage and his relationship with his eight children is now very different. Even his older children can say that their father is now a better father, more attentive and with more time for them.
But Penny has no doubt who is the biggest child in the family, Rod has always been the most demanding of his three boys.
Please fill in your e-mail so we can share with you our top stories!