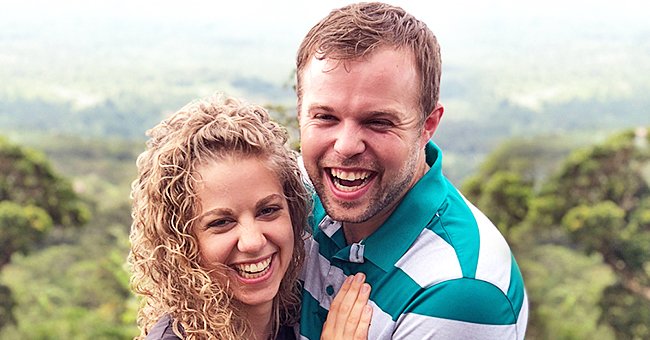 instagram.com/johnandabbie
John David Duggar & Wife Abbie from 'Counting On' Announce Birth of Their First Child, Daughter Grace Annette
"Counting On" stars Abie and John David Dugger recently became first-time parents. The couple took to Instagram to announce the birth of new daughter, Annette Dugger, alongside a warm family photo.
Reality stars, Abbie Dugger and husband John David Dugger are set for their best year yet, as they welcome new baby Grace Annette Dugger, making them parents for the first time.
The excited stars revealed their new-parents status via a social media post of the new baby girl cradled affectionately in her parents' arms.
The family photo, shared by TLC, featured all three Duggers savoring their first moment together, with smiles playing on the new parent's faces as they held the new baby. The caption read:
"A new year, baby! John David and Abbie's baby girl is here."
The network's official Instagram page also shared a link to the details of the baby's birth, referring fans to the bio for more information.
FOLLOWERS CELEBRATE THE NEWEST TLC STAR
Following the TLC post, fans flooded the comment section to extend congratulatory messages to the new parents.
Guests at the event each selected a flight number, with the winning number representing the baby's gender
One fan congratulated the TLC stars, referring to them as "my favorite couple," while others gushed about the baby's beauty.
Opening up about their excitement, the couple said:
"Our lives have changed forever with the arrival of our baby girl. She is a beautiful gift from God. We are so blessed the Lord has given her to us."
The pair also revealed their excitement over the new adventures of parenting they were embarking on as a couple.
THE FIRST REVELATION OF THE BABY'S ARRIVAL
Last August, the "Counting On" stars made the official revelation of their expectant-parents status in a statement, expressing their eagerness to take on the new adventure.
Shortly after the announcement, they shared the baby's gender with fans, revealing they were soon-to-be parents of a beautiful baby girl.
John and Abbie who got married in November 2018, made the gender-reveal affair a big deal, choosing a flight-theme for the reveal party. Guests at the event each selected a flight number, with the winning number representing the baby's gender.
The new parents are undoubtedly an adventurous pair, and one can hardly wait to watch them take on their parenting journey head-on. Congratulations to the new parents.
Please fill in your e-mail so we can share with you our top stories!