Getty Images
Tiny Harris Shares Cute Photos of Her Daughter Heiress Posing in a Denim Outfit & White Sneakers

Tameka "Tiny" Harris melted hearts with some new photos of her daughter, Heiress Harris, posing in a denim outfit and white sneakers. The snapshots have since generated tons of positive reactions and most likely won more fans for Heiress.
Tiny and T.I's daughter has an abundance of cute moments that have been documented by the couple via social media. The toddler is a living doll but has also proved on many occasions that she's smart and confident.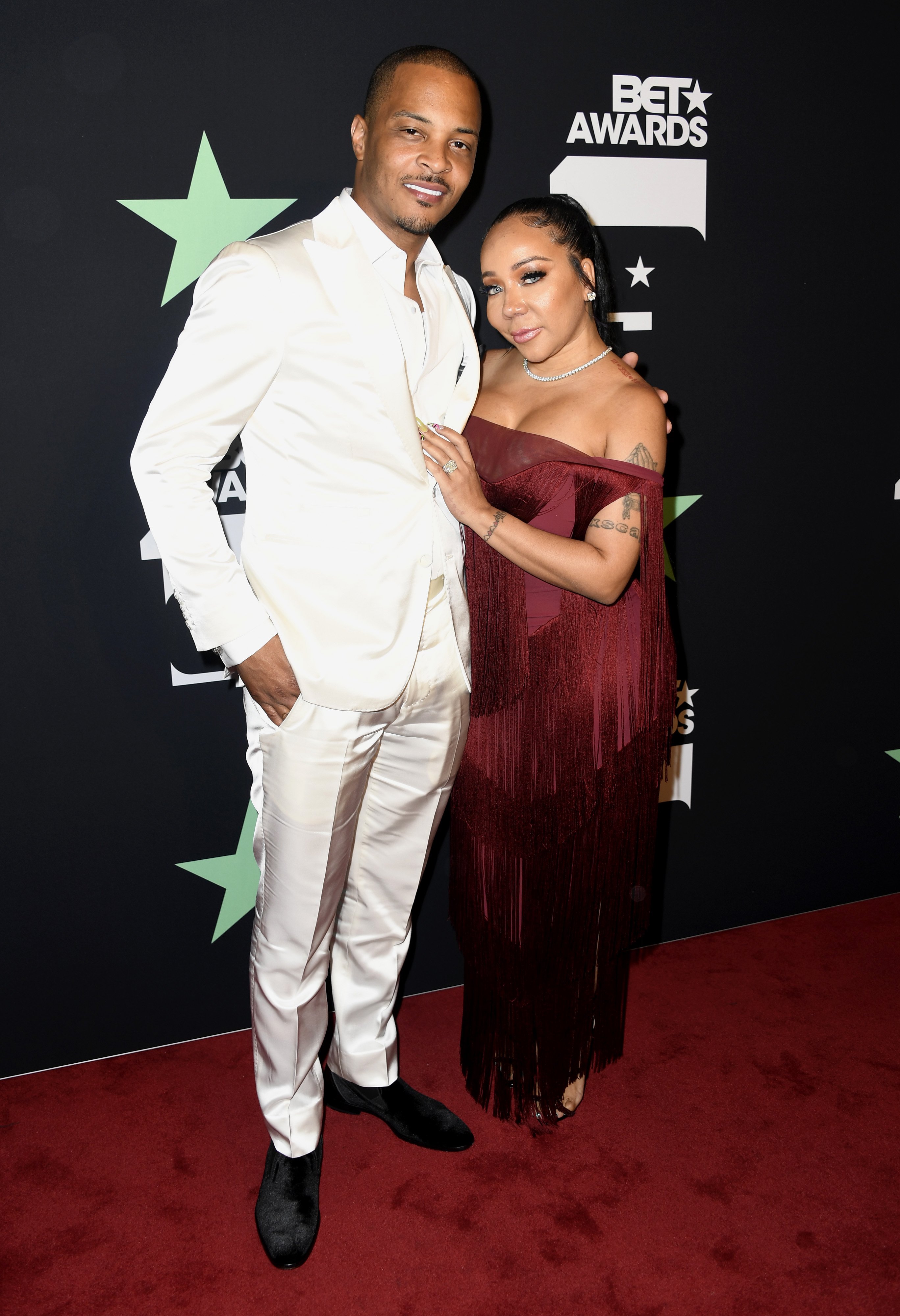 Tiny & T.I. at the 2019 BET Awards on June 23, 2019 in Los Angeles, California. | Photo: Getty Images
A few days ago, Tiny, 44, took to Instagram with photos of Heiress from what looked like an errand run in the city. The three-year-old sported a white t-shirt over blue denim pants and topped it off with white sneakers.
Heiress is already displaying a love for music, confidently filling in as a backup singer during her mom's concert rehearsal.
Heiress also had a custom denim jacket where her name was embroidered in colorful lettering on one sleeve. Her bright personality perfectly matched the stylish outfit as she struck several poses for the camera.
One of the pictures Tiny shared showed her coming out of a building behind Heiress. Little Miss Harris, on the other hand, was busy executing what looked to be a dance move.
"Me whole lil heart & my smart baby," Tiny gushed in the caption before hashtagging her daughter's full name. The post already has over a hundred thousand likes and comments from fans and celebrity pals alike.
"She is the sweetest!" singer Ashanti raved while another Heiress fan pointed out a resemblance to her big brother, Major: "She is getting sooo big! Still just as cute as ever! Major's little twin!"
T.I and Tiny welcomed their only daughter together on March 26, 2016. The couple also has two sons and four other children from previous relationships on both sides. Heiress has always been the apple of her parents' eyes as well as one of the favorite celebrity babies on the internet.
While Heiress is quite the gorgeous baby herself, much of her popularity also comes from the adorable looks she sports now and then. In December, the little one posed alongside her maternal grandmother in an Elsa costume.
Heiress looked every bit a Disney princess, and Tiny was not wrong to call her "my sunshine" in a caption written across the picture. But beyond her cute costumes, Heiress is also quite the life of the party.
Maybe being the daughter of a rapper and a singer has something to do with it, but Heiress is already displaying a love for music, confidently filling in as a backup singer during her mom's concert rehearsal.
Heiress is also a budding entrepreneur. The adorable tot has her line of nail polish, and in an Instagram post from December, Tiny showed off her little girl "closing deals on new property for her parents."
Please fill in your e-mail so we can share with you our top stories!