Tamela Mann of 'Meet The Browns' Fame Shows off Significant Weight Loss While Posing in Tight Dress in New Photos
Talented Gospel Singer Tamela Mann shared some pictures of herself on Instagram, and her weight loss has been tremendous.
The new trend of taking one's health seriously and watching one's weight is on the rise and everyone seems to be getting on the train. 
One of such persons is actor and singer Tamela Mann. Over the years, Tamela has struggled with her weight and lifestyle choices, but now, the singing sensation is serving her fans some serious body goals.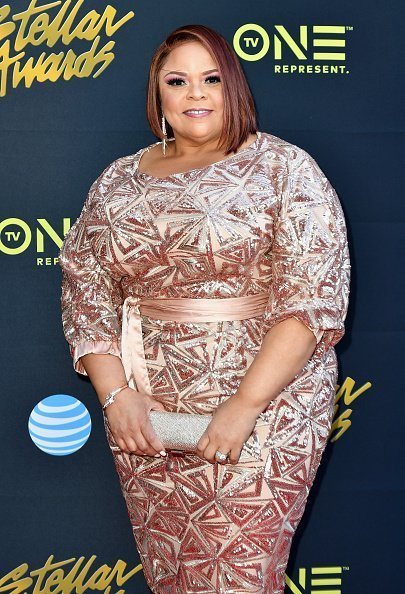 TAMELA'S NEW LOOK
Tamela shared some beautiful pictures of herself via Instagram as she attended Oprah Winfrey's 2020 Vision Tour in Fort Lauderdale. She expressed how happy she was about her journey and vowed to stay focused and ready until the very end. Her caption read:
"This weekend was so liberating! We Kicked off @oprah #2020visiontour in Fort Lauderdale, and I'm ready to stay focused and FINISH!!! @ww #TamelaMann #wwambassador."
The "Meet the Browns" actress was pictured with her husband and Oprah at what looked to be the entrance of BB&T Center. The series of pictures was a highlight of the program that held over the weekend, and Tamela looked stunning.
TAMELA IS GORGEOUS
It is without a doubt that the 53-year-old is a gorgeous beauty to behold. From the pictures she shared, it is easy to tell that she rocked all of the outfits she wore. In one of the images, the singer was pictured wearing a tight black bodice gown.
The journey to losing weight has not been entirely jolly for Tamela
The other images showed her with other attendees of the program and her husband, David. She effortlessly rocked a washed crazy jeans with a black blouse, all capped up with stiletto boots.
 FOR TAMELA, MOTIVATION IS EVERYTHING
Lovers of the singer took to the comment section to express their joy over her weight loss journey. A fan said:
 "You make me wanna go watch all the Madea movies over again, just to see youu .. I'm so proud of your journey .. huge fan ❤️❤️ I hear you sing change me oh god every day when something gets in my way ❤️ motivation is everything."
A regular cast on Tyler Perry's Madea series, Tamela has been genuine and open about the struggles she faced on her journey to losing weight earnestly. She also made sure to repeat to those who are trying to keep fit that motivation is everything.
NOT IN THIS ALONE
The one-time winner of BET's Best Gospel artist is not in this journey alone. Tamela is surrounded by a group of women and celebrities who are all members of the Weight Watchers (Now WW) group. The group has members like Oprah Winfrey and Kate Hudson as its ambassadors.
Her husband and five children have also been wholly supportive of her as they have all decided to join Tamela. Tamela works out with her husband, David, and they both serve as a caution for each other.
Having lost over 200 pounds, the grandmother of eight grandchildren has been keen on keeping to the journey, and not even a knee cap replacement surgery could stop her.
Losing weight has not been entirely jolly for Tamela, but she is however, keen on sticking it out to the end, and her progress has been nothing but fantastic.