Dr Oz's Daughter Daphne Melts Hearts with Cute Video of Baby Gigi Who's Already 5 Months Old
The TV personality, Dr. OZ's little granddaughter, showed all shades of cuteness after her mom, Daphne Oz, shared an enchanting video of her.
In the video posted on Instagram, Little Gigi is sprawled on the floor as the camera does an up close videoing of her cute little features.
The video can be described as heart-stopping as her big blue eyes were glued to the camera. Daphne's caption indicated that her baby daughter had just turned five months old.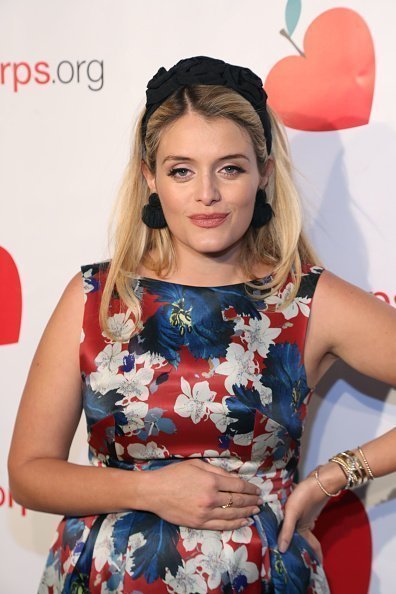 GIGI IS DAPHNE'S FOURTH CHILD 
Giovanni "Gigi" Jovanovich is the fourth child of Daphne Oz, who she shares with her spouse, John Jovanovich. Back in 2019, a representative of Daphne shared that she and her hubby were expecting their fourth child.
During pregnancy, "The Chew" host made it known that her fourth pregnancy was the hardest. She told PEOPLE:
"It's physically daunting, I've been pregnant four times in five years now."
After giving birth, the joyful mom shared the sweet moment when her oldest child met her youngest sibling. Oz described it as her biggest and littlest moment.
DAPHNE AND HER HUBBY
Daphne Oz and John Jovanovich met while they were at Princeton University and tied the knot in 2010 Manhattan. Ever since they made it official, the couple has been able to keep away from controversies.
The celebrity mom often joked with her spouse about having seven kids.
With Gigi as the fourth baby, the couple's other children are Domenica Celine, Philou Bijou, and Jovan Jovanovich. While Daphne is an author and a TV host, her hubby is an analyst at Cadent Energy Partner.
GIGI'S GENDER REVEAL
While Daphne Oz was pregnant, her baby's gender reveal was rendered in a fascinating style as she organized a lasagna reveal party.
When it was time for the reveal, the excited mom cut a huge chunk of the lasagna dish to reveal a pink filling. This was televised on "The Dish on Oz" to the audience and viewers alike.
DAPHNE ALWAYS WANTED A BIG FAMILY
Although the couple is on their fourth child, Daphne once made it known that she loved being pregnant, while hinting on having a large family.
According to PEOPLE, the celebrity mom often joked with her spouse about having seven kids. She also made it known that parenting has strengthened her relationship with her spouse.
The mother-of-four added that parenting made one vulnerable to their partner as one has no ability to hide anything anymore.
According to the television personality, parenting helps "you let things roll off your back" and also helps one realize the important things.