Tony Sirico's Life before and after 'The Sopranos'
The actor began his career in the 70s and has worked on more than 40 films and almost 20 television shows. However, before becoming an actor, his life was anything but a good example.
Genaro Anthony Sirico Jr., better known as Tony Sirico, was born in Midwood, Brooklyn, New York, on July 29, 1942, within an Italian family. He grew up in a neighborhood of Bensonhurst, also in Brooklyn, a place known for mafia activity.
Right there is that Tony began to form his personality as a child-ready, making himself admired by other children. He commented that as a child he was very hard, and he spent watching the gangsters, studied them to learn how to behave and look like one.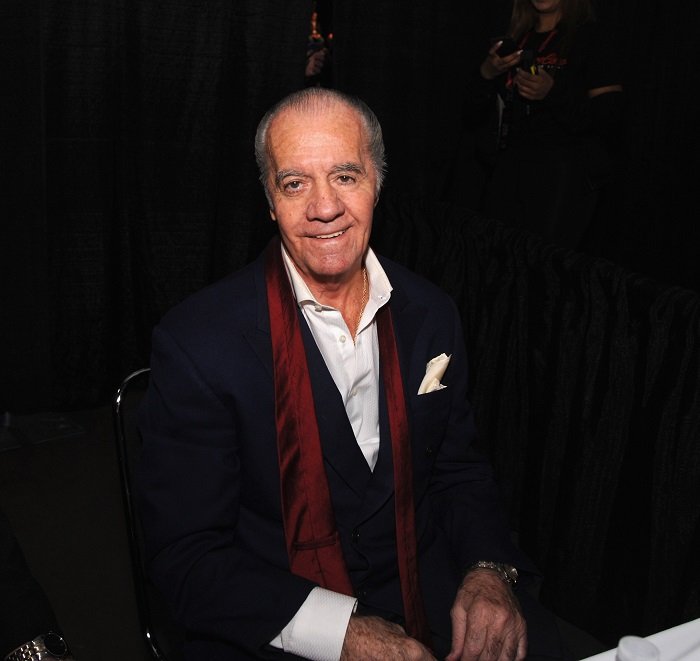 EARLY LIFE
Sirico did not have an easy childhood; in fact, his first arrest was at the age of 7, for subtracting coins from a newspaper stand. He lives with his mother, Marie Sirico, and his two brothers, Carmine Sirico and Rev. Robert Sirico, who is a Catholic priest, co-founder of the free market Action Institute.
While growing up, Tony was under the influence of mafia groups in the area where he lived. He came to comment that in that neighborhood who did not carry a gun was like a rabbit in the rabbit hunt season. When they went to check if he was carrying a firearm, the police found him three.
PROBLEMS WITH THE LAW
The Tony Sirico (Paulie Walnuts) Episode Of The @PremiumPeteShow w/ Special Guest Co-Host David Proval (Richie Aprile) is now LIVE!

The Sopranos 🐐 📺

📻: https://t.co/Z6iGTrvtb8 pic.twitter.com/x4I6Y6OZzb

— Premium Pete (@PremiumPete) December 11, 2019
According to police reports, Sirico was arrested and sentenced to 13 months in prison for assault on a nightclub. After leaving prison, he remained involved in criminal activities and was once again behind bars, this time on charges of possession of criminal weapons and sentenced to 4 years in Sing Sing.
Of that sentence, Tony only turned 20 months old. By that time he had been arrested 28 times and it is speculated that he worked as a member of the mafia, specifically for the Colombo family, under the orders of Carmine "Junior" Persico.
While serving his sentence in Sing Sing, Sirico attended a presentation by a theater group consisting of former convicts, called 'Theater of the Forgotten,' that went to entertain the inmates. This incident changed his life because he decided that he wanted to give the acting a chance to make a living.
PERSONAL LIFE
At that time, Tony had already married and had two children. He explained in an interview that he had fallen in love with a woman who motivated him to do dangerous things. He left his wife and children abandoned to move in with that woman.
It was at that moment that his life hit bottom and he became imprisoned for the first time. In his crush, he dedicated himself to chasing artists and went through all the nightclubs in the city. In one, his emotional and mental instability led him to hit the club owner and one of his guards.
PROBLEMS WITH VIOLENCE
He also commented for a documentary, The Big Bang, that once a sailor was talking to his girl and he went crazy. He hit the man repeatedly and ended up throwing him into the water of the bay.
On another occasion, he was kissing another man's wife and the husband saw them. As a result, he was shot several times, being injured in the leg and back. Definitely, Sirico knew how to get into trouble.
A NEW OPPORTUNITY
Upon leaving his second incarceration, Tony tried his luck in acting. According to some, Sirico has been an actor before being paid for acting. Apparently, he has known how to create a tough man image, and according to a friend, Louis Pegno, he fought several of the actor's fights for him.
Some of his friends say that Sirico knows how to season stories to make them more interesting, and although he was really a tough guy, now that he's a right guy, he can romanticize his past and make him look glamorous and dangerous, in a distant and even fun way.
Celebrating Tony Sirico's Birthday Last Night Great Time With Good Friends!!!!#PauleWalnuts pic.twitter.com/ltNb4JZV7l

— Steven Schirripa (@StevenSchirripa) July 25, 2018
ACTOR LIFE
Tony Sirico had his first role in "Crazy Joe", a film about the life of the mobster Joey Gallo. He also appeared in "Godfather, Part II." He was known for playing gangsters in gangster movies.
He worked frequently with Woody Allen and James Toback. He has played gangster roles in "Fingers," "Love and Money," "Goodfellas," "Innocent Blood," "Mighty Aphrodite" "Bullets Over Broadway," and "Mob Queen."
 Tony has also played police roles as in the films "Dead Presidents" and "Deconstructing Harry."
AFTER THE SOPRANOS
Fame and recognition came to Tony Sirico with the role of 'Paulie" Walnuts "Gualtieri" in the series "The Sopranos," in which he participated during the six seasons that was broadcast. He received the 'Screen Actors Guild Award' for 'Outstanding Performance by an Ensemble in a Drama Series' in 2000 and 2008.
After "The Sopranos," Sirico had some more participation as an actor in series such as "Lilyhammer," "Chuck" and "Medium." He also put his voice for the character of Vinny Griffin, in the series "Family Guy."
In 2018, Sirico joined with some of his co-stars of "The Sopranos" in John Gallager's film "Sarah Q." He has worked hard all his life and has shown his talent in all the roles he has played.
Tony is in the last years of his career, but his charisma and acting skills have helped him maintain his popularity. Regardless of whether or not everything that is said about his past is true, there is no doubt that his experiences have helped him to interpret these characters of gangsters flawlessly