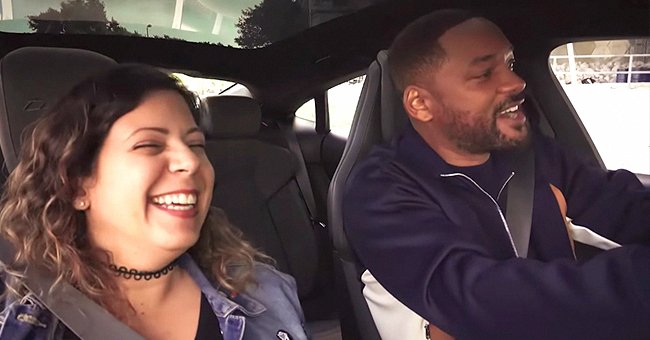 Youtube/Will Smith
Will Smith Gives Fans a Lyft While Promoting His New Movie 'Bad Boys for Life' in Miami
Will Smith gave a few Miami fans the ride of their lives recently while subbing as a Lyft driver to promote his new movie "Bad Boys for Life." To say the passengers were shocked is an understatement, and Smith made sure to leave them with gifts.
Last week, Smith took to his YouTube channel with footage from the promotional stunt he took part in for his latest movie. The activity was executed in partnership with the ride-sharing service, Lyft, and aptly named "Bad Boys for Lyft."
Will Smith at the Centerpiece Gala Premiere of "Concussion" during AFI FEST 2015 on Nov. 10, 2015 in California | Photo: Getty Images
According to Smith, the chosen Lyft riders had been told they were about to check out some new in-car technology, but they were in for so much more. "I guess I'm the new technology," he joked.
Both actors admit, however, that they leave some of the more physically demanding aspects to the stuntmen.
The cameras capture the shock and excitement of the passengers as they emerge and realize Smith is their driver for the day. One lady even let out a string of curse words in disbelief as the actor yells: "I don't have all day to be waiting. Get in!"
According to The Drum, Smith's car for the day was a 2020 Porsche Taycan, and the actor, much like his character, detective Mike Lowrey, went all out with speed. He even had some passengers shaking in their seats while at it.
Smith's session with each rider involved recruiting them as his onscreen partner and putting them to the test on their crime-fighting skills. "What if this person was a criminal?" he asked one rider as they rolled up on an unsuspecting pedestrian.
With another passenger, Smith dished tutorials on how best to accost criminals while a male rider face-timed his girlfriend, a "Bad Boys" superfan. "Mateo is being broken in as a potential new Bad Boys partner," Smith joked with the lady.
At the end of the ride, each participant does the slow-motion walk with Smith and get one year of free Lyft rides courtesy of the actor. His driver's approval rating shoots up to five stars immediately.
"Bad Boys for Life," which is the third installment in a franchise that began in 1995, stars Smith and Martin Lawrence as two Miami cops fighting crime as they engage in terrifying car chases, physical stunts, and hilarious conversations.
According to PEOPLE, both actors admit, however, that they leave some of the more physically demanding aspects to the stuntmen. "I was like, 'Ehhhh, I think I'm going to let these stuntmen earn their money,'" Smith reportedly said.
"Bad Boys for Life," which premiered on January 17 and reportedly had a good outing at the box office over the weekend, is currently in theaters worldwide.
Please fill in your e-mail so we can share with you our top stories!