Blake Shelton Hints at PDA with Gwen Stefani during Upcoming Grammy Performance of 'Nobody but You'
Blake Shelton and Gwen Stefani may be giving fans a sizzling hot Grammy performance this Sunday. At least, that's what the country singer is leading us to believe. 
Blake Shelton, 43, sat down with Extra TV on Tuesday and spoke about his upcoming Grammy performance with girlfriend and pop singer, Gwen Stefani.
The host noted that Shelton would be singing his own song at the Grammys for the first time. A humorous Shelton suggested that his collaboration with Stefani brought that about. The clip is found below.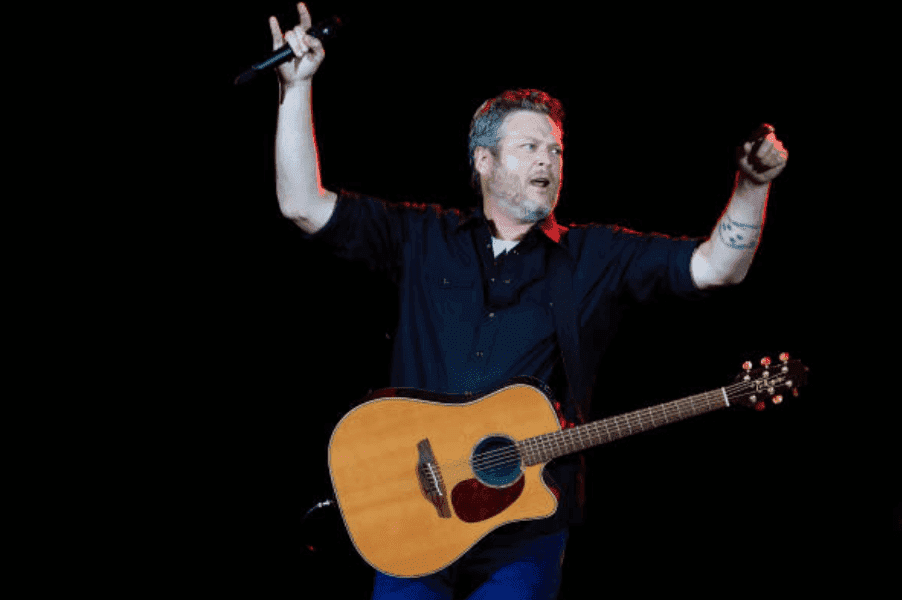 Shelton riles up fans
When asked what to expect, a humble Shelton insisted that it won't be a big deal, and he'll probably start and end up in the same place throughout the performance. 
Meanwhile, Stefani will be doing all the "eye candy" parts, Shelton said. With that, the host prodded again about whether or not the celebrity couple would kiss on stage. 
She referenced a performance from artists Shawn Mendes and Camilla Cabelo in which the pair teased the audience and got really close to kissing. Shelton won't be taking that route. 
Forever #MCM @blakeshelton 😍 gx #TheVoice pic.twitter.com/fPIx0hOJ7n

— Gwen Stefani (@gwenstefani) December 10, 2019
"They didn't kiss? I'll take it to the next level," he said. The host became giddy with excitement as she closed out the segment. Fans also shared their reaction in the comments.
The upcoming Grammys Awards
Shelton and Stefani are set to perform the song "Nobody But You" on January 26. The video for it was released just yesterday. Artists Lizzo, Billie Eilish, and Aerosmith will also be performing. 
"Nobody But You" comes off of Shelton's latest album, "God's Country," which is also the name of the song that earned him a nomination for Best Country Solo Performance from the academy. 
Shelton had almost given up
In another interview ahead of his Grammy appearance, Shelton revealed that before he recorded "God's Country," he believed that all his hit songs were behind him.
Speaking to Gayle King on "CBS This Morning," Shelton explained that because of his career length, he felt that it would soon be time to close things out. Not long after, his producer shared the song's demo.
In his personal life, though, "The Voice" judge still seems to be excited about his relationship with Stefani. Likewise, the "Hollaback Girl" singer also loves her new man.
Stefani celebrates her beau
Last November, she celebrated Shelton's Grammy nomination by sharing a video of her son Ashton reacting to the news. Stefani has three boys from her marriage to Gavin Rossdale. 
In the clip, Shelton casually shares the news, and Ashton, taken back, responds with, "What the heck!" Shelton has been nominated for eight Grammys so far but hasn't won one yet. 
Regardless of his modesty, we're sure fans will be reacting similarly to Ashton after Shelton's performance on Sunday. We're also vouching for him to get the win this time.