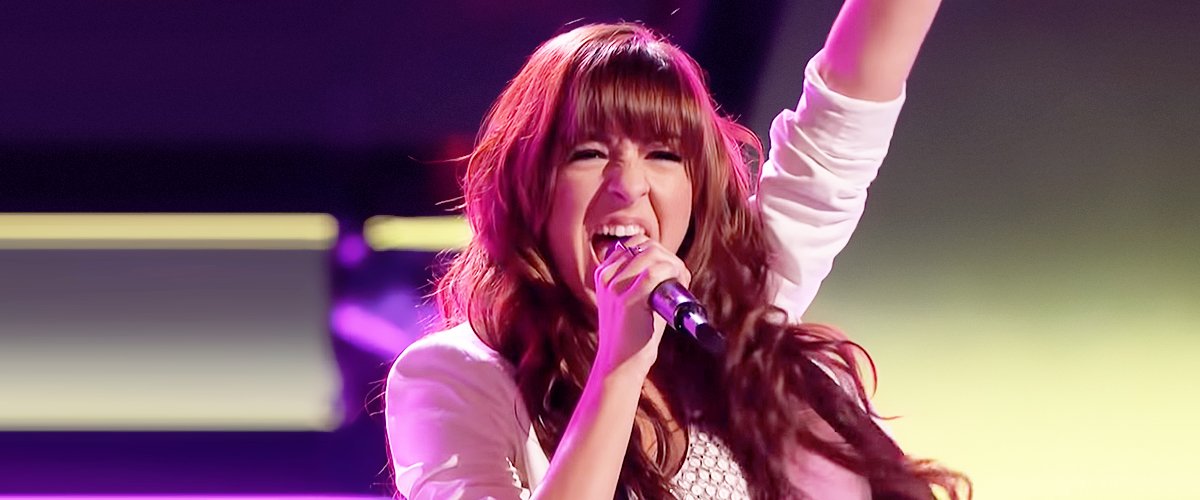 youtube.com/Show Me Space
The Life and Tragic Death of 'The Voice' Contestant Christina Grimmie Who Went Too Soon
Former "The Voice" contestant and singer, Christina Grimmie, lived a short, promising life before meeting her tragic demise in 2016 at age 22.
Christiana Grimmie overwhelmed the world with her incredible talent as a teenager, becoming a celebrated singer with an impressive fanbase even before she turned eighteen.
However, the rising star's career was cut short after meeting her unexpected death in the hands of a gunman.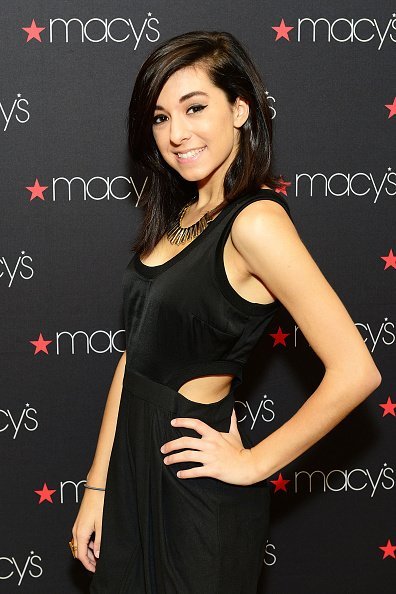 Christina Grimmie attends at Macy's iHeartRadio rising star in-store performance on May 16, 2015 | Photo: Getty Images
CHRISTINA'S LIFE STORY
Christina Grimmie was born in March 1994, to parents, Tina and Albert Grimmie. She spent her early years in Marlton, New Jersey, along with her brother, where she received her middle and high school education.
In 2009, the singer debuted her YouTube channel with "Don't Wanna Be Torn" by Hannah Montana and continued posting videos of her extraordinary singing performances. Soon, the icon's popularity grew following her rendition of Miley Cyrus's "Party In The U.S.A" that same year.
The star went on to do other covers, including "Just A Dream," by Nelly, which she did alongside fellow YouTuber, Sam Tsui. Her voice and spectacular interpretations of popular songs soon took her high up in the charts, and barely two years later, Christina bagged second place in the MYYouTube competition, next to singer, Selena Gomez.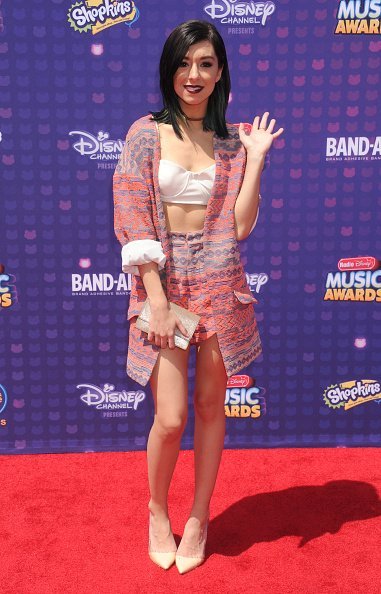 Christina Grimmie arrives at the 2016 Radio Disney Music Awards at Microsoft Theater on April 30, 2016 | Photo| Getty Images
This facilitated her discovery by Selena Gomez's parents, Mandy Teefey and Brian, who pitched for her and became her managers.
The late gem went on to perform in concerts, perform backup vocals for "Selena Gomez And The Scene," did opening performances for various high profile singers, went on several music tours, and later moved to Los Angeles in pursuit of her music career.
While in Los Angeles, the songstress got signed to Creative Artists Agency, and also starred in the Web show, "Power Up: With Christina Grimmie." She released her "With Love" album in 2013, dropping another, "Side A" in 2016.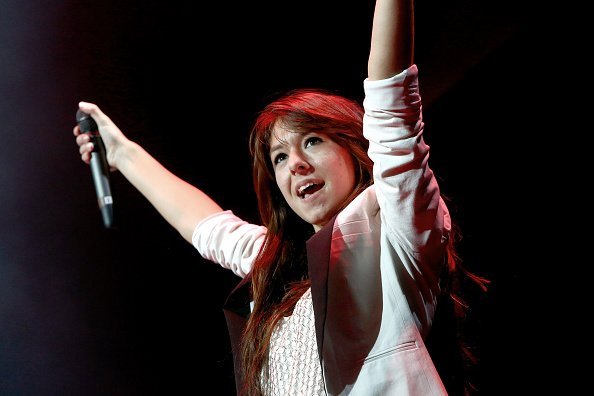 Christina Grimmie performs at the Prudential Center on October 20, 2013 | Photo: Getty Images
CHRISTINA GRIMMIE'S TRAGIC DEATH
On the night of Friday, June 10, 2016, the pop singer held a performance with the pop-rock band, Before You Exit at The Plaza Live, Orlando until 10 pm, after which she proceeded to sign autographs.
During the autograph signing, the star was shot four times by a 27-year-old gunman, Kevin James. She died shortly after from the gunshot wounds at the Orlando Regional Medical center.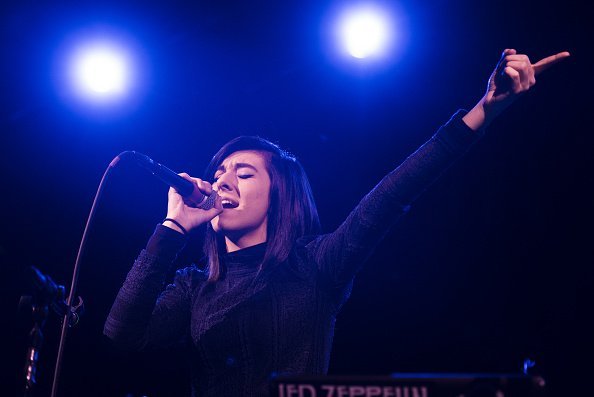 Christina Grimmie performs in concert at Irving Plaza on March 10, 2016 | Photo: Getty Images
Her assailant was accosted by Christina's brother, Marcus Grimme, as he fled the scene, and after a brief scuffle, Christina Grimme's murderer took his own life using a gun.
The motive of the murderer is yet unknown, but it was discovered that the killer had an unhealthy obsession with the singer in the past, going as far as altering parts of his body to make himself more attractive to her. Neither the late icon nor her acquaintances knew of him before the murder.
CHRISTINA'S FAMILY GRIEVE HER LOSS
The loss of the music artist was a huge blow on her family. Six months after her demise, the musician's family filed a wrongful death lawsuit against the concert promoters, the venue owners and the company charged with securing the venue, for not taking the adequate measures to guarantee the safety of their sister and daughter.
The following year, the family established The Christina Grimmie's Foundation, intended to support victims and affected families of gun violence as well as breast cancer, a condition the singer's mom, Tina Grimme, battled until her death in 2018.
On the icon's 25th birthday memorial, her brother paid tribute to her on Instagram, with a birthday wish to her saying:
"Happy 25th, Christina. I miss you. It isn't the same without you here. It never will be."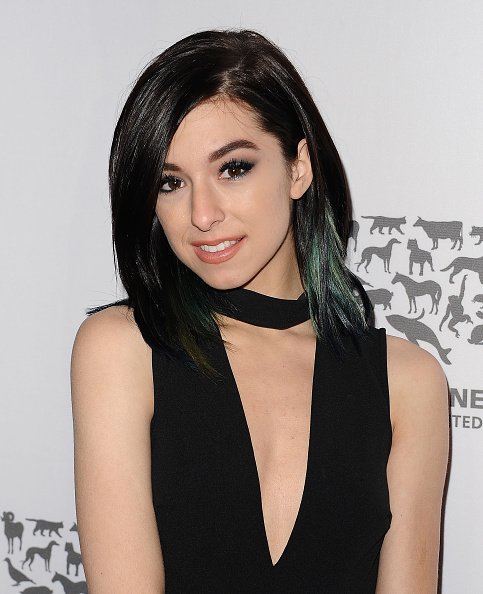 Christina Grimmie attends The Humane Society of The United States' To The Rescue gala at Paramount Studios on May 07, 2016 | Photo: Getty Images
"THE VOICE" JUDGES REACT TO THE SINGER'S LOSS
Following the "The Voice" alum's death, many celebrities and fans reacted to the gruesome murder, including "The Voice" coaches, Adam Levine and Blake Shelton, who mentored her during her run on the sixth season of the singing contest.
Adam took to Instagram to share a photo of himself and the deceased, along with a caption which expressed his shock over her death, and how unfair it was that the sad fate befell her.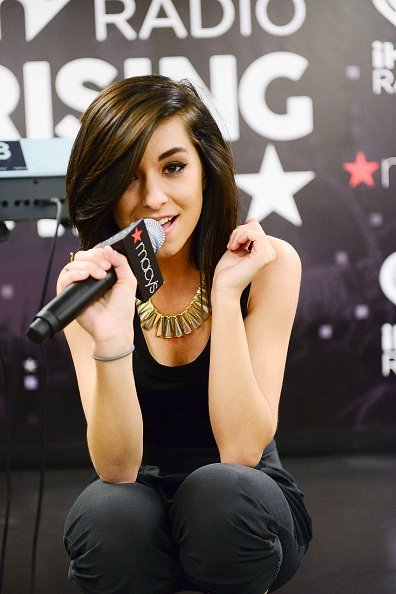 Christina Grimmie performs at Macy's iHeartRadio rising star in-store performance on May 16, 2015 | Photo: Getty Images
In addition, the coach also offered to solely cover the expenses of her funeral, taking the responsibility from Christina's manager, Brian Teefey, who was at the time running a GoFundMe campaign to finance the icon's burial.
Blake also paid an Instagram tribute to the youngster, sharing his disbelief, while also adding that he was extending his prayers to her.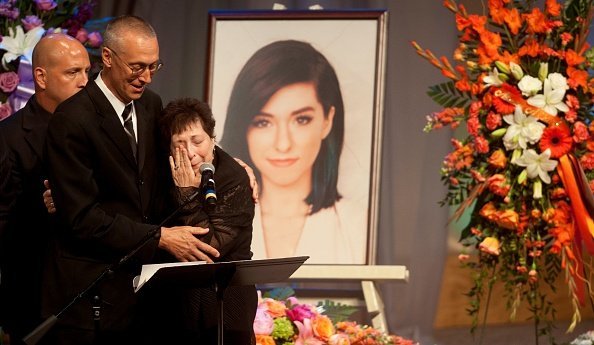 Christina Grimmie's parents Bud Grimmie and Tina Grimmie speak at her memorial service on June 17, 2016 | Photo: Getty Images
CHRISTINA'S PARTICIPATION ON "THE VOICE"
The songstress participated in Season six of the NBC singing competition show, "The Voice," performing Miley Cyrus's "Wrecking Ball" for the auditions, with coaches Adam Levine, Usher, Shakira, and Blake Shelton all blown away by her performance.
During her run on the show, she opted for Adam Levine's team, and at the end of the contest, emerged second runner up, behind winner, Jauf Kaufman, and first runner up, Jake Worthington.
Despite not winning the competition, coach Adam Levine expressed intentions to sign her to his label, 222 Records. Hip hop star, Lil Wayne also made to sign her to his Young Money Entertainment, but she opted for the Island Records.
SINGING CAREER
Throughout her seven years of being active in the music field, Christina won hearts with her voice and unique stage style, landing her several awards and nominations.
The "Tell My Mama" crooner released albums like "With Love," "All Is Vanity," "Find Me," "Side A," and her posthumous album, "Side B," which she was working on before her death.
Some of her music achievements include the American Music Awards for New Media Honorary Female category in 2011, as well as the Youth Rocks Awards that same year. She also emerged best female cover artist in the Intense Radio's Music Awards.
In 2016, the "Just A Dream" singer bagged the Teen's Choice Award for Best Web Star in the Music category. Christina lived an inspiring life, and her tragic murder left millions devastated, making her a beloved household legend, years after her death.
Please fill in your e-mail so we can share with you our top stories!