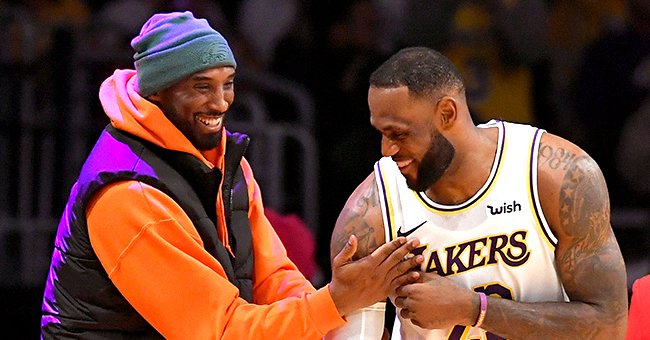 GettyImages
Kobe Bryant's Last IG Post Praised LeBron James for Passing Him to Become 3rd Highest Scorer in NBA History

Just hours before his tragic passing, Kobe Bryant congratulated his protege, LeBron James for surpassing his NBA all-time-score record. James paid tribute to Bryant during the milestone game with commemorative markings on his shoes.
Prior to his tragic death, Kobe Bryant sang praises for LeBron James who had just outranked him in NBA's list of highest all-time scorers. In fact, his last IG post was a tribute to James who looked up to him as his idol since he was a teenager.
James has been very outspoken about his admiration for Bryant and how he would take in every advice the former Lakers star gave him throughout his career. They met at a youth basketball camp when James was 15 and since then, he has carved a path similar to his idol's.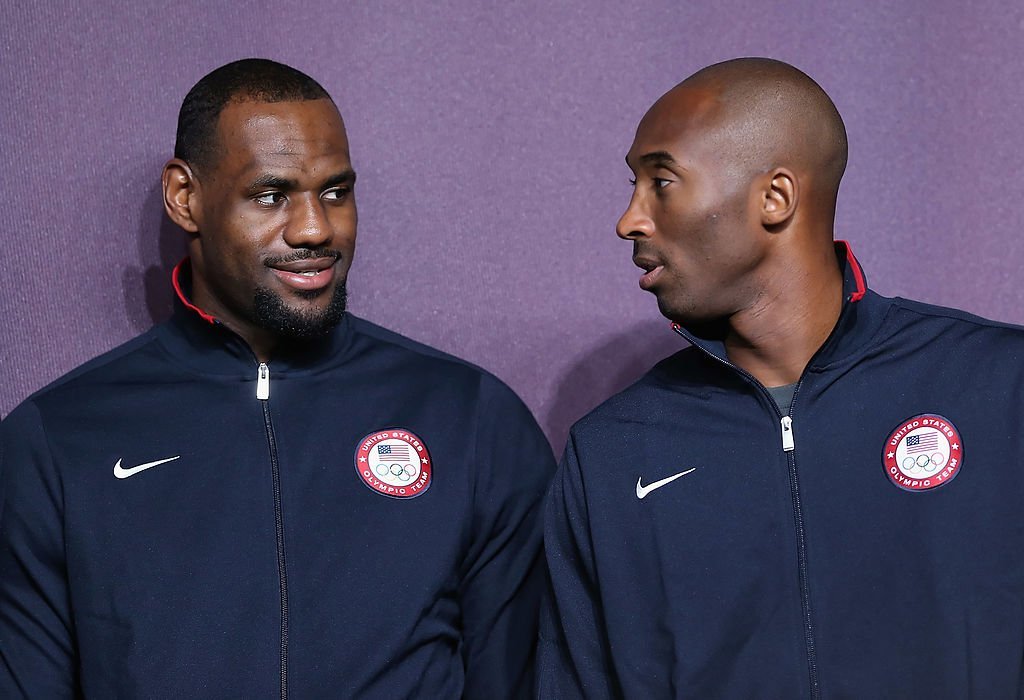 LeBron James and Kobe Bryant during a basketball conference before the London Olympics in July 2012. | Photo: Getty Images
THEIR PARALLEL CAREERS
Just like Bryant, James swiftly moved from high school to the NBA where he has won MVP titles and championships. He currently plays for the Los Angeles Lakers, the same team where Bryant reigned supreme for over 20 years.
James thought it was "surreal" how things evolved between him and Bryant.
Much like Bryant, he too is an exceptional scorer and slowly inched his way up the charts of NBA's list of highest scoring players. And as of this weekend, James made another astounding leap when he surpassed Kobe's record moving to third place in the list ahead of his idol.
James unseated Kobe's all-time score of 33,643 points when he finished with 33,655 points at the end of the Lakers' game against the Philadelphia 76ers.
Ironically, James said in an interview post-match that he stole the third spot from Bryant in Philadelphia where the former Lakers hails from.
A SPECIAL TRIBUTE TO BRYANT
As a tribute to Bryant, James scribbled the late basketball star's initials, jersey numbers, and the words "Mamba 4 life" on his shoes ahead of the game knowing he only needed a few points to surpass him.
James thought it was "surreal" how things evolved between him and Bryant. Speaking to reporters, he said,
"The first time I ever met him, gave me his shoes on All-Star Weekend. It's surreal. It doesn't make no sense, but the universe just puts things in your life. And I guess when you live in the right way, when you just give it everything to whatever you're doing, things happen organically."
BRYANT'S FINAL POST
Meanwhile, Bryant was proud of James's accomplishment when he congratulated him on his Instagram. It was his final post before his tragic death.
"On to #2 @kingjames! Keep growing the game and charting the path for the next," he had written to accompany a photo of a playful moment between him and James during a Lakers game.
HIS TRAGIC DEATH
Hours later, we would learn that Bryant had tragically died in a helicopter crash. He was with his daughter, Gianna who suffered the same fate. They were on their way to basketball training in his Mamba Academy in Thousand Oaks, California when their aircraft went down and broke in flames. Seven other passengers with them also didn't survive.
As of this writing, James hasn't issued a statement regarding Bryant's death. It was quite a shock to hear and we're certain James is still in deep mourning especially after celebrating a milestone with Bryant just hours before.
Bryant was 41 at the time of his death and his daughter was 13. They are survived by his wife, Vanessa Bryant and their three other daughters, Natalia, 17, Bianka, 3, and Capri, 6 months.
Please fill in your e-mail so we can share with you our top stories!