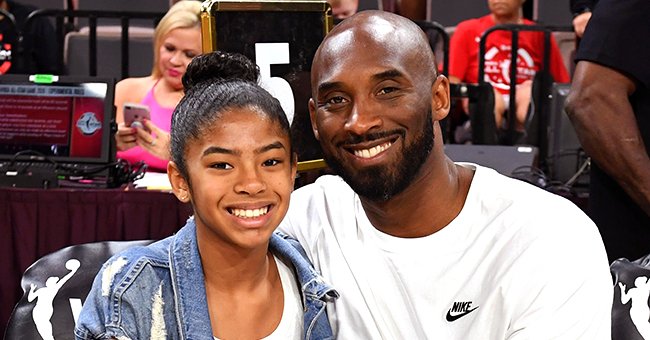 GettyImages
Kobe Bryant & Daughter Gianna's Unexpected Death in Helicopter Crash Leaves Fans Devastated

Twitter is brimming with heartbreaking posts in the heels of the tragic death of Kobe Bryant and his daughter, Gianna. Many expressed regret over what would have been a flourishing second chapter of the basketball legend's life.
Fans of Kobe Bryant woke up Sunday morning to the shocking news that their idol is dead. Kobe died in a helicopter crash alongside his 13-year-old daughter, Gianna Bryant.
TMZ first broke the story that the former NBA player and his daughter were among nine people who didn't survive the crash. They were on their way to Kobe's Mamba Academy in Thousand Oaks, California for practice when his private helicopter went down and broke into flames. His wife, Vanessa Bryant was reportedly not with them.
Kobe Bryant during the FIBA Basketball World Cup 2019 draw ceremony in China in March 2019. | Photo: Getty Images
FANS MOURN HIS DEATH
Fans of the basketball legend who was just starting a new phase in his life after retiring in 2016 are mourning. They've taken to Twitter to express their grief.
"My heart is broken. My heart is with the family," wrote one of many fans who also offered prayers for Vanessa and their three remaining daughters.
"Please God cover, protect, heal Vanessa and their daughters. Give them the strength to get through."
Another with the same sentiment wrote,
"I'm in shock to hear the death of #KobeBryant and his daughter!! My prayers go out to Kobe's wife and the families of the others that also lost their lives." May God help ease the pain. 24"
The biggest names also joined Kobe's fans in mourning his death. Among them were former President Barack Obama, who expressed regret over what would have been Kobe's "second act."
In another tweet, a fan expressed regret over what would have been the next chapter of Kobe's life.
"This man just entered a whole new phase of his life, his kids finally got him home from years on the road and just like that, they and we all get a wake up call."
HIS SECOND ACT
After a successful career in basketball retiring as one of the greatest scorers in the NBA, Kobe went into film production and worked on projects that melded sports and entertainment. His short film, "Dear Basketball" which was based on a poem he wrote won him an Oscar in 2018.
Through his multimedia company, Granity Studios, he also produced the ESPN + series, "Detail" which analyzes athletes' performances. Alongside this is the kids and family podcast, "The Punies" which teaches life lessons through melody and sports.
Kobe had also published three sports fantasy books at the time of his death. His fourth, "The Wizenard Series: Season One" is scheduled to be released in March.
CELEBRITIES EXPRESS SHOCK AND GRIEF
The biggest names also joined Kobe's fans in mourning his death. Among them were former President Barack Obama, who expressed regret over what would have been Kobe's "second act." He also shared his and his wife, Michelle Obama's heartbreak over the loss of Gianna.
"To lose Gianna is even more heartbreaking to us as parents. Michelle and I send love and prayers to Vanessa and the entire Bryant family on an unthinkable day."
Meanwhile, Kobe's former LA Lakers team-mate, Shaquille O'Neal posted a tribute describing this as a "tragic and sad moment of loosing my friend, my brother, my partner in winning championships, my dude and my homie." He added, "IM SICK RIGHT NOW!"
Other celebrities who expressed shock and grief include Kareem Abdul-Jabbar, Ellen DeGeneres, Chrissy Teigen, John Legend, Jamie Foxx, Reese Witherspoon, Taylor Swift, and Khloe Kardashian.
Please fill in your e-mail so we can share with you our top stories!