Elderly Woman with Dementia Goes Viral after Recording Frank Sinatra's 'My Way' Cover with Her Caregiver
Margaret Mackie is anything but ordinary. She is 83 years old, suffers from dementia, and her first recorded single is topping the download charts in the U.K. ahead of artists like James Blunt and Ed Sheeran.
On Youtube, a video of Margaret Mackie and her caregiver, Jamie Lee Morley went viral due to their joint performance of Frank Sinatra's "My Way."
The charity single, in aid of Dementia UK and the  Alzheimer's Society, soon racked up views and comments, after Jamie's initial post of them singing together received raving reviews from netizens.
"I am a support worker. Full of admiration for them both. Brilliant," one viewer commented, while another added, "That was so beautiful God bless them both ❤?."
It all started at Christmas after Jamie began working at the care home in Edinburgh, where Margaret lives. The home asked Jamie to host their Christmas party and sing, but it's his duet with Margaret that held special meaning.
"She's just incredible."
Care worker @JamieLeeMorley tells #BBCBreakfast about 83 year old Margaret. She's got dementia but she and Jamie are now beating @edsheeran and @JamesBlunt in the download charts! 👏 pic.twitter.com/k2RivviYRU

— BBC Breakfast (@BBCBreakfast) January 17, 2020
The pair sing together at work all the time, and together they've brightened up many days, not just for each other but also for the other residents. They did it their way.
"This is a moment I will never ever forget. Be more like Margaret and live each day to the full and sing your absolute hearts out!" Jamie wrote in awe of Margaret's courage.
🎤 83-year-old Margaret Mackie and her carer Jamie Morley came to the Falkirk Stadium today to perform their charity single, currently 5th in the iTunes Charts, for the Falkirk Blind club.

Full story 👉https://t.co/08vBQEs68P https://t.co/WRTd3DxzBk

— Falkirk FC (@FalkirkFC) January 21, 2020
Jamie added that it's not about being "pitch-perfect," but rather about a woman who inspires through doing what she loves most in life. 
When the video taken at the wedding went viral in the UK, Jamie decided to make a studio recording of him and Margaret singing the song, and he used footage filmed of their outing, to release an official video along with the single on December 28 last year.
Besides the song climbing the UK download charts, it also helps others. Any money made from the single, Jamie vowed to donate to the Alzheimer's Society and Dementia U.K.
Margaret would love to record another song, and even joked to BBC about her recording a full album. Perhaps, if her courage allows, Margaret can record a song from the beloved artist of another person living with dementia.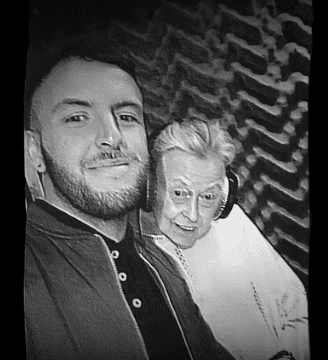 Another heartwarming video went viral late in 2018 when the 67-year-old Kathleen Preston danced with four carers in her nursing home.
Residing at the Ashlynn Grange Care Home in Peterborough, Kathleen showed her spark as she danced to Whitney Houston's "How Will I Know" after it started playing on the television.
Without hesitation, Kathleen gathered the ladies, and they enjoyed the moment by living themselves into the song, dancing to their heart's content.