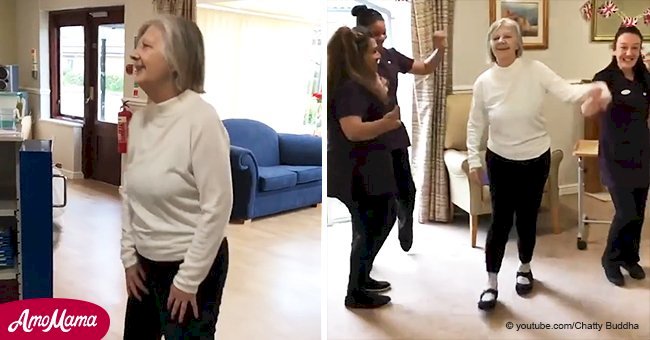 Carers joined woman with dementia in a cheerful dance and it was so sweet

67-year-old Kathleen Preston danced with her four carers in her nursing home. The heartwarming moment was uploaded to YouTube.
Kathleen is a pensioner who suffers from dementia, a brain disease that impacts thinking and memory abilities. According to the Daily Mail, she resides at the Ashlynn Grange Care Home in Peterborough.
In the video found below, the older woman showed that despite her illness, she has not lost her spark for life.
Follow us on Twitter for more @amomama_usa.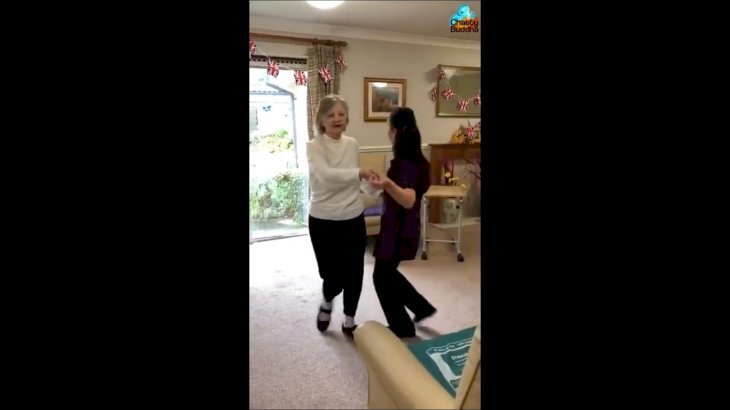 Source: YouTube
In the clip, Kathleen dances in her home as Whitney Houston's "How Will I Know" plays on the television set nearby.
Viewers will see the touching moment four staff members join in on the fun. They seemed genuinely happy as they move along with their resident.
One carer holds Kathleen's hands and guides her movements a bit. She then twirls around the adorable elder twice.
The former catering assistant exclaimed, "I can't stop!" in the clip.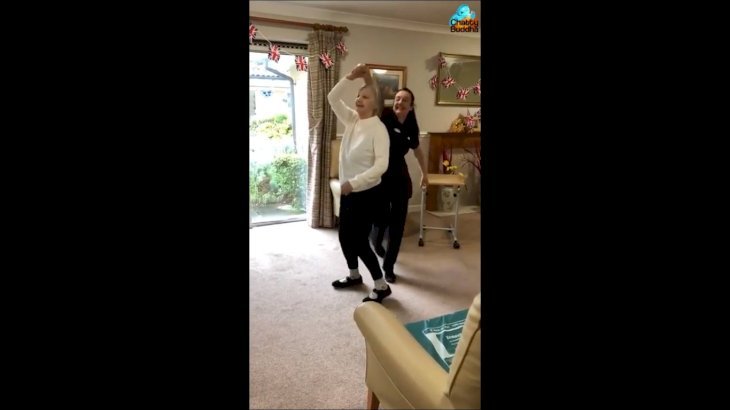 Source: YouTube
Kathleen's daughter, Teri, said her mother's newly discovered passion for dancing came in February when she started living at the home.
The carers "think the world" of Kathleen. And the endearing sight made her daughter's "heart [melt]" when she saw it.
Teri, a British Red Cross volunteer, described:
"Then when I saw the members of staff join in with her, it made me well up."
The caring and affectionate staff give Teri "peace of mind."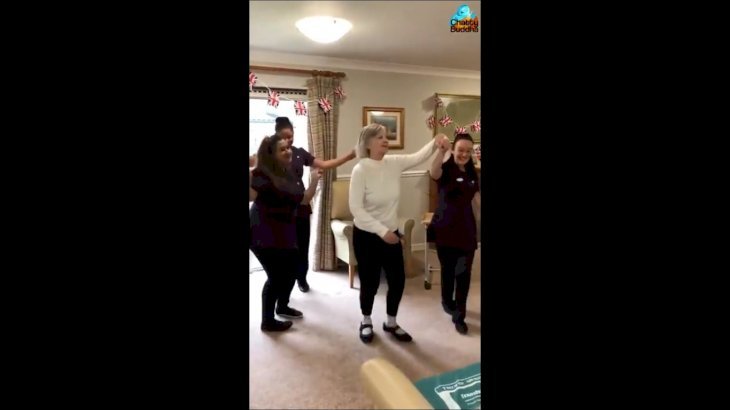 Source: YouTube
Following her father, Roy's death in 2007 at age 60, Kathleen began losing her memory. She also went through hallucinations.
At first, Kathleen would forget her keys or if she had eaten. But according to her daughter:
"It soon got worse, and I discovered she was wondering out the house without clothes on and crying in distress all the time."
The occurrence was "heartbreaking," but fortunately, Kathleen still remembers her daughter.
Teri sees her mom thrice a week. She lives with her 46-year-old partner Micahel Powell, in Wisbech, Cambridgeshire.
The mother of three said that:
"Whenever music is played she gets up and bops along - the staff are so sweet they even turn the volume up for her."
Teri advocates for care homes, saying that "there is a stigma surrounding care homes and I want people to know that there are good places that exist, places that really care about the welfare of their residents."
Source: YouTube
She continued:
"At my mum's home, they're always throwing parties and putting on entertainment. I can't fault the care."
Teri believes that "carers don't get enough praise for what they do." But as for her, she'll "be forever grateful to them for making mum happy in her final years."
The home's operations director, Mandy Jackson said that the staff's "greatest reward is to see [their] residents smiling and living life to the full."
Mid-September 2016, the Sun reported on another carer who took to dancing with his resident and ended up bringing two families together after many years.
Lee Holdroyd, 28, saw that Pat was feeling so down not even a good cup of tea helped her. So to lift the resident's spirits, Holdroyd took to dancing, something he knew Pat enjoyed.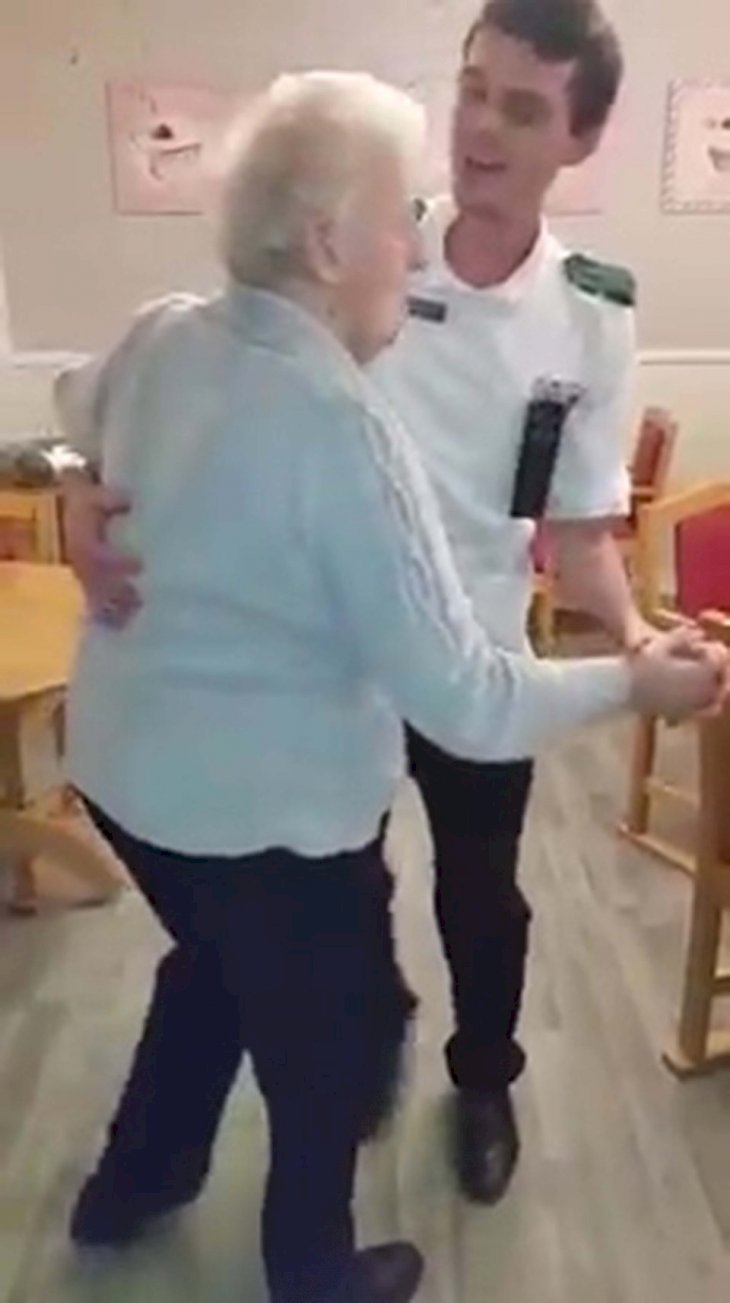 Source: The Sun
Another staff member recorded the heartwarming moment and over 275,000 viewers saw it. This included Pat's brother John, with whom she had had a falling out years ago.
His daughter Leah will help him set up a video call with his sister after not speaking for about 70 years. They also plan to go to the pub for a drink together.
In April 2018, two grandmothers in another nursing home improved their lives by developing a touching friendship.
Lillie Downing shared a post on Twitter saying what happened when she took her grandmother to a care home for those suffering from dementia.
The post went viral. It's caption read:
"Took my nan to her new care home today that's for people with dementia, she met a lady who had the same name as her and they held hands the whole time they watched TV."
As they sat cross-legged on the couch together, the resident repeatedly told Downing's grandmother, "Don't worry, you've got me now."
Please fill in your e-mail so we can share with you our top stories!