Jimmy Kimmel's Eldest Daughter Katie Is All Grown up and Looks so Much Like Her Famous Dad
Acclaimed show host, Jimmy Kimmel's first daughter has grown into a gorgeous young lady, and in some new pictures shared, she could pass for her dad's twinnie.
Jimmy Kimmel has amassed quite a reputation for himself in Hollywood for his prowess in show hosting, especially at his late-night show, "Live with Jimmy Kimmel."
However, besides fame, Kimmel is a family man. While his oldest daughter is entirely grown, new pictures show that she holds a striking resemblance with the "late-night prince."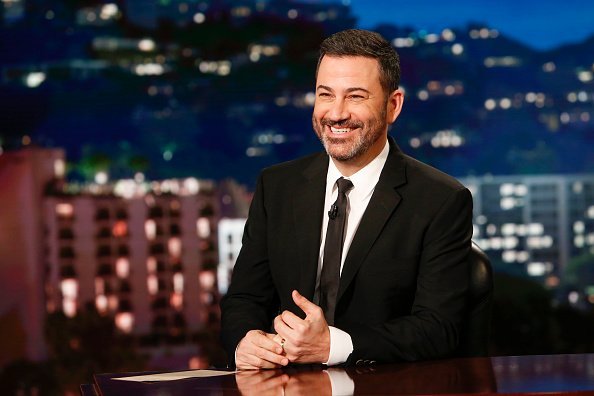 KATIE KIMMEL IS HER DAD'S LOOKALIKE 
On her Instagram page, Katie Kimmel's post showed her paying tribute to her late dog while fans sent their condolences. She wrote in her caption:
"Goodbye to my Tiny and round little sister, Dottie… I hope dog heaven is just as jamming."
In the first photo, Katie is sitting with the dog on a stairway as she smiles for the camera. More pictures of Dottie appear on the other slides. One of the photos shows Dottie posing with the family.
WHEN JIMMY KIMMEL FIRST BECAME A DAD
Jimmy Kimmel had his first child, Katie, when he was 24 years old. At the time, he wasn't a mainstream act in showbiz.
He was into the morning radio, and he did not earn a handsome pay. Katie grew up pretty much like most kids whose parents weren't celebrities. Kimmel told VULTURE:
"I'd pick Katie up from daycare as quickly as I could because we couldn't afford the $5 an hour to keep her there longer."
Growing up, Katie Kimmel made it known that she struggled after high school because she had no idea what she wanted to do. She made it known to BASIC BRAIN HEART that she didn't know what her interests were.
But there was a saving grace, and after she attended an in-between-school, she launched a career in the arts. Katie Kimmel went on to study at The School of the Art Institute of Chicago.
KIMMEL'S SIBLINGS 
Katie is Jimmy's oldest child, and her other sibling is Kevin, who is also grown. Katie's younger siblings are Jane and Billy from her dad's marriage to "Live with Jimmy Kimmel's" head writer, Molly Mcnearney.
While Katie is a ceramic artist and designer based in Hermosa, California, her brother, Kevin, works in the television industry but as a crew member.
Jane and Billy are pretty much little children and still budding. Billy was born with a condition called tetralogy of Fallot, a rare heart defect. During his birth, his appearance was purplish, and this resulted in an operation.
After Kimmel's son got out of surgery and was certified safe, the doting dad used his popular platform to advocate for CHIP, a health insurance program that provides low-cost health care for children.