Ice-T's Wife Coco Criticized after Sharing Photo of Her Sleeping Husband & Daughter Chanel
Coco Austin was shamed on Instagram for sharing a picture of her husband Ice T and their daughter Chanel Nicole sleeping topless in the same bed.
Coco Austin has endured her fair share of mom-shaming when it comes to sharing some of her family's intimate moments of their home life with her daughter, Chanel Nicole.
A year ago, Ice T faced backlash for sharing a picture of Coco sleeping topless next to Chanel. Innocently enough, he posted the picture and gushed over how lucky he considered himself to be waking up next to his family.
The picture got a lot of attention not only for Coco sleeping topless, but an unexpected nipple slip had many of his followers commenting over how surprised they were over the image.
Ice T received backlash over everything from criticisms over co-sleeping with his daughter, to having their bulldog sleep in the bed.
Recently, trolls had their go at Coco after she shared a heart-melting picture of Ice T and Chanel cuddling as they lay asleep in a bed, in a caption she wrote:
"Counting my blessings .. last night I said many prayers.. and I do appreciate life to the fullest! (Sleeping cuddle pics are the best!) #ripkobeandgianna ..?Love to the Bryant family."
It seems some followers didn't quite get the message of family she was trying to put across. Some fans appeared shocked over the fact that the four-year-old was sleeping topless, one commenter said:
"@coco In my opinion I believe your daughter is a little too big to be sleeping with no shirt on." 
Another fan thought the picture was completely inappropriate, while one person acknowledged how beautiful the photo was, but also thought they should put a shirt on her.
The picture has received over 83 000 likes on Instagram, and many people gushed over how adorable Ice T and Chanel look cuddling. However, some commenters still couldn't get over Chanel sleeping topless.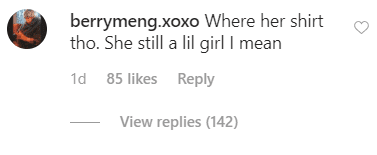 The father-daughter moment served as a tribute to NBA legend Kobe Bryant and his daughter Gianna Bryant, who lost their lives in a helicopter crash in Calabasas, California, on Sunday.
Many of Kobe's fans have been honoring him and Gianna on social media by sharing pictures of great father-daughter moments.