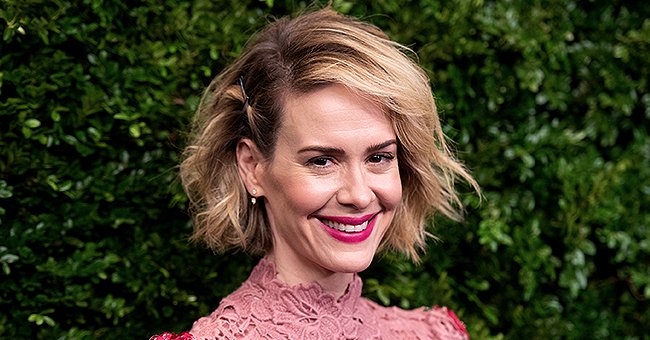 Getty Images
Sarah Paulson Facts That Fans Might Not Know about the 'American Horror Story' Star
This versatile actress can do it all, drama, comedy, and horror can be in a single day's work. She has become one of the most revered actresses of her generation.
Sarah Paulson was born in Tampa, FL, in 1974 and after her parents divorced, she moved to New York City with her mother. She used to spend summer vacations with her father in Florida. Meanwhile, she participated in several student works, incredibly, she made her acting debut being just a 12-year-old on Broadway.
Very interested in the performing arts, after Paulson graduated from Fiorello H. Laguardia High School, she studied at the American Academy of Dramatic Arts. Immediately after graduating from high school, Sarah began her acting career.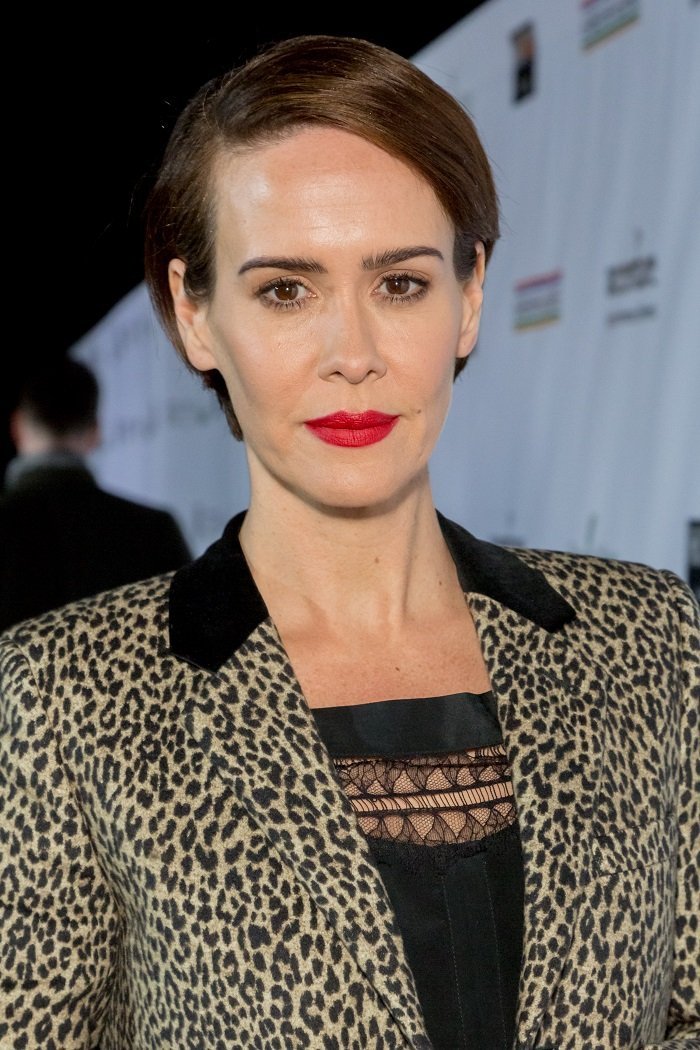 Sarah Paulson I Image: Getty Images
BEGAN TO ACT BEING TEENAGER
Paulson made her television debut in an episode of Lay & Order in 1994. She also appeared in the work of Horton Foote Talking Pictures at the Signature Theater. For most of the early years of the 2000s, Sarah jumped from the cinema to the tables.
NO SUCCESS ON TV SERIES
Sarah had interesting roles in a variety of TV series, which at first seemed to be the roles that would catapult her to stardom. Unfortunately, that did not happen. Most were canceled in the first season, such as American Gothic, Leap of Faith, The D.A.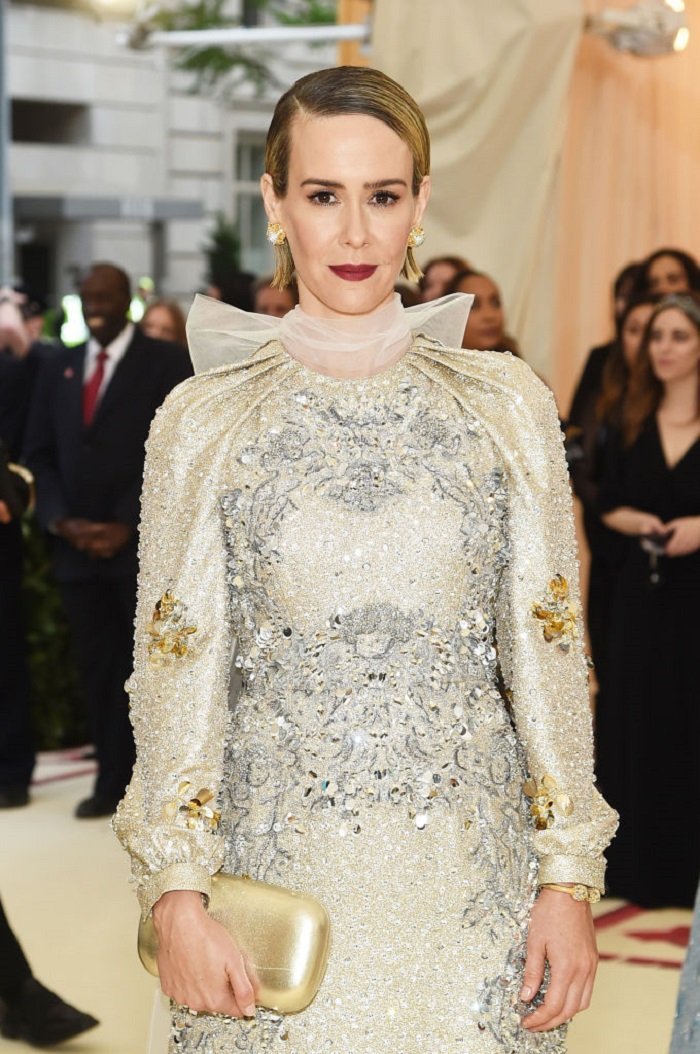 Sarah Paulson I Image: Getty Images
IMPRESSED WITH HER WORK
For years, Paulson had a poster of her favorite actress, Jessica Lange, on the wall of her room. Her emotion was great when she learned that she would work with Jessica, who was impressed with her performance. A dream come true, which became incredible when she had to direct Lange in American Horror Story.
DEBUTED AS DIRECTOR WITH A GREAT CHALLENGE
For years, Sarah had wanted to dabble in the direction and had spoken several times with Ryan Murphy about it. The opportunity came when Murphy asked her to direct American Horror Story: Apocalypse, Episode 8, with 72 scenes, almost twice as usual.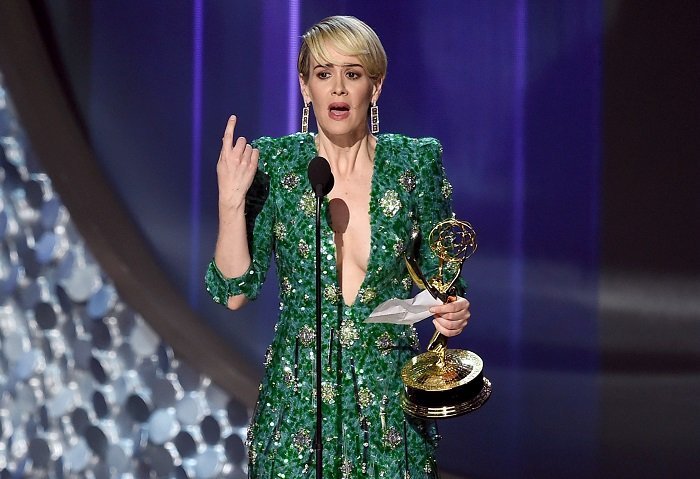 Sarah Paulson I Image: Getty Images
NOMINATED ONCE
Paulson co-starred in the NBC Studio 60 on the Sunset Strip with the role of Harriet Hayes, one of the stars of the show. This interpretation allowed her to have a Golden Globe Award nomination for the best-supporting actress: series, miniseries or television movie; the only one of all the members of that cast.
SHE HAD A BENIGN FORM OF MELANOMA
During the preparations for a trip to Puerto Rico, Sarah was checked for a spot on her back that she didn't like. Fortunately, she went to the doctor on time, because she was only 25 years old and the diagnosis was Melanoma A1. Now she uses SPF 45 sunscreen all year.
CONFUSED WITH ANOTHER ACTRESS
We all go through that, a person approaches us, starts talking and we realize that he has confused us with another person. It has happened to Paulson too, people often confuse her with Claire Foy, the actress of The Crown.
SIMPLE TASKS WHEN EATING
When her fans asked Sarah Paulson what would be her favorite food in the alley of death. Sarah's answer was Filet Mignon with french fries and huge ice cream with Cookies and Cream flavor.
DO NOT SEE HER WORK
According to an interview, Paulson has not seen any of the films she has starred since The People v. O.J. Simpson. She usually identifies intensely with her characters, like Marcia Clark's. Paulson also admitted that he did not see American Horror Story: Hotel or his 2016 independent film, Blue Jay.
TRIED TO COPY JULIA ROBERTS
During the beginning of her acting career, Sarah considered the success obtained by Julia Roberts as a goal to achieve. He loved the work of Roberts, who was one of the most successful actresses of the 90s. Fortunately, Paulson found her own personal style, leaving Julia aside.
There are many more things that define Sarah Paulson as one of the most interesting and versatile actresses in the entertainment world. Those who know her closely talk about her professionalism and histrionic ability, but also talk about her imitations and funny character.
There is no doubt that this actress has made a name herself, step by step, with the projects she has worked on since she was 12 years old, when she decided that acting, besides being her passion, was her life.
Please fill in your e-mail so we can share with you our top stories!