Jennifer Lopez Shares Backstage Video with Daughter Emme Taken Just before Super Bowl Halftime Show
Jennifer Lopez and her 11-year-old daughter Emme shared an endearing moment "just minutes" before they hit Miami's Hard Rock Stadium for their Super Bowl LIV Halftime Show performance.
On Monday, Jennifer Lopez shared a behind-the-scenes video taken of the final minutes before she and her 11-year-old daughter Emme took to the stage at Miami's Hard Rock Stadium for their Super Bowl performance.
As Jennifer and Emme waited for Shakira to finish her set, the pair jumped around for a minute to warm themselves up. The doting mom then kissed her daughter and shared a sweet hug before they walked out onto the football field.
Alongside the video she also posted on social media, the 50-year-old singer wrote that it was taken mere minutes before they went on stage, and added:
"All I want my girls, the little girls on stage with me and all over the world to know is how to use their voices and be proud of everything they are."
Emme's performance came as a surprise, and the youngster stole the show with her rendition of her mother's song "Let's Get Loud."
Other young performers joined Emme in a chorus, and she switched to belting out a few lines from Bruce Springsteen's "Born In the USA" while Jennifer pranced around the stage in a red, white, and blue Puerto Rican flag cape.
Jennifer wasn't the only one who felt parental pride. Her ex-husband and Emme's father, Marc Anthony, also cheered on his daughter. Following her performance, Marc couldn't help but share his enjoyment with fans, as he wrote:
"Emme Daddy is so proud of you. You are my ❤ and I am forever yours."
Emme has a twin brother Maximilian, and even though he enjoys singing the occasional song, he reportedly has a big job ahead of him.
With Jennifer Lopez and Alex Rodriquez reportedly planning their wedding for his year, a source close to the couple said that Maximilian is set to play a significant role in their upcoming nuptials.
During an interview with Entertainment Tonight, Jennifer confirmed Maximilian's important role as he would "of course" walk her down the aisle on her special day.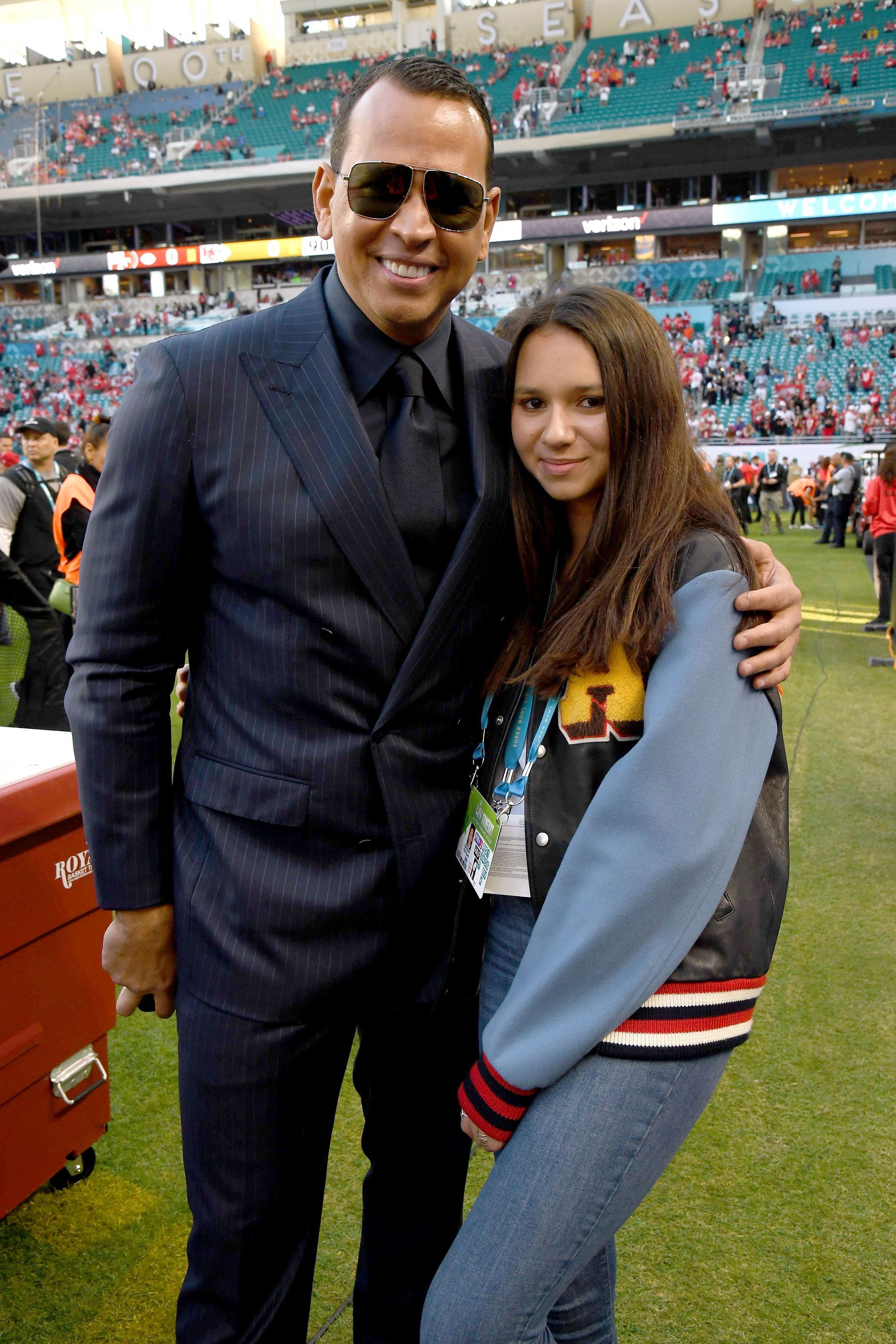 As Jennifer's biggest fan, Alex Rodriquez made his delight at her and Emme's performance known after getting as close to the stage as he could.
Unable to contain his joy, Alex danced and jumped around to the beat of the music with his phone in hand as he captured his antics on video while stating that his wife-to-be "absolutely crushed" her performance.