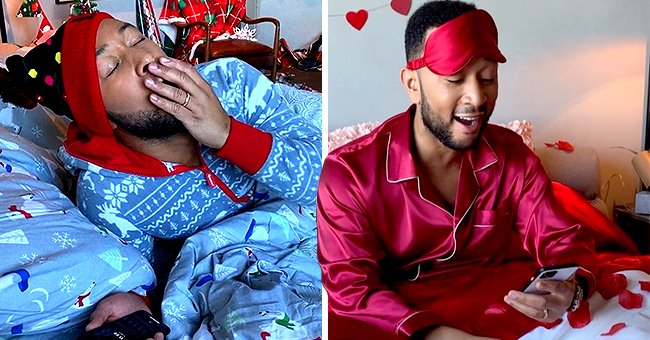 Instagram/johnlegend
John Legend Spoofs Mariah Carey's Viral Christmas IG Video & Gives It Valentine's Day Makeover

John Legend spoofed Mariah Carey's viral Christmas video, wherein she woke up to a call from Santa, with a hilarious adaptation of his own for Valentine's Day.
On Tuesday, the Sexiest Man Alive asked whether he is "doing this right" in a Valentine's Day-themed video spoofed from the Queen of Christmas, Mariah Carey.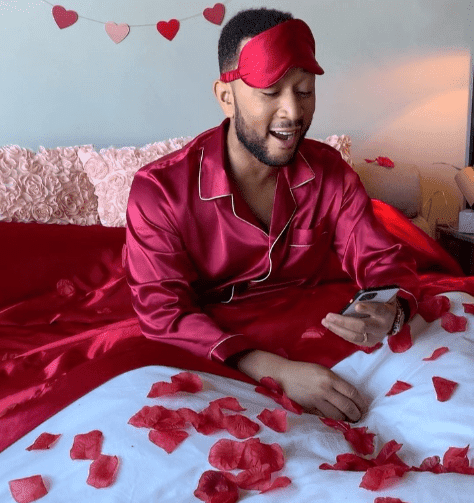 John Legend wakes up to a call from "Cupid" on February 1, 2020, in humorous spoofed video. | Source: Instagram/johnlegend.
THE HILARIOUS PARODY
In the video, an exhausted John Legend went to bed at 11:59 pm on January 31, only to wake up to a call from "Cupid" just as the clock turned 12 welcoming the month of February.
Suddenly dressed in comfy silky pajamas and sprawled out on a rose petal covered bed, John woke up to a phone call from "Cupid."
Excitedly, the singer-songwriter answered the phone, "Cupid!" After the doctor of love greeted John, he announced in song, "It's tiiime!" As John let out a scream of glee, his new track "Conversations in the Dark" began to play.
Actress Kerry Washington kept the giggles going with a gag reference to John's 2018 Christmas album "A Legendary Christmas," when she asked in the comment section when his "A Legendary Valentine's Day" album will be released.
THE ORIGINAL
Mariah Carey posted the video John Legend spoofed on November 1 last year, and it racked up well over 2 million views since then.
In the caption, she announced the video as "breaking news," and dressed as an 80s rocker complete with a wild wig, Mariah fell asleep at 11:59 pm.
As midnight announced the arrival of November 1, Mariah's "All I Want For Christmas Is You" started to play as the call from Santa Claus came through.
Suddenly dressed in a Christmas onesie, the pair exchanged greetings before she sang, "It's time!" before letting out a scream of joy.
MORE CAUSE FOR CELEBRATION
However, John Legend also has something else to celebrate. The singer, along with his model wife Chrissy Teigen, hit a home run with their Super Bowl commercial for Genesis' new value-priced premium GV80 SUV.
In the funny ad, the couple mocked a group of people depicting "old money" stereotypes at a party and declared the entering of an era of "new luxury" with the new SUV from Genesis.
The new commercial reportedly boosted traffic to Genesis with a whopping 182,343% in comparison to a usual Sunday. GMC came the closest, and their new electric Hummer EV ad, starring NBA legend LeBron James received a 9,408 spike in traffic.
HUMOR ALWAYS CLOSE AT HAND
Chrissy Teigen and John Legend are known for their humor on social media, and their 6th wedding anniversary in September last year was no exception.
While the model posted regular updates about their special day, she started things off with a post depicting them disgruntled and bored as they sat at a table. In the caption, Chrissy wished her husband a happy anniversary.
The couple has been together for 13 years, and they decided to celebrate their anniversary in Paris, and Chrissy looked stunning in a white dress as she enjoyed the evening on the Seine.
Please fill in your e-mail so we can share with you our top stories!