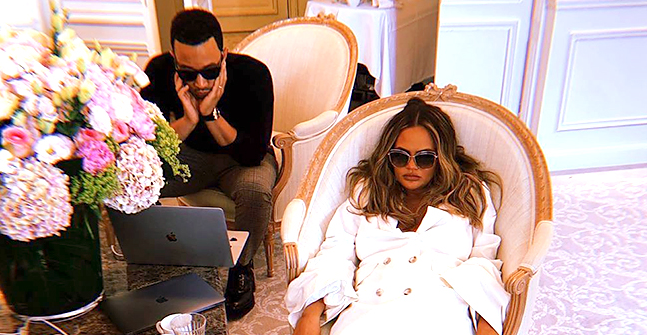 Instagram/chrissyteigen
Model Chrissy Teigen Shares Hilarious Pic to Mark 6th Anniversary with 'Preach' Singer John Legend
Hilarious Teigen is at it again! She spiced up our week with gorgeous pictures from her sixth-anniversary celebration, alongside humorous captions!
During the previous weekend, Chrissy Teigen and John Legend celebrated their 6th anniversary as husband and wife, and 13 years as a couple.
Knowing Teige, it is no surprise that a series of hilarious events occurred over the weekend.
Her sense of humor in regards to her marriage remains undefeated, which places their relationship high on the list of Hollywood all-time favorite couples.
The 33-year-old "Lip Sync Battle" host wasted no time in giving us updates about their anniversary.
At first, Teigen and Legend went on a getaway trip to Paris to mark their anniversary, according to reports by Pure Wow.
The former model publicized their happy time with two on-brand Instagram posts. In one photo, she and Legend stood on impressive stairs, and she wore a white gown paired with white heels, while Legend wore a suit.
Although it seemed like she did it grudgingly, that's just sarcastic Teigen for you, the heartwarming caption read:
"Ok fine. I love you, baby. I love our life and our babies and you. So much. Here's to 13 more years of doin' it on the semi reg."
She also posted a single picture of her on Instagram with the caption:
"Anniversary night on the Seine. I love you forever. Here's to many more beautiful nights."
The mother of two continued to entertain us by revealing that her husband had ordered a bouquet of beautiful flowers for her, as reported by Daily Mail.
However, Teigen hilariously asked what she was "supposed to do with this."
In the snapshot, Teigen sat in a make-up chair, while Legend sat beside her with his head in his hands. Even though he looks it, we know the R&B icon is far from being tired.
The couple dated for seven years before tying the knot in 2013 on September 14. They got married in a luxurious wedding on Italy's Lake Cuomo.
The power couple has two kids together, Luna and Miles. Teigen recently praised Miles for likely taking his first steps, as published by Refinery29.
What a beautiful family!
Please fill in your e-mail so we can share with you our top stories!