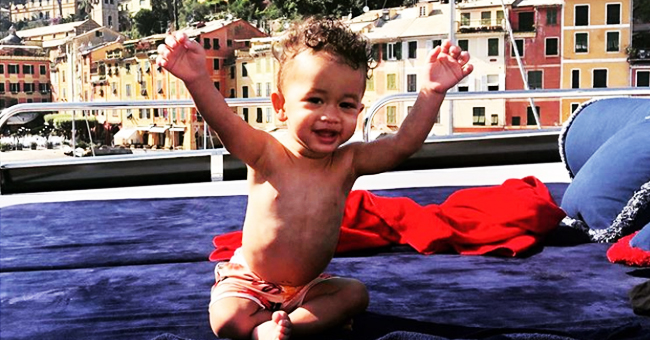 instagram.com/chrissyteigen
Chrissy Teigen Shares Kids' Cute Photos While on a Yacht Trip with Her Family
Chrissy Teigen is currently on vacation with her family, and she shared a picture of her little son looking really cute on social media.
The American model took to Instagram about a day ago to share a memorable photo of her one-year-old son, Miles Theodore Stephens. Miles, who only recently marked his first birthday, seems to have had a growth spurt as he looked a lot bigger than before.
In Teigen's post, the little boy is on the bed and with one of his hands atop a system. Miles was pictured wearing a small red tee and black pants.
The most beautiful thing about the photo, however, was the way the cute youngster smiled excitedly as he looked at whoever was behind the camera.
Teigen's caption took a humorous turn and was just the perfect fit for the lovely photo.
"If you email me anytime in the next seven days this is who is replying," the leggy model wrote.
Teigen, her talented singer husband, John Legend and their two beautiful kids, including three-year-old Luna, are currently on vacation in Portofino. The couple never tires of showing off their lovely children, which explains why their Instagram pages are filled with photos and video clips of Luna And Miles.
As Teigen did, John Legend shared a picture of little Miles, but his post was dated about two days ago. In the photo, Miles is only half covered as the image was taken with him wearing just a colorful short.
Much like Teigen's more recent post, the youngster looked adorable as he raised his hands and smiled widely in excitement. Miles then looked straight at the camera with his chubby cheeks accentuated by his heartwarming smile.
It is pictures like these that make the internet a worthy place to be. By the looks of things, Legend and Teigen are having the best time together on their trip to Italy. From the pictures circulating the media, the family of four make a spectacular group even though they were all dressed in a laid back manner.
Asides serving family goals, the small group caught their fans' attention after pictures of momma bear Teigen started circulating about the internet.
Hollywood Life reports that the famous television personality risked showing off a little too much thanks to the deep V neckline of the one-piece swimsuit she wore while on the yacht trip with her beautiful family.
That, however, doesn't kill off the adorable vibes she gives off as she watched and enjoyed her time off with Legend, Luna, and Miles.
Please fill in your e-mail so we can share with you our top stories!