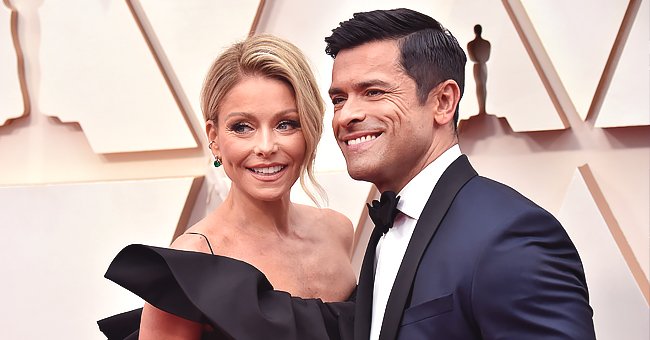 Getty images
Kelly Ripa's Daughter Jokingly Calls Mom & Dad Repulsive after Funny Clip of the Talk Show Host's Oscars Gown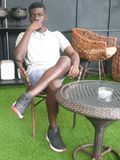 Kelly Ripa's 18-year-old daughter, Lola Consuelos, has accused the actress and her husband Mark Consuelos of being repulsive.
Co-host of "Live With Kelly & Ryan," Ripa took to Instagram on Monday to share a hilarious GIF of herself fully dressed in a black Christian Siriano gown which she wore to the Oscar Awards.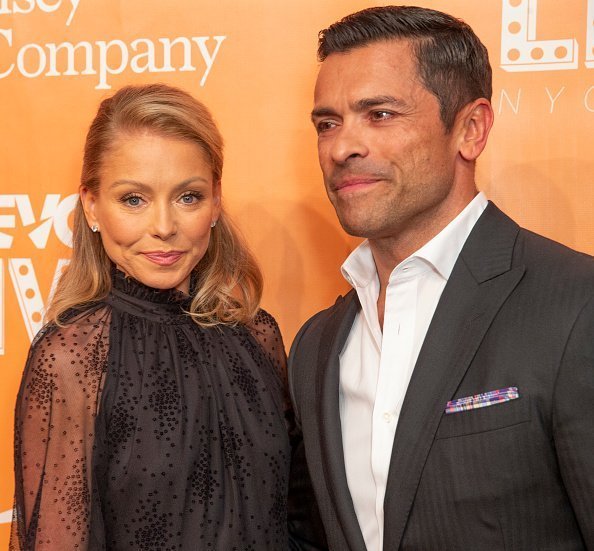 Kelly Ripa and Mark Consuelos attend 2019 TrevorLIVE New York Gala | Photo: Getty Images
She revealed producer Albert Bianchini underneath the skirt as she lifted it to show the bald man. Alongside lots of fans, Mark Consuelos, Kelly's darling husband also added, "Been there," in reference to her ballgown's lower level.
Lola jocularly posted in the comment section, "absolutely repulsive." Ripa finally added that none of her kids came out of "there." They were all born via cesarean section.
The talk show hostess got married to Consuelos in 1996, and the couple has been renowned for their playful yet raunchy attitude on and off-screen.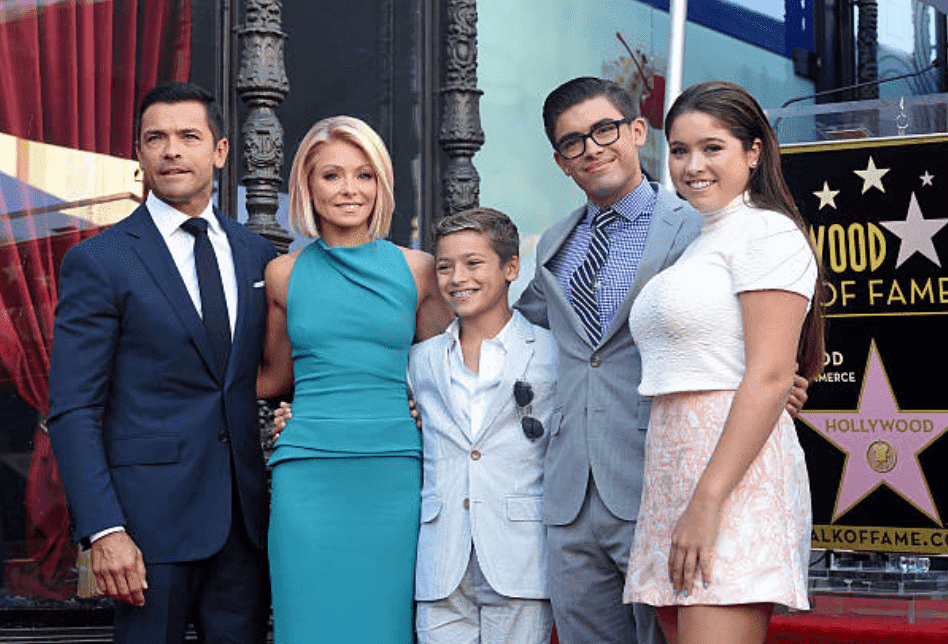 Kelly Ripa, Mark Consuelos their children Lola Consuelos, Michael Consuelos and Joaquin Consuelos pose for camera's at the ceremony for Kelly Ripa's star on the Hollywood Walk of Fame, on October 12, 2015, in Hollywood, California | Source: Getty Images
With two adult kids and a minor, Michael, 22, Lola, 18, and Joaquin 16, these guys have no plans on keeping the fun down.
The Consuelos' Gentleman and Lady, were spotted at the 2020 Oscars, which took place on February 9.
They didn't maintain close body contact as expected. Ripa had warned her children's dad not to get too close to her because she wore full-body makeup.
Kelly had worn the same Christiano Siriano gown that night while Mark had put on a deep blue tux with black lapels. Her curled neckline revealed her graceful shoulders well enough, and without a necklace to match, she looked as elegant as ever.
In the video, Kelly swirled her hips like the Colombian singer and almost made it feel like she was in the actual music video.
Ripa had another "date" that night. Colleague Ryan Seacrest was noted at the event too, and his odd shoe cummerbunds got everyone talking.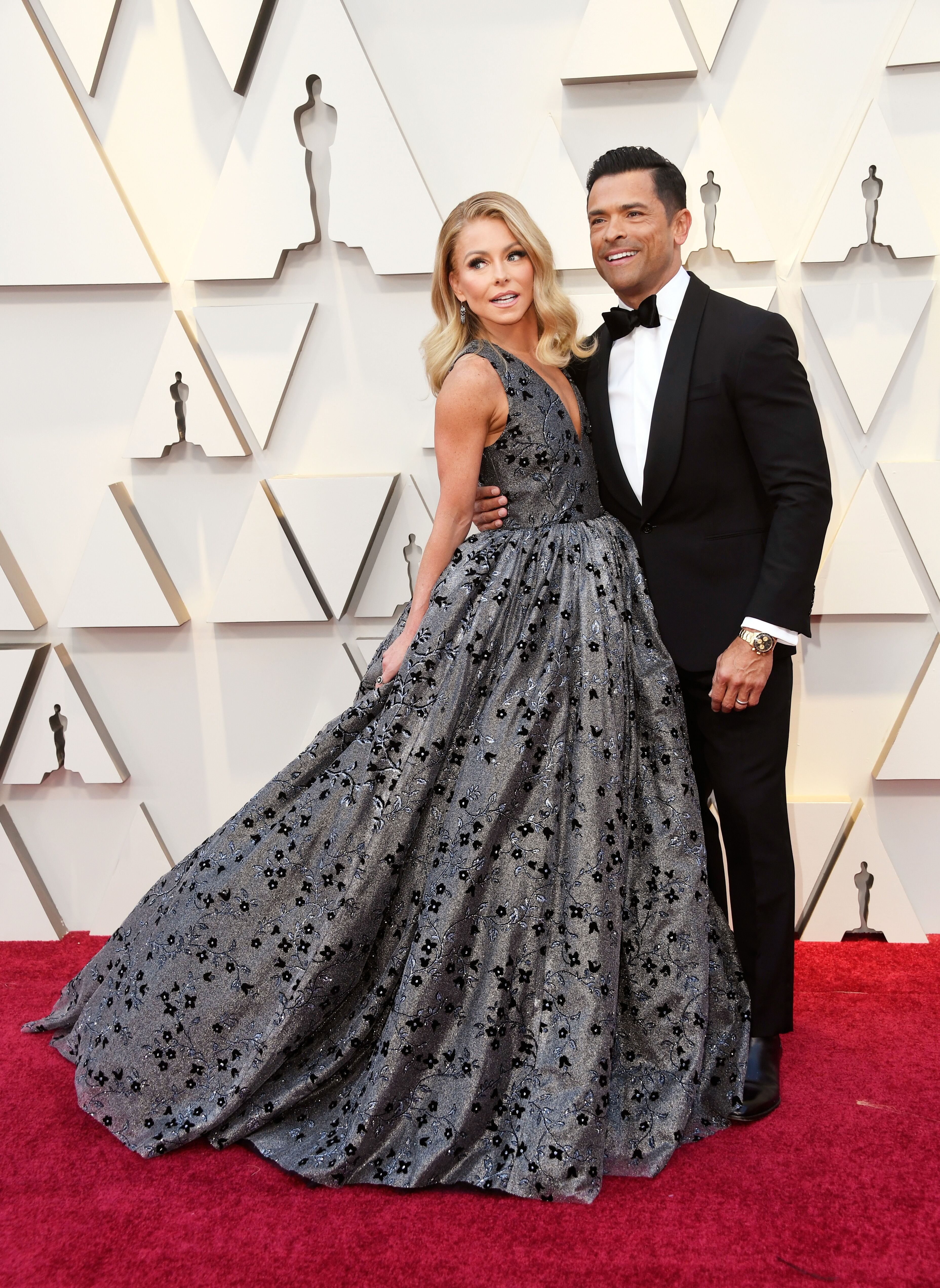 Kelly Ripa and husband Mark Consuelos at the 2019 Oscars | Source: Getty Images
Like every other marriage, Kelly's and Mark's have experienced challenges. She once noted that,
"you're going to fight and have disagreements. You have to push through."
Kelly has always been outrageous and energetic. Just before attending the Super Bowl 2020 earlier this year, she posted a video featuring Ripa and her fitness instructor dancing to Shakira's song.
In the video, Kelly swirled her hips like the Colombian singer and almost made it feel like she was in the actual music video.
The video had garnered more than 600,000 views since January 28. Lola Consuelos, however, wasn't impressed by the clip.
In a chat with People, Ripa explained that her daughter always felt embarrassed by her, her mannerisms and whatever she wore. Lola has often viewed her dad as reprehensible sometimes.
Mark admitted asking for her advice sometimes. Talking about the 18-year-old's fashion style, her parents briefed that Lola's style is very relaxed, and they had nothing to do with it.
Please fill in your e-mail so we can share with you our top stories!