Carrie Underwood's Son Isaiah Gives Hilarious Answers to Questions about His Mom
Carrie Underwood's son Isaiah Michael recently filled out an "All About My Mom" sheet, and his response was humorous, to say the least. Turns out, young Isaiah is blissfully unaware of his mother's stardom. 
The country superstar took to Instagram recently to share a snapshot of a questionnaire that her 4-year-old son Isaiah filled, and the answers are the cutest thing on the internet. 
The "All About My Mom" form was a simple form that asked young Isaiah some simple questions about his mom, starting with her name, followed by some questions about her everyday life. 
ACCORDING TO ISAIAH
According to Isaiah, Underwood has just entered her 70's and really loves eating salad. The toddler got a few answers spot on, but others could not be further from the truth. 
However, it was super adorable to see that young Isaiah was blissfully unaware of his mother's worldwide stardom and thought that his mother's full-time job was to keep him in clean clothes. 
As the toddler mentioned in his sheet, the "American Idol" alum's job is to "wash the laundry," and, apparently, she is also really good at "folding laundry."
MAMA'S LOVE
Besides the hilariously adorable answers, the "Mama's Song" singer's 4-year-old also shared that he and his mother like to spend time watching TV together and that she loves riding horses on her own.
The toddler further answered that "I love you" is the most frequent phrase that he gets to hear from his mother, and he would gift her a cake if he could. 
Underwood's followers on Instagram, including country stars like Miranda Lambert and Lindsay Ell, could not bear the delightful yet comical answers and joined in on the comments section to voice their thoughts.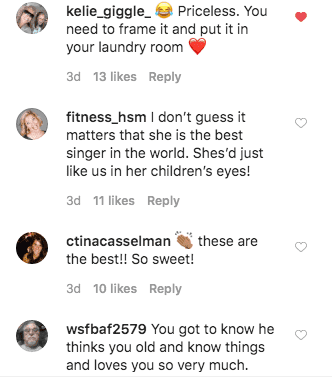 FANS GUSH OVER ANSWERS
A fan claimed the answer sheet to be priceless and that Underwood should frame the masterpiece and put it up in her laundry room. Another fan said that Isaiah thinks that she is old, and she knows things and that he loves her very much. 
Yet another fan noted that even though Underwood is the best singer in the world, it doesn't matter to her eldest son. To him, she is just like everyone else. 
The youngest artist to become a member of the Grand Ole Opry, Carrie married hockey player Mike Fisher in Atlanta, Georgia, back in 2010 and has two beautiful baby boys. 
The elder of the two Isaiah will turn three years old this February 27 and, according to his mother, is a big help around the house while taking care of his one-year-old brother Jacob.