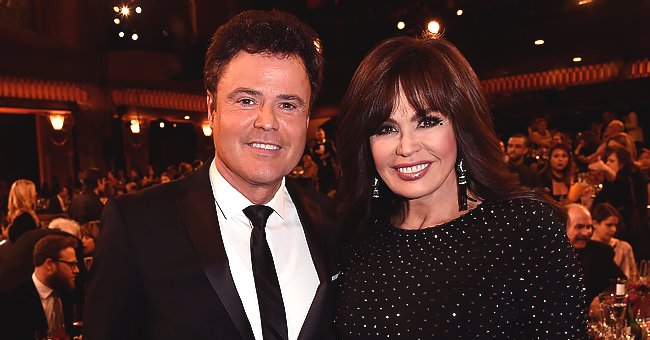 Getty Images
Donny & Marie Osmond's Children Have Already Started Their Own Families — Meet Them
Marie and Donny Osmond have both successful in their musical careers yet take pride in having beautiful kids and grandchildren.
Marie Osmond must love being a mother as her family has grown bigger and bigger through the years with her children already having families of their own.
JESSICA
The first of Osmond's five adopted children, Jessica, recently tied the knot with her now-wife, Sara and made the singer extremely happy.
After the "Paper Roses" singer posted her congratulations to the couple, many fans commended the artist for supporting her daughter's decision to be part of the LGBT community.
STEPHEN
The singer welcomed her first child Stephen James Craig in 1983, together with her then BYU basketball player husband, Stephen Lyle Craig.
Stephen grew up to be an actor known for the television movie "It Nearly Wasn't Christmas" and announced his engagement in 2011.
He now has three kids named Stephen Jr., Christian, and Maxwell. Their grandmother once posted about them. Osmond wrote:
"These adorable people are my grandchildren, and this is the first photo taken of me with all four of them. Let's just say that getting everyone to look at the camera was an impossibility!"
RACHEL
Rachel is Osmond's second child with her second husband, Brian Blosil. The singer's daughter grew up to be a creative costume designer for her mother and uncle and later became a hairstylist.
In 2013, Rachel married Gabriel Krueger in an intimate ceremony on Christmas Day. The couple had their first child, Rocket Jade, in 2015, followed by their first son in 2019.
The proud grandmother took to social media to introduce the new addition of her growing family, adding that Rocket Jade was "excited" to have a baby brother.
ABIGAIL
Osmond's youngest daughter, Abigail, recently turned 17-years-old and spent a lot of time with her talented mother.
Because Abigail is still young with no family of her own, she has been enjoying her youth. In 2007, Osmond divorced the teen's father, Blosil, and remarried Craig in 2011.
Despite the little chaos in her life, Abigail was well-guided by Craig, who stood as an excellent stepfather figure to her.
BRIANNA
Two years ago, Osmond's adopted daughter Brianna married David Schwep and had a daughter, Maude Bailey-Moon Schwep.
DONNY'S KIDS
Donny Osmond also has children of his own, Jeremy, Josh, Brandon, and Donald Jr. Jeremy was the first to make the singer a grandfather with his wife, Melisa.
Recently, Donny's youngest son Josh got engaged to his girlfriend, Summer, which the "Season's of Love" artist shared about on Instagram. He wrote:
"We are beyond thrilled that Summer will be joining our family! It was a picture-perfect Valentine's Day, and an incredible kickoff to Josh's birthday weekend."
Donald Jr., the eldest of the siblings, married Jessica Nelson in 2010 and had his first child in 2013. Brandon, like his siblings is also a married man to a beautiful lady named Shelby.
Chris also recently married his fiancé, Alta, whose family gets along well with the Osmonds, as told by the singer in a Facebook post.
Please fill in your e-mail so we can share with you our top stories!