Tracy Morgan of '30 Rock' Fame Shares Photos with His Wife Megan & Daughter Maven in Stunning Outfits
Tracy Morgan and his girls were all dressed up for a Valentine's Day celebration in a photo he shared. He paid tribute to his wife and daughter by lauding them as his "Queen" and "Princess."
If you have a queen for a wife and a princess for a daughter then you're certainly the king of the house.
Tracy Morgan shared a photo from his family's Valentine's Day outing to pay tribute to his girls and we can't help but laud him for being the king that looks after them.
In June 2014, a Walmart truck slammed into Tracy's limousine resulting in his confinement in a coma for a week.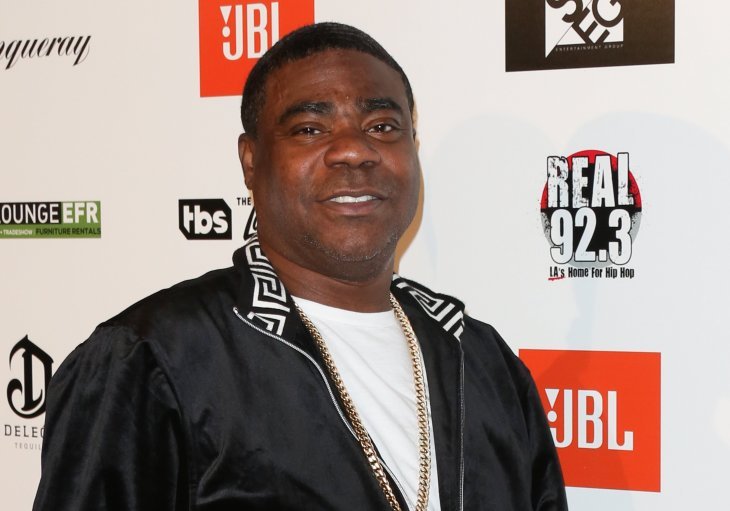 DOLLED UP FOR DINNER
The actor and his family were all dressed up for the occasion. Tracey wore a black pinstriped suit and stood out against the brighter colors that his wife, Megan Wollover and their daughter, Maven Sonae opted to wear.
Megan chose red for her asymmetrical gown with varying sleeves while Maven looked lovely in a lacy, pastel blue dress. Tracy kept his caption simple but meaningful. "#valentinesday with my Queen and Princess!" he wrote, highlighting how much he adored his girls.
In a separate post, he shined the light on being a father to Maven. He shared a photo of the two of them from the same night and described it as "Maven chillin with her Pops!!!"
While Maven isn't Tracey's only child, she is his only daughter. The "30 Rock" star has three older sons with his first wife, Sabina. His eldest, Gitrid was born in 1986, second son, Malcolm in 1988 and third son, Tracy Jr. in 1992.
THE TRAGEDY THAT STRENGTHENED THEM 
Tracey filed for divorce from Sabina in 2009. Two years later, he announced his engagement to Megan. But it took four years and a tragic accident before they finally tied the knot.
In June 2014, a Walmart truck slammed into Tracy's limousine resulting in his confinement in a coma for a week. Tracy survived with a broken leg, a broken nose, and several broken ribs. But he worked hard to be rehabilitated in his determination to walk Megan down the aisle. And in August 2015, he did.
HOLDING THE FORT
In 2016, Megan recounted how she mustered all of her strength in order to see Tracy through his recovery.
"I had to stay strong and be positive," she told Essence realizing that she had to step up while Tracy was debilitated. Their daughter was just a newborn at the time and there was a house to run and Tracy's career to manage.
"It seems like the worst thing at the time, but the reality is, in life and with everything else, you do move on from it," she assured.
Tracy is certainly lucky to have a queen who looked after him and their family while he was ill. And he's blessed to have a little princess who's growing to be the apple of his eye.
We also salute the king for working hard to get better so he can take care of his family.