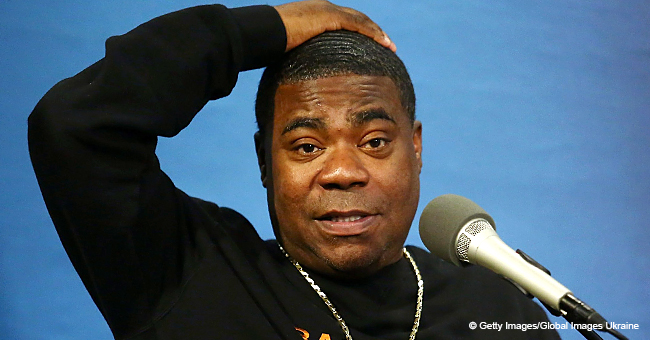 Tracy Morgan Recalls Terrible Car Accident and Discusses the Relationship between Dads & Daughters
Comedian and "The Last OG" actor Tracy Morgan opened up about his relationship with his wife, and his daughter after his near-fatal car accident.
Comedian Tracy Morgan, 50, faced death when he narrowly escaped with his life from a near-fatal car accident in 2014.
Since then, "The Last OG" actor revealed, he has become even more committed to his family, and to making a difference in his community.
"I've got to be there! You know how important it is for me and my wife? When I got hit by that Walmart truck…my daughter was only 10 months old. I know I've got to be here for her; in the world we're living in today."
A DEVOTED FATHER AND A LOVING HUSBAND
After his traumatic accident in June 2014, Morgan grasped at his second chance at life with both hands. The focus of his life became his relationship with his wife, Megan Wollover, and raising his daughter, Maven, 5.
The actor, who once battled with alcoholism, now prefers the quiet life of a family man to the buzz and bluster of the party circuit.
Morgan revealed that he and his wife's relationship as co-parents is very different from the role he portrays in his hit sitcom "The Last OG."
THE ACCIDENT THAT CHANGED TRACY MORGAN'S LIFE
Morgan was traveling in a minibus with three other comedians at 1:00 am when the vehicle was struck from behind by Walmart tractor-trailer.
Morgan's friend fellow comedian, 62-year-old James McNair was killed outright, and he was seriously injured. He was flown by helicopter to Robert Wood Johnson University Hospital with a broken leg and femur, broken nose, and several broken ribs.
MAKING A DIFFERENCE IN HIS COMMUNITY
Morgan joined hands with GrowNYC to revitalize the Hattie Carthan Community Garden in Brooklyn's Bedford Stuyvesant. GrowNYC is an organization dedicated to making New York a sustainable city.
SHARING EACH MOMENT WITH HIS DAUGHTER
For Morgan, his work with GrowNYC is an extension of his commitment to his young daughter, and to providing her with a safe and secure environment. Working alongside Maven in the Brooklyn garden, Morgan's devotion to his daughter was obvious.
Morgan revealed that he believes that a girl's relationship with her father will set the tone for the relationships she will have with men for the rest of her life:
"Because daddy is the first relationship she's gonna have with a male outside of sex. Every woman standing here, when a man looks at them, they know that look. They know he wants something. But Daddy is gon' look at you with loving eyes!"
Morgan revealed that he and his wife's relationship as co-parents is very different from the role he portrays in his hit sitcom "The Last OG."
Morgan and Megan have a solid relationship and are devoted to their baby girl. Morgan is also the father of three sons whom he shares with his ex-wife, Sabina.
TRACY MOGAN SPEAKS ABOUT JUSSIE SMOLLETT
Tracy Morgan spoke up about the Jussie Smollett scandal on the "The Tonight Show Starring Jimmy Fallon," revealing his reasons for believing the purported attack was a hoax:
"Racist people don't be jumping nobody in the polar vortex. It's too cold. You be racist in the spring."
Smollett claimed to have been attacked by two Trump supporters who allegedly beat him, poured bleach on him and tied a rope around his neck in January, during one of the worse cold-spells in Chicago's history.
Morgan had Jimmy Fallon in stitches, as he then confided that he had been offered a new TV role - on "Empire."
Please fill in your e-mail so we can share with you our top stories!