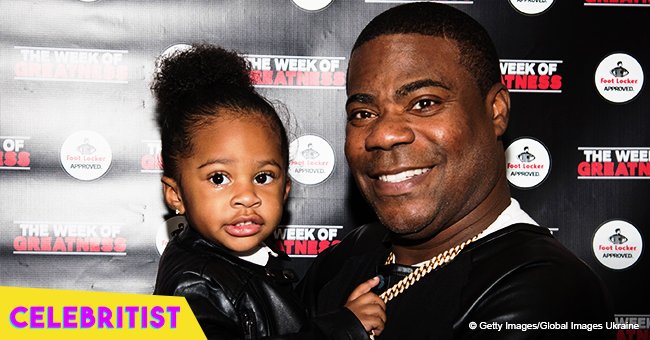 Tracy Morgan's 5-year-old daughter melts hearts, rocking unicorn face paint during birthday
Tracy Morgan and his wife Megan made sure their precious daughter Maven had the best 5th birthday by throwing her a party.
The Morgan family was on a festive mode over the weekend, throwing a circus-themed birthday party filled with all sorts of sweets, treats, and prizes for Maven's 5th birthday celebration.
To fit into the theme, red and white tents were put up over a large field, designed in different colored balloons and banderitas. Like any good circus, the party had popcorn, cotton candy, and many treats that visitors would usually enjoy while at a carnival. Maven herself seemed to have been extremely happy during her party, posing with big smiles in al her photographs.
Fitting in with the theme, Maven wore a circus ring leader jumpsuit, featuring blue and red accents. She wore a mini red-top hat on her head, and some silver sandals on her feet to accessorize her look.
The birthday girl's proud mom wrote a commemoration post for what transpired over the weekend, saying: "We are very blessed to celebrate and enjoy a carnival themed birthday this year! Sooo Much Fun!"
The cake table setup was a precious sight to see, filled with red and white popcorn designed giveaways, rice crispies, candy apples, and a layered carnival themed cake.
Maven's dad Tracy Morgan has been quite visible in the media due to his new TV series "The Last O.G.". The actor explained the significance of the new show to New York Times recently, saying that it was part of his life.
"The people I've known. The people I've lost. The drugs I sold. The people I hurt. This is for them. I'm sorry. This is to honor you. I didn't mean it. I was just trying to survive."
Morgan was previously undergoing rehabilitation sessions after his terrible 2014 car crash. A tractor-trailer went barreling through the comedian's stopped luxury bus, and it left him with a severe brain injury that causes him to have slight memory loss. However, despite what has happened, he is still extremely grateful that he is alive.
"I have to ask myself, because of what I've been through, was I better then or am I better now. I'm a better man now. I'd rather be a good man than a funny man, any day."
Tracy Morgan is the proud father of four children, including beautiful Maven. Catch his life's story on "The Last OG" on Amazon Prime.
Please fill in your e-mail so we can share with you our top stories!