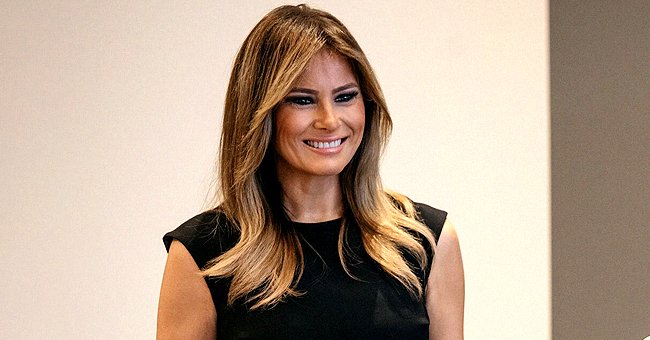 Getty Images
Melania Trump Stuns in White Herve Pierre Jumpsuit with Wide Leg in Photos at the Taj Majal during India State Visit
This week, Donald and his wife Melania Trump flew all the way to India for a two-day state visit. The former model stunned during the visit by wearing a simple but yet elegant outfit.
Melania was pictured while disembarking from Air Force One at Sardar Vallabhbhai Patel International Airport on Monday with her husband Donald. The former model chose an outfit that fits very well with the warm weather in Ahmedabad.
She chose to stay cool by wearing a structured white jumpsuit from Atelier Caito for Herve Pierre. The jumpsuit featured long sleeves, a high neckline, and a wide-leg design.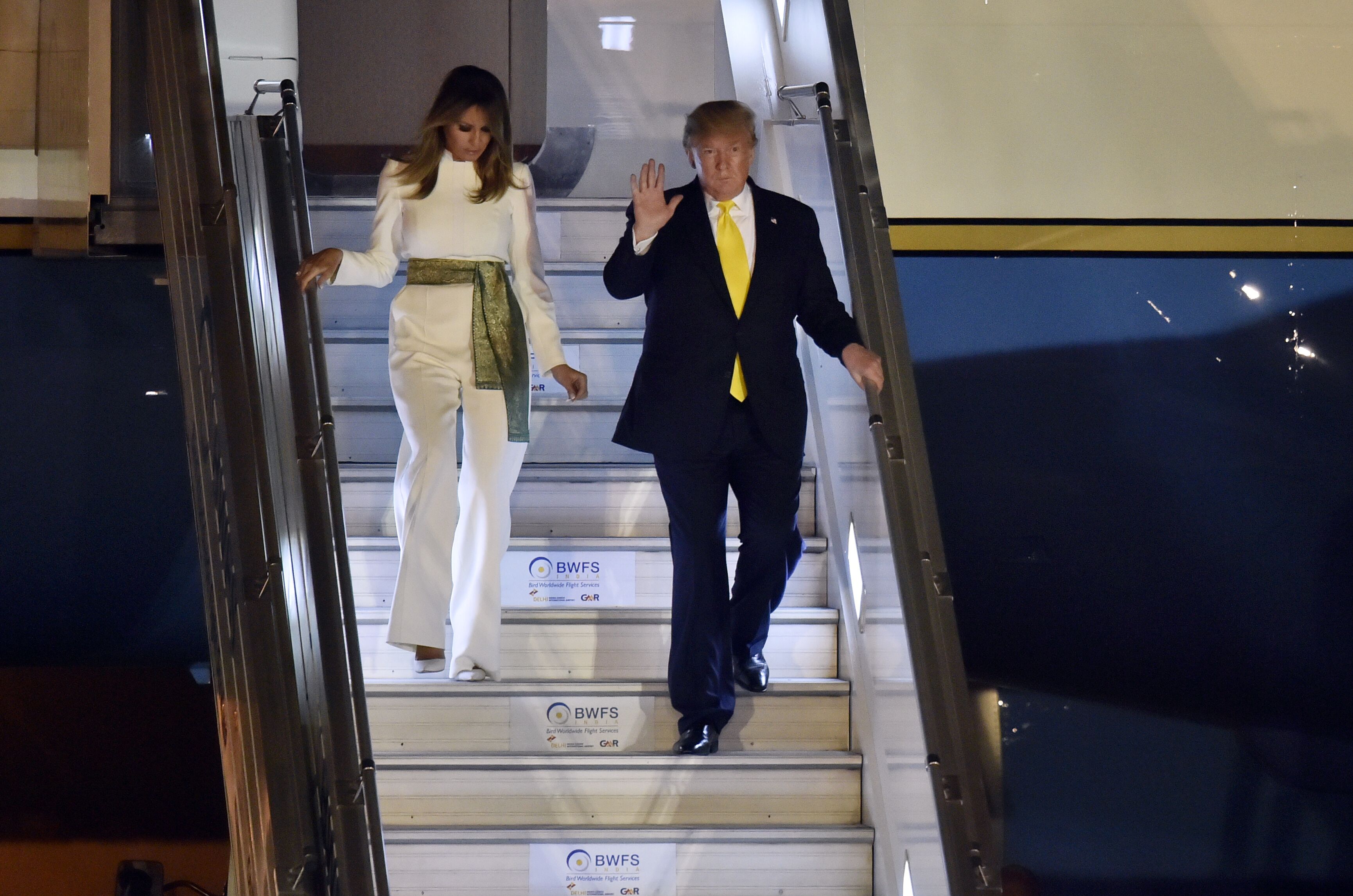 Melania and Donald Trump arrive at Air Force Station, Palam on February 24, 2020, in New Delhi, India | Photo: Ajay Aggarwal/Hindustan Times/Getty Images
Melania added color to her look
Melania added some color to her look by including a statement green and gold satin sash that she tied around her waist. The sash was made from green silk and gold metallic thread.
The former model completed her look by adding white pointed stilettos. Her husband stuck to strictly formal wear for the occasion by dressing in a navy blue suit with a yellow tie.
Melania honors India
The jumpsuit's fashion designer took to social media where he shared a photo of his design sketches. Speaking about Melania's sash, Pierre took to Instagram where he wrote: "The sash was cut in an early XX century Indian textile documents I found in Paris through very good friends who are collectors..."
Trumps visit the Taj Mahal
Melania wore the ensemble to the "Namaste Trump" rally which was held at Sardar Patel Stadium in Motera. She and her husband also got to visit the Taj Mahal where the couple took photos.
Ivanka and Jared in India
The couple was accompanied to India by Donald's daughter Ivanka Trump and her husband Jared Kushner. The group was welcomed at the airport by Indian Prime Minister Narendra Modi.
Trumps welcomed to India
Dancers performed for the group before they went to Sabarmati Ashram to enjoy high tea and a light meal. A cultural program was organized in their honor among other things.
Melania wears white at Super Bowl party
At the beginning of the month, Melania wore white again at the Trump family's Super Bowl party. The event was held at Donald's Mar-a-Lago estate in Palm Beach, Florida.
A nod to America
The former model was photographed wearing a white dress with elbow-length sleeves by the same designer as her India look. The dress featured a white base with navy and dark red stripes below the bust and at the trim of the sleeves.
The colors appeared to be a nod to America.
Please fill in your e-mail so we can share with you our top stories!